Pandora TV launches on Xbox 360, PS3 for 10-foot music streaming
New way to stream your music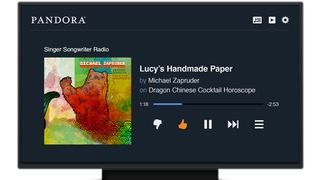 Pandora TV launched today as a new way to stream music on Xbox 360 and PS3, announced the internet radio company.
Technically, Pandora made it possible to cycle through its stations on these two video game consoles previously. However, the company has optimized the experience thanks to HTML5.
"Today we're excited to announce the next generation of Pandora for the living room: tv.pandora.com," wrote Tom Conrad, the company's Chief Technology Officer, in a blog post.
"This is an entirely new experience designed from the ground up for your television and remote control."
The 10-foot Pandora experience
With bigger buttons and larger music album covers, the new Pandora for TVs makes it easier to navigate the radio service's music selection.
It's what Pandora calls the 10-foot experience.
"It's also a completely new approach which will allow us to evolve the '10 foot' experience of Pandora with greater flexibility and speed than ever before," wrote Conrad.
Xbox 360 and PS3 gamers will no longer have to precisely hover over the desktop site's tiny buttons, like the thumbs up and down icons, which were hard to pinpoint with a video game controller.
The big change hasn't led to a Pandora app on Xbox 360 or PS3, sadly. Viewing Pandora TV is done the same way as before: through Xbox 360's Internet Explorer or PS3's web browser.
Also, the password login option is still just as cumbersome as before. A single typo will force users to enter in both their email address and password all over again.
Apple may open Pandora's box
Pandora's new living room experience is a welcomed change, however it may be too little too late for the 10 million listeners who have used the internet radio service.
Apple is rumored to being close to launching iRadio, and Spotify has been a growing threat with more on-demand options for free users.
Likewise, Last.fm, while slightly less popular, has resided on the Xbox 360 dashboard since 2009 as a native app. It doesn't force users to type a web address by using a controller.
For its part, Pandora told TechRadar that Pandora TV on Xbox 360 and PS3 is just the beginning.
"[Pandora TV] will spread to other environments as more vendors bring standards-compliant TV's and set top boxes to market in the coming months."
Sign up to receive daily breaking news, reviews, opinion, analysis, deals and more from the world of tech.