How to get a good MacBook deal this Black Friday in the US
Apple's laptops will be on sale for Black Friday 2017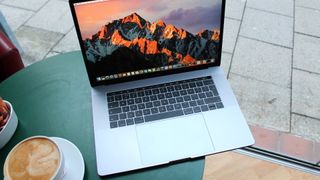 Black Friday deals and Apple's MacBook go hand-in-hand, just as we've once again reached that time of year in the US when the weather is colder, our sweaters are thicker and pumpkin is spicing everything we eat and drink.
While Thanksgiving is the day for cutting up a delirium-inducing amount of delicious food, Black Friday is the day for cutting prices, or at least rolling them back. On November 24, you'll find MacBook discounts among the wide range of tech and gadgets.
Given Apple's products are generally pretty consistently expensive, there's plenty of room for a temporary price drop (particularly in the case of the wallet-worrying MacBook Pro with Touch Bar).
During last year's Black Friday sales we saw a number of impressive MacBook deals, leading us to have high hopes that this year we'll see similar, if not better, offers.
A word of caution, though: if a deal seems too good to be true then it probably is. A number of retailers prey on our hope for a good deal and attempt to sell off older models (or weaker configurations) with low prices that might seem good, but actually aren't at all.
Fortunately, you have TechRadar to help you. When Black Friday rolls around we'll be on hand to flag up all the best deals as they come in. Before then, though, we're going to use this article to strengthen your bargain-hunting hand by highlighting the key points to look out for when it comes to spotting the best MacBook deals, and avoiding the rotten apples.
The features to look out for
There are three different models of MacBook to choose from: the standard MacBook (12-inch), MacBook Air and MacBook Pro. As you'd expect they all share broad similarities, but when you dig a little deeper you'll find that the right machine for you will depend on your exact needs and budget.
For entry-level users, the MacBook Air is the right choice, while standard MacBook is a mid-range option that offers style and portability. Power users should only look to the MacBook Pro. It'll require you to shake your wallet a little harder than others in the range but it's the model of choice for creative professionals, major multi-taskers and even Mac gamers.
Weighty considerations
If you have to carry your laptop everywhere and need something light and portable you'd naturally gravitate towards the MacBook Air, right? It just sounds light. We're here to tell you right now that's not the model you need.
The standard MacBook with a 12-inch screen on the other hand…
This vanilla model is only 13.1 mm at its thickest point and weighs 920 grams. This makes it smaller and much lighter than the 13-inch MacBook Air which is 17mm at its thickest and comes in at 1.35kg.
So, as surprising as it might seem, if it's an Apple laptop boasting the ultimate in portability that you want at a knockdown price, go for the svelte mid-range MacBook. That said, the MacBook Air is still a compact enough notebook, and it's a fair bit cheaper; speaking of which…
Air on a shoestring
If you're looking to do minimum damage to your savings this Black Friday then the MacBook Air is the model for you. It's the cheapest Apple notebook by far, starting at $999. That is indeed still a high price point but compared to the MacBook and MacBook Pro, both of which start at a minimum of $1,299, you'll see what we mean.
Processing Power
If money is less of a sticking point for you and you're after some real power, however, then you'll want to look into the MacBook Pro.
Being low-cost and entry-level, the MacBook Air doesn't have much to offer in terms of power and it hasn't really been updated in over two years aside from a small increase in processor speed (from 1.6GHz to 1.8GHz). It actually still uses Intel's Broadwell CPUs, which is the generation that preceded both Skylake and its successor Kaby Lake.
All of the MacBooks other than the MacBook Air that are now on sale use Kaby Lake (7th-generation – note that Intel is now on 8th-gen) processors. This means the Air is two generations behind the rest of the Apple pack.
Also keep this fact in mind if you see a MacBook or MacBook Pro without a Kaby Lake CPU as it'll be an older (pre-2017) model (last year's models used Skylake).
While the standard MacBook sits above the Air by boasting Kaby Lake, it's still not exactly what you'd describe as a powerful machine.
At least with its CPU upgrade this notebook doesn't stutter running the operating system, as was the case with the initial (2015) incarnation of the MacBook. The better processor, plus faster RAM and storage, mean that this notebook now runs smoothly enough in terms of general operation.
Yet it's still not a powerhouse. And that's where the MacBook Pro comes in with its much beefier, faster clocked Kaby Lake processors.
The 15-inch model also has quad-core CPUs (as opposed to dual-core) and the newest Touch Bar variants of the 15-inch MacBook Pro also offer a discrete GPU (Radeon Pro 555 or 560 with 2GB or 4GB of video memory respectively) for extra oomph when it comes to pixel shifting.
Storage Space
Though its name suggests otherwise, when it comes to storage space the MacBook Air doesn't leave you much room to breathe. It only has 128 GB of SSD storage which isn't really a huge amount of space. The MacBook Pro 13-inch non-Touch Bar also starts at 128GB.
All other MacBook models offer a roomier 256GB – but if you're really looking to save some money these 128GB baseline offerings are likely a compromise worth making.
As mentioned earlier, you'll pay $999 for the MacBook Air 128GB, but doubling the size of the drive will cost you an extra $200. With the MacBook Pro 13-inch non-Touch Bar, doubling the drive to 256GB will also cost you $200 extra (to put this in perspective, remember that you can get a 1TB SSD for less than $250 these days).
You might find a little discipline and judicial use of external storage at home could go a long way to making some savings, particularly if you get a good Black Friday deal on these entry-level machines.
Storm in a USB Cup
If you like to have all manner of external accessories hooked up to you machine, it's worth knowing that the current standard MacBook only has a single USB-C Port. You can, of course, use an adapter, but that's an inelegant solution that adds extra expense. This is the price of such a thin-and-light machine.
Though it's cheaper, the MacBook Air offers three ports but bear in mind that these are older (legacy) ports. This means they're USB 3.0 and Thunderbolt 2 rather than USB-C so you're not exactly future-proofed. You do, however, at least have 2 ports and an SD card slot which is a big plus. There's also the benefit that the Air still has the much-loved MagSafe 2 power port.
A final thing to bear in mind when it comes to the MacBook Pro models is that the 13-inch non-Touch Bar offering only has two ports (USB-C) where the rest of the range has four connectors.
Battery and display
The MacBook Air is the only MacBook which doesn't have a Retina Display, sticking with a 1440 x 900-resolution screen instead. While this means the Air lags in terms of technology, it likely helps the laptop do well in the battery department: this machine has an excellent battery life which we applauded in our review.
When it comes to the battery life of MacBook Pro models, there's an extra feature worth considering: the Touch Bar. Though Apple claims that its MacBook Pro models have the same battery life whether they have a Touch Bar or not, in our testing at TechRadar we've found the addition of the Touch Bar exacted a fair toll on battery longevity. In light of this, considering the cost the context-sensitive bar adds to the asking price, we'd only go for it if you're really keen to have that functionality.
For some more general observations on elements to look out for with notebooks specs, also have a read of our guide on how to get a good laptop deal come Black Friday.
Our deal predictions
When it comes to MacBook discounts, we expect to see them across the full range of Apple's MacBooks just like last year. It's likely, though, that you'll see the most appealing discounts at the extreme ends of the cost spectrum.
We think it likely that we'll see some money off the cheapest base ($999) MacBook Air, to make for a really compelling price tag that will appeal to the folks who want to become a MacBook owner without breaking the bank.
And at the other end of the scale, we imagine there's probably also going to be some price-cuts on the super-expensive MacBook Pro with Touch Bar models. Why? Well because that guarantees some attention-grabbing headlines. We know we'd be drawn in by the promise of 'multiple hundreds of pounds off' Apple products.
Sign up to receive daily breaking news, reviews, opinion, analysis, deals and more from the world of tech.
Emma Boyle is TechRadar's ex-Gaming Editor, and is now a content developer and freelance journalist. She has written for magazines and websites including T3, Stuff and The Independent. Emma currently works as a Content Developer in Edinburgh.