Scouring the market and looking for the best broadband deals available? Well, if you're interested in grabbing an affordable full fibre package, then we may have found the perfect option for you.
Right now, you can get Plusnet's Full Fibre 145 broadband for £26.99 a month. Plus, there are no upfront fees to pay (the usual £20 fee has been waived). This deal offers average download speeds of 145Mbps and unlimited data. You'll also get Plusnet's class-leading Hub Two router. You'll just need to sign a 24-month contract.
With this deal, you also receive a minimum download speed guarantee of 80Mbps and a minimum upload speed guarantee of 30Mbps. Plus, the company also provides its 'Plusnet SafeGuard and Plusnet Protect' antivirus software that is powered by Norton, for no extra cost.
We think this full fibre deal is a good option for any household with intensive download demands and multiple connected devices. With a package like this, you'll find that every member of the family can happily stream, browse and game online simultaneously without suffering from buffering or lag.
However, as this is a full fibre deal, you'll need to check that your property is eligible to receive the connection before you sign up. Thankfully, Plusnet makes this simple and you'll just need to provide the company with your postcode. They'll then run for the checks and let you know in only a couple of seconds.
OUR PLUSNET BROADBAND DEAL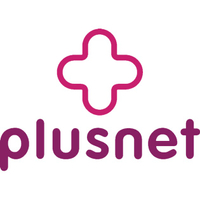 Plusnet Full Fibre 145 | 145Mbps average speeds | £26.99 per month | 24-month contract | No setup fees
This broadband-only deal from Plusnet provides average download speeds of 145Mbps and guaranteed minimum download speeds of 80Mbps. As a result, it's a great option for busy and connected households who need to power multiple connected devices simultaneously. Right now, it's available for £26.99 per month and there's no upfront fee to pay. Plus, when you sign up for a 24-month contract with the company, you'll also receive antivirus protection from 'Plusnet SafeGuard' and 'Plusnet Protect', which are powered by Norton.
Why choose Plusnet for your broadband?
Plusnet is one of the UK's most popular broadband providers and it's easy to see why. After all, the company offers a selection of great deals like the one we've featured here and it often undercuts the prices of other major providers such as Sky, BT and Virgin Media.
The company has gained a lot of recognition in the broadband space recently, and Plusnet was even named as the Large Broadband Provider of the Year for 2023 by Uswitch. Plus, Plusnet has also been named as the Most Reliable Broadband Provider at the 2023 Choose awards.
On top of all this, Plusnet offers a wide range of broadband speeds, from an entry-level 10Mbps package through to a 900Mbps option. Not only are Plusnet's packages quick, they're also reliable. This is because the company uses the Openreach network.
Finally, while it's chiefly known for its broadband offering, Plusnet also offers a good selection of landlines and mobile phone tariffs, as well as a BT Sport bolt on. However, these are costly and they don't compare with the broadband and TV packages offered by rivals like BT and Sky.
If you'd like to compare the Plusnet package highlighted here with the company's other options, or if you just want to see what else is available in your area, enter your postcode into the widget below.
Loading...