Ok, let's do this. We're deep into the Christmas shopping season and that means we need to find you the absolute best cheap PS4 deals in the land. PS4 prices seemed to rally together in recent months with discounts few and far between. That ends today though as we've got a nice range of hot bundles for your consideration. And what great timing with so many of the year's most anticipated releases finally landing. Naturally, lots of the below PS4 bundles comes with some of the season's hottest games.
We're on the hunt for the best PS4 prices all year round, so we won't be fooled by the fake deals that are more expensive than they were a few weeks ago or bundles that offer rubbish savings over buying the games separately. We want to help you save as much money as possible. We also want you to play the games everyone's shouting about which is why we're going the extra mile to track down PS4 and PS4 Pro bundles with the likes of Fallout 76, Red Dead Redemption 2, Call of Duty: Black Ops 4, FIFA 19, Spider-Man and more.
Jump down to section:
On this page we've listed the best cheap PS4 prices in the UK (here's our US page and our Australian page) so you can find all of the cheapest PS4 deals. Below you'll find all of the absolute cheapest standalone PS4 deals from UK retailers, followed by our pick of the extras-packed PS4 bundles that offer the best value and discounts.
The PS4 is currently available in two forms. Directly below, you'll find the best deals for the PS4 Slim which has come in to replace the original model with a slimmer design - we generally no longer list prices for the older PS4 as the Slim is cheaper nowadays and a better piece of kit. After the PS4 bundles you'll see the latest deals for the PS4 Pro - the newer fancy 4K model (here's the lowdown on the differences).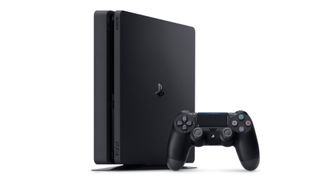 Cheap PS4 deals
The PS4 Slim is... slimmer, quieter and smaller
The PS4 Slim launched in September 2016 for around £259 (500GB) or £310 (1TB) and has now replaced the original fatter PS4. The new console is smaller, lighter, more power efficient and cheaper than the remaining stock of the older PlayStation 4 deals nowadays, so you're not paying more for the refined tech. We'd advise you check out the cheap PS4 bundles further down this page as many of them are cheaper than buying the console on its own or you can get a lot more for a spending a bit extra on top.
You'll often find that the most attractive way to get a cheap PS4 is with a bundle with extra hardware or extra games. These are the best PS4 bundle prices currently available in the UK – we update these deals on a regular basis.
Best PS4 bundle deals
PS4 Slim | Red Dead Redemption 2 Bundle | £229.99 at Very
One of the most hyped games of the year is now free with a 500GB PS4 console. If you've yet to sample Sony's current-gen console - or Rockstar's immense open-world game - now may be the time to jump in. Also available at Amazon.
View Deal
PS4 Slim | Red Dead Redemption 2 | PUBG | £249.99 at Very
PUBG (or PlayerUnknown's Battlegrounds if you will) has only just been released on PS4, so it's a very handy addition to the Red Dead Redemption PS4 bundle. don;t forget, we're expecting the PS4 Slim to go back up to around £250 on its own soon.
View Deal
PS4 Slim | FIFA 19 | Spider-Man | £249.99 at Argos
This is the best PS4 deal around at the moment. Just last week we saw prices go up on the FIFA bundle to £250, so we're super happy to see Argos throw in a copy of Spider-Man at no extra charge. You'd struggle to find either of these games for under £40 each, so there's excellent value for money here.
View Deal
PS4 Slim | FIFA 19 | £229 at AO.com
FIFA 19 is a big hit and that means it doesn't drop much below its RRP before Christmas, so if you're after a PS4 Slim anyways, this is the cheapest way to pick it up.
View Deal
PS4 Slim | FIFA 19 | £229.95 at Amazon
Amazon also has a good deal on the PS4 Slim with FIFA 19. it's only 95p more than the AO.com deal above if you prefer Amazon or want to take advantage of your Prime membership for speedy delivery.
View Deal
PS4 Slim | Spider-Man | £229.99 at Argos
Given you'll struggle to find a PS4 on its own for under £250 at the moment this is a sweet deal as you're essentially getting the new Spider-Man game for free. The new game is developed by Insomniac Games, the masterminds of the Ratchet & Clank, Sunset Overdrive and Resistance games. So yeah, fun on a bun. Sadly, this deal is almost sold out at most stores now.
View Deal
Extra PS4 retailer links:
Want to look through some more cheap PS4 deals? It's ok, you're only hurting our feelings a little. The links below will take you straight to the PS4 console deals section of the following websites, just in-case you fancy digging out a bargain of your own.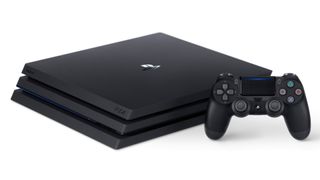 Cheap PS4 Pro deals
The PS4 that offers 4K gaming and Netflix
Essentially, the PS4 Pro is a 4K upgrade of the current PS4, rather than a 'next-gen' console. The keywords to take in from the PS4 Pro are 4K and HDR. The new machine allows game developers to include 4K resolution and High Dynamic Range options in their games, so expect the like of Uncharted 4, Call of Duty: Infinite Warfare, Days Gone, Horizon: Zero Dawn and more to look even better on a HDR-enabled 4K TV. You'll also be able to stream 4K content from Netflix and Amazon. Want to get the right TV? Then check out our cheap 4K TV deals page. We've seen big discounts as Sony fights off the latest Xbox One X deals too.
PS4 Pro | Red Dead Redemption 2 | £349.99 at Amazon
This isn't a special edition console, but given many stores seem to be charging £350 for the console alone and Red Dead Redemption 2 will still cost close to £50 a long time after launch, this is a great money saver. This game looks incredible on the Pro too. Stock is running low, but try Very or Argos if this deal has sold out.
View Deal
PS4 Pro | Red Dead Redemption 2 | Call of Duty: Black Ops 4 | £379.99 at Argos
If you're after both Red Dead Redemption 2 and Call of Duty: Black Ops 4, then this is you're best option to save some money. Be warned though, the Red Dead PS4 Pro bundle is becoming seriously hard to find at stores, so keep your fingers crossed Argos has stock available to pick up/deliver in your area. Chuck in your postcode to find out.View Deal
PS4 Pro | FIFA 19 | £349.99 at Amazon
Most stores were selling the Pro alone for £350 recently. Thankfully, this offer has come to the rescue with this PS4 Pro bundle that includes FIFA 19 too for just under £350.
View Deal
PS4 Pro | Spider-Man | £349.99 at Argos
This PS4 Pro bundle has been sold out for a while, but if you're quick you may be able to take advantage of Argos managing to find some stock. PS4 Pros themselves are running low around the world right now too so getting a new free game like Spider-Man is a great deal.
View Deal
Cheap PlayStation Plus deals
If you're buying a PS4, you'll probably need a cheap PlayStation Plus deal too. PlayStation Plus (aka PS Plus or PS+) allows you to play PS4 games online, along with access to the Instant Game Collection, a bunch of free games for PS4, PS3 and Vita each month. The default price for a year is £50. We can do better than that though, so check out our selection of the best PlayStation Plus deals.
Need an extra cheap PS4 controller? Don't forget to check our Best DualShock 4 deals. Or maybe a cheap PlayStation VR deal? If you're still torn, maybe you'd prefer one of our Xbox One deals?