Your search for the best cheap PS4 deals is over. Despite this time of year usually being a bit tricky for discounts (until Amazon Prime Day that is), we've found a few tempting offers for you. By searching through retailer's listings we've found the best prices on the latest PS4 bundles including the brand new God of War, Detroit: Become Human and a few other essentials like FIFA 18, Wolfenstein 2 and GT Sport.
Jump down to section:
On this page we've listed the best cheap PS4 deals in the UK (here's our US page and our Australian page) so you can find all of the cheapest PS4 prices. Below you'll find all of the absolute cheapest standalone PS4 deals from UK retailers, followed by our pick of the extras-packed PS4 bundles that offer the best value and discounts.
The PS4 is currently available in a number of different forms. Directly below, you'll find the best deals for the new PS4 Slim which has come in to replace the original model with a slimmer design. And after the PS4 bundles you'll see the latest deals for the PS4 Pro - the newer fancy 4K model (here's the lowdown on the differences).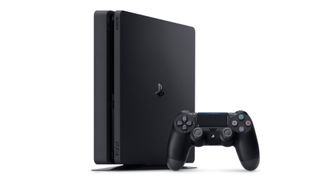 The best cheap PS4 deals
The PS4 Slim is... slimmer, quieter and smaller
The new PS4 Slim launched in September 2016 for around £259 (500GB) or £310 (1TB) and has now replaced the original fatter PS4. The new console is smaller, lighter, more power efficient and is priced cheaper than the remaining stock of the older PS4 nowadays, so you're not paying more for the refined tech. We'd advise you check out the cheap PS4 bundles further down this page as many of them are cheaper than buying the console on its own or you can get a lot more for a spending a bit extra on top.
Today's best cheap PS4 deals
Sony PlayStation 4 Slim 500GB Gaming Console, Black, CUH-2115A
Sony PlayStation 4 Slim 1TB FIFA 18 Bundle, CUH-2115B
1TB PS4 Slim | Star Wars: Battlefront II
PlayStation 4 Slim 1TB Console
The best PS4 bundle deals
You'll often find that the most attractive way to get a cheap PS4 is with a bundle with extra hardware or extra games. These are the best PS4 bundle deals currently available in the UK – we update these deals on a regular basis.
Cheap PS4 deal of the week
Limited Edition blue Days of Play PS4 Slim | 2 controllers | £259.99 at Argos
This gorgeous limited edition blue PS4 Slim surely won't last long at this price, so we wouldn't wait long if you like the look of it. It's great value at this price too considering the limited edition nature and you're getting two DualShock 4 controllers. Amazon, and Currys have it for the same price too.
View Deal
PS4 Slim | God of War | +1 PlayLink title | £249.99 at Argos
Just looking for a cheap PS4 deal with one of the finest games on PS4? Looks like Argos has your back with this deal that includes a free copy of Kratos' new Norse adventure. You're also getting a free PlayLink title from Argos' selection too. Also available with the white PS4 Slim.
View Deal
1TB PS4 Slim | God of War | +1 PlayLink title | £279.99 at Argos
Looking for a larger hard drive with your new PS4? Then this is easily the best offer around as you're also getting God of War and a PlayLink title of your choosing.
View Deal
PS4 Slim |Detroit: Become Human, Gran Turismo Sport or God of War | £249.99 at Argos
For this PS4 Slim bundle you get to choose a free game between three top selections: God of War, Gran Turismo Sport, and Detroit: Become Human. We'd go for the other Argos God of War bundle mentioned above instead as you get a free PlayLink title too. This is a great offer if you're looking for the cheapest way to get a PS4 with Detroit: Become Human though. Also available with the white PS4 Slim although stock is limited.
View Deal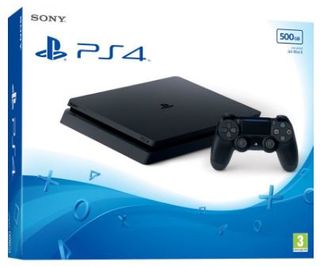 PS4 Slim | The Evil Within 2 or Wolfenstein 2 | £259.99 at Argos
Argos has a tempting offer on right now, especially if you're not interested in any of the FIFA PS4 deals. Choose between the grisly survival horror of The Evil Within 2 or the rampaging FPS that is Wolfenstein 2: The New Colossus. Very different games, but both worth a look for sure. A tough choice right there.
View Deal
PS4 Slim | FIFA 18 | Plus Doom or Fallout 4 | £249.99 at Argos
Argos has just improved this FIFA PS4 bundle by chucking in an extra game for free. You can choose between Doom or Fallout 4 via the link below. Both are superb choices.
View Deal
Silver PS4 Slim | 2 controllers | £249.99 at Argos
We thought we'd seen the last of this limited edition silver PS4, but Argos has somehow found some more stock. Actually, we can't find this at any other retailer at all, so it's great to see Argos hasn't jacked up the price to take advantage.
View Deal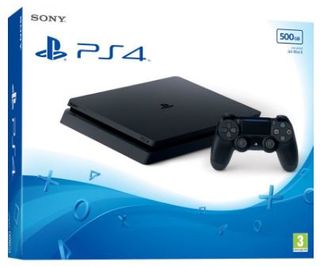 Black PS4 Slim | £219.85 at ShopTo's ebay
If you're just after a PS4 Slim on its own then this is the best price in the UK at the moment. In all honesty though, we'd be looking at the excellent cheap PS4 bundles and spend a bit more to get a game or two.
View Deal
Extra PS4 retailer links:
Want to look through some more cheap PS4 deals? It's ok, you're only hurting our feelings a little. The links below will take you straight to the PS4 console deals section of the following websites, just in-case you fancy digging out a bargain of your own.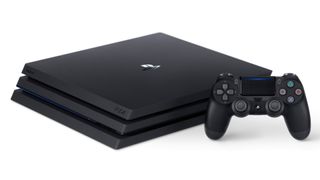 The best cheap PS4 Pro deals
The PS4 that offers 4K gaming and Netflix
Essentially, the PS4 Pro is a 4K upgrade of the current PS4, rather than a 'next-gen' console. The keywords to take in from the PS4 Pro are 4K and HDR. The new machine allows game developers to include 4K resolution and High Dynamic Range options in their games, so expect the like of Uncharted 4, Call of Duty: Infinite Warfare, Days Gone, Horizon: Zero Dawn and more to look even better on a HDR-enabled 4K TV. You'll also be able to stream 4K content from Netflix and Amazon. Want to get the right TV? Then check out our cheap 4K TV deals page. We've seen big discounts as Sony fights off the latest Xbox One X deals too.
Today's best PS4 Pro deals
PlayStation 4 Pro 1TB Console
PlayStation 4 Pro 1TB Console
PlayStation 4 Pro 1TB Console COD WWII and Accessories
PlayStation VR Bundle 4 Items:VR Headset,Playstation Camera,PlayStation 4 Pro 1TB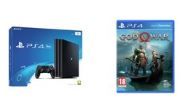 PS4 Pro | God of War | + free PlayLink game | £349.99 at Argos
PS4 Pro deals are in high demand right now, with most retailers either selling out or pushing up prices. So it's great to see Argos bring this ace offer back into action now it has stock again. You're not only getting the excellent God of War for free, but also any PlayLink title that allows you to play the game on your TV, but with your phone as a controller. Offer expires July 28th, but we doubt stock will last that long.
View Deal
PS4 Pro | Detroit: Become Human | Fallout 4 | £349.99 at Game
Game has the only decent PS4 Pro bundle that includes a copy of Detroit: Become Human this week. Additional bonuses include Fallout 4 and a two-month Now TV entertainment pass. Not bad at all considering some stores are charging £350 for the console alone.
View Deal
Limited Edition God of War PS4 Pro | £379.99 at Game
This sold out straight away originally, but the limited edition console is back in stock at Game. it's not cheap, but certainly cheaper than the inflated reseller costs on ebay. And yes it comes with a copy of the game too.
View Deal
Cheap PlayStation Plus deals
If you're buying a PS4, you'll probably need a cheap PlayStation Plus deal too. PlayStation Plus (aka PS Plus or PS+) allows you to play PS4 games online, along with access to the Instant Game Collection, a bunch of free games for PS4, PS3 and Vita each month. The default price for a year is £50. We can do better than that though, so check out our selection of the best PlayStation Plus deals.
Need an extra cheap PS4 controller? Don't forget to check our Best DualShock 4 deals. Or maybe a cheap PlayStation VR deal? If you're still torn, maybe you'd prefer one of our Xbox One deals?