BMW i8: the incredible high-tech supercar that changes everything
155mph and 135mpg sounds incredible, but what is BMW's eco-supercar actually like?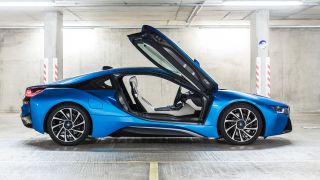 A near £100,000 / $150,000 supercar tuned for fuel efficiency and sporting a mere three-cylinder engine? The all new BMW i8 is surely proof that the modern obsession with emission has finally driven the car industry round the twist.
As it turns out, the BMW i8 is one of the most brilliantly resolved cars we've driven all year – maybe even years when you consider just how complex it is.
It's a genuine revelation that pretty much implodes expectations of a hopelessly compromised, conceptually borked four-wheeled irrelevancy.
OK, it's not perfect. But much of what it wrong with the i8 comes down to rules and regs BMW has no direct control over.
And we reckon the i8 hits is bang on BMW's intention for this new class of supercar and will make its target market very happy indeed. Here's why.
Tech specs
In a word, the BMW i8 is... complicated. The basics, if you can call them that, start with a hybrid aluminium, thermoplastic and carbon fibre structure. Carbon makes up the core passenger 'life cell' and roof, plastics most of the body panels and aluminium the front and rear subframes plus the door skins.
Then there's the power train. First up is a three cylinder turbocharged petrol engine mated to a six-speed automatic gearbox cranking out 231hp. Then there's an electric motor that adds a further 131hp courtesy of a 5kW lithium battery position through the spine of the car.
The mid-mounted petrol lump powers the rear wheels, the electric motor the fronts and unlike a lot of hybrid cars, the whole shebang is good for a simple sum of the two power sources. 362hp in other words.
Factor in the modest 1,560kg kerb weight (well, it's modest for a such a complex car) and the result is performance roughly on a par with BMWs outgoing M3 super sports saloon / sedan. So the zero to 62mph sprint is despatched in 4.4 seconds, top speed is limited to 155mph.
Oh and chassis-wise, the i8 boasts electronic, multi-mode adaptive dampers.
Hybrid hotness
"These are incredible numbers for any combustion car. But for a slinky supercar they're borderline baffling"
If that's the simple bit, albeit impressive enough, here's where things get really complicated.
The i8 is good for a staggering 49g/km and 134.5mpg. These are incredible numbers for any combustion car. But for a slinky supercar they're borderline baffling.
For the record, BMW claims the i8 has a pure electric range of up to 23 miles and will do 75mpg maximum on batteries alone.
As you'd expect from this kind of high-end hybrid, there's all kinds of fancy energy regen going on, the details of which hinge on your chosen driving mode.
There's brake energy regeneration at both axles and the combustion engine can also charge the batteries.
Three basic driving modes are available ranging from pure-electric mode through standard and Sport which an additional EcoPro mode that can be applied for added efficiency.
If that's not enough to get your head round, selecting the modes is pretty complicated. Start the car up and you're in standard mode. Knock the gear selector left and you're in Sport. But you need to press separate buttons on the centre console to enable pure-electric mode or EcoPro.
It's not an entirely satisfactory setup. A rotary dial that cycles through the three main modes, perhaps with EcoPro as a push-down option on the same dial, would make more sense to us.
Cabin gear
Two things hit you right away when you sit inside the i8. First is the light, airy futuristic overall feel of the cabin. It's a very pleasant place to spend time, even if the super-wide sill (complete with exposed carbon weave) will be bit of a hurdle for some potential customers.
You'll also immediately register the fact that the i8 is notionally a four seater. The two rear pews are more occasional than serious long-distance seating for adults. But push the front chairs forward and four grown men is doable for short journeys.
Then there's the broader in-car gadgetry. BMW's iDrive with ConnectedDrive multimedia is, in our opinion, as good as it gets.
It's not much changed for the i8 bar some addition features in the nav to help locate charging stations. But that's fine by us.
The on-screen menus are gorgeous thanks to the high-res 8.8-inch display and the mix of usability and functionality is bang on. There's good smartphone integration, nav with real-time traffic data, streaming media and handy extras like Google-Send-Car. Nice.
Driving the BMW i8
Flow. If there's a single word that captures the i8's driving experience, that's it.
The i8 isn't the most visceral, mechanical or conventionally involving car in traditional sports car style. Instead, it has a delightful balance, a deft gait and fabulous way of flowing down a great road.
It's a beautifully tuned and resolved car, full stop, and it's even more impressive when you consider how much stuff is going on in the background with brake regen and multiple power sources.
OK, the steering doesn't have much by way of true feedback. But it's very accurate and overall the car feels natural and transparent, including the brakes, despite all the tech buzzin away underneath.
Oh and it's also very quick. Our driving route for the i8 launch included some of the best roads in Scotland and the i8 verily demolished them. Faster cars exist. But we wouldn't have travelled any faster in them.
As for how it sounds, insinuations that the i8 sounds like a flat-six Porsche engine at full chat are a bit of an exaggeration. The off-beat thrum (digitally enhanced through the car's cabin speakers) certainly has character. But it's not ultimately as sophisticated and exciting as a true six-cylinder engine.
The six-speed automatic gearbox with paddle shifts also works well enough. But it's not as sharp, not as electrifying as the best dual-clutch boxes now available.
Finally, you'd be surprised just how well the i8 goes on pure electric power. 75mph might not sound that quick, but you can cover ground surprisingly quickly without dipping into combustion power.
Whatever, the i8 is still an awful lot of fun on a great road while offering a surprisingly good ride when you're not on full reheat. What it's not is as engaging or charismatic at low speed as something like a Porsche 911.
Efficiency and emissions
"Driven with even a cursory eye to efficiency and the i8 will decimate a conventional mid-engine sports car like the Audi R8"
In many ways, this is the biggie. The i8 exists to dismantle conventional expectations regards high performance cars and efficiency so it's what should make or brake the i8 as an all-round proposition.
First, some bad news. Drive the i8 very hard and the result will be mpg down in the mid 20s. In our hands the average was a little over 24mpg, starting with a full battery charge and tank (Jeremy likes to drive fast - ed).
But that is an absolute worst case scenario. A brief stint of of more miserly driving towards the end of our run suggests that a real-world rate nearer 60mpg will be possible.
The point that needs to be grasped is that driven with even a cursory eye to efficiency and the i8 will decimate a conventional mid-engine sports car like the Audi R8 and be compeitive with something like a diesel hatchback.
Driven hard, it will beat a car like the R8 handily but still dip into figures that don't look great on paper.
But you get to decide. You have both options – drive carefully and get genuinely good mpg or tear it up and pay the price at the pumps.
If there's a caveat to all this, it's that the numbers are achieved at least in part courtesy of that grid-charged lithium battery pack and so don't take into account any emissions created via charging.
That can vary from nothing if charged with renewable or nuclear sources through to significant carbon emissions from coal and gas-fired power stations. It's a complicated subject.
BMW i8: Verdict
At nearly £100,000 / over $135,000, it's easy to compare the i8 to a conventional performance car like the Nissan GT-R and conclude it's hopelessly off the pace. Faster cars can be had for the money.
But that's to judge it by irrelevant, outdated metrics. The BMW i8 feels like a car for another age. Suddenly other performance cars seem uncompromising, dated and anachronistic.
In the i8, you feel like part of the solution, not part of the problem. It's the thinking man's supercar and a staggering all-round achievement.
If we do have any reservations, they involve the long term reliability and viability of such a complex car. Goodness knows what a 10-year-old i8 would be like as a second hand proposition. That said, you do get the reassurance of an eight-year, 100,000 mile warranty for the battery.
The BMW i8 is available today from £95,845 in the UK including the government grant for electric vehicles and $135,700 in the USA.
Sign up for Black Friday email alerts!
Get the hottest deals available in your inbox plus news, reviews, opinion, analysis and more from the TechRadar team.
Contributor
Technology and cars. Increasingly the twain shall meet. Which is handy, because Jeremy (Twitter) is addicted to both. Long-time tech journalist, former editor of iCar magazine and incumbent car guru for T3 magazine, Jeremy reckons in-car technology is about to go thermonuclear. No, not exploding cars. That would be silly. And dangerous. But rather an explosive period of unprecedented innovation. Enjoy the ride.