Best Soundbar Buying Guide: Welcome to TechRadar's round-up of the best soundbars (also spelled sound bars) you can buy in 2017.
While TVs have been undergoing their 4K revolution, audio has seen just as much of an improvement with the move towards object-based audio solutions like Dolby Atmos and DTS:X.
All this means that there are some pretty compelling reasons to upgrade your TV's built-in audio.
But even if you don't go for top of the line features you can still give your system's sound an appreciable boost for even a moderate investment.
Soundbars are the perfect audio solution for anyone that doesn't want the hassle of installing a collection of separate speakers around their room powered by a dedicated amplifier.
Instead, soundbars sit neatly underneath a television, providing great sound without dramatically increasing a TV's footprint.
Choose wisely and you can also net yourself some great new technologies in addition to overall better sound quality.
Over the years we've tested hundreds of soundbars, and our picks below cover a range of the best models on the market at a variety of price points.
What's the best soundbar?
Soundbars come in many shapes and sizes, and range in price from under AED 1,000 to over AED 5,000. Cheaper models have basic connections, more expensive ones add superior HDMI inputs (including 4K/HDR passthrough), wireless audio streaming (e.g. Bluetooth and AirPlay), better power, more refined speaker drivers, and decoding of Blu-ray sound formats.
A full surround setup is the premium solution to bad sounding televisions, but if you're a little shorter on space (not to mention budget) then a soundbar offers a very decent compromise. Plus, these days higher-end soundbars will also include the latest and greatest audio technologies like Dolby Atmos and DTS:X.
Design is also important, with some models able to sit in front of your TV on a stand while others may need a separate shelf, or to be wall mounted. However, whatever your budget, there are some cracking good acoustic upgrades to be had that can give your TV the sound it deserves.
Here are the best soundbars we've tested: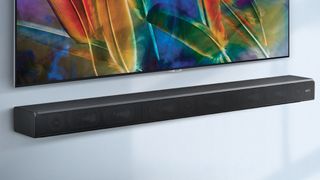 1. Samsung HW-MS650 Soundbar
Be afraid, traditional Hi-Fi speakers. Be very afraid.
Dimensions: 1060 x 78 x 130mm (W x H x D) | Speaker configuration: 3.0 | Claimed audio power: 9 x 20W | Connections: Single 4K/HDR HDMI loopthrough, one optical audio input, 3.5mm audio port, 2-way Bluetooth, Wi-Fi
Fantastically powerful sound
Physics-defying bass handling
Supports lots of sources
Slightly limited stereo effect
Not content with dominating the TV world, Samsung now seems to have its sights set on becoming the number one brand for home entertainment audio, too. All this effort has already delivered outstanding results in the shape of both the HW-K850 and, especially, HW-K950 Dolby Atmos soundbars, as well as a range of ground-breaking multi-room wireless speakers.
But, above everything stands the South Korean manufacturer's HW-MS650. No other one-body soundbar has combined so much raw power with so much clarity, scale and, especially, bass, or excelled so consistently with both films and music. It's the sort of performance that only genuine audio innovation can deliver - and with that in mind, it's well worth its AED 1,600 price tag.
Read the full review: Samsung HW-MS650 Soundbar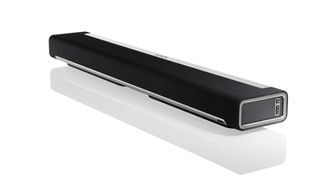 2. Sonos Playbar
Turns your multi-room audio system into wireless surround sound
Power: Not quoted | Speakers: 9 | Dimensions: 900 x 85 x 140mm | Weight: 5.4kg | Inputs: 1 x digital optical, 2 x Ethernet LAN | Outputs: N/A | Wireless: WiFi | Special features: Sonos Play:1 speakers can be connected as wireless rear speakers
Beautiful sound
Integrates with Sonos systems
Requires particular TVs
The Sonos Playbar is a non-HDMI device that uses optical to hook up to a TV. Used simply on its own it delivers a massive sonic boost to your TV listening, but operating it does require using a smartphone or tablet app.
The benefit is that it can seamlessly segue in to a Sonos wireless system, and can even act as the front three speakers in a 5.1 setup with two Play:1s acting as rears.
Unfortunately although it's optical-only setup will be great for most, it does exclude owners of TVs that lack this connector, which has pushed it a little further down this list.
Read the full review: Sonos Playbar
3. Samsung HW-K950
This combo of soundbar, two wireless sats & Dolby Atmos is game-changing
Power: 500W | Speakers: 9 | Dimensions: 47.6 x 3.2 x 5.1 inches | Weight: 14.7lbs | Inputs: 1 x digital optical, 1 x HDMI | Outputs: 1 x HDMI | Wireless: Bluetooth and WiFi | Subwoofer included?: Yes | Special features: Dolby Atmos
Dolby Atmos built-in
Wireless satellites and sub
Slightly muddled surround sound
Do you need Dolby Atmos? This more immersive '3D bubble of surround sound' tech is here, created not only by a standard soundbar design, but with a couple of satellite speakers and a subwoofer added. Is that verging on a messy home cinema cinema of old? Perhaps in theory, but this is one of the sleekest implementations of Dolby Atmos yet. Using rear speakers with upward-firing speakers, it actually creates a virtual 5.1.4 system.
OK, so the AED 5,200 price tag is not perfect. It only plays DTS in stereo (unless you have a Blu-ray player that can convert it to Dolby Digital), but this simple-to-set-up package is an amazing performer that should be near the top of any audiophile's soundbar audition list.
Read the full review: Samsung HW-K950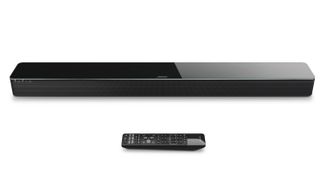 4. Bose SoundTouch 300
A beautifully made, precise sounding soundbar
Power: N/A | Speakers: 1 | Dimensions: 42 x 6.2 x 5 inches | Weight: 15.2lbs | Inputs: 1 x digital optical, 1 x HDMI, 1 x Ethernet port, 1x 3.5 mm jack for ADAPTiQ system setup, 1 x 3.5mm jack to hardwire the bass module, 1 x micro-USB connection | Outputs: 1 x HDMI output with Audio Return Channel (ARC) | Wireless: Bluetooth | Subwoofer included?: No | Special features: Multiroom
Wide, articulate sonic presentation
Gorgeous design and build quality
Potentially frustrating set up
Doesn't come with a subwoofer
Boasting high-end design, Bose's slim soundbar looks superb, and sounds above average. At 97.9cm wide, it's best partnered with larger screen sizes (50-inch+) and priced at AED 2,600, it offers great sound. There are caveats regarding usability and price, but overall it warrants a cautious two thumbs up.
It's also worth mentioning that, as this isn't a 2.1 package, there's no subwoofer supplied – although Bose will sell you a wireless Acoustimas sub and the ST300 can be partnered with the brand's Virtually Invisible (i.e. small at 10cm) 300 surround speakers. The system is also compatible with the Bose SoundTouch wireless multiroom system which includes smaller Bluetooth speakers.
Read the full review: Bose SoundTouch 300
We've come up with a list of the best Sci-Fi movies to really put your soundbar to the test.