Gaming on mobile phones has surpassed gaming on dedicated consoles such as PlayStation and Xbox not only because a lot more people have access to a phone but also because it's also a lot more convenient. Your phone is with you most of the time and makes it easy to quickly get in and out of games.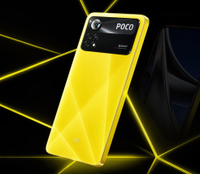 (opens in new tab)
Poco X4 Pro 5G
Phones like the Poco X4 Pro make gaming on the go a much nicer experience with its large 6.6" FHD+ 120Hz AMOLED screen that can reach 1200nits of peak brightness for excellent color reproduction and sharp images. It also features gaming-specific features like the ultra-fast 360Hz touch sampling rate that significantly reduces touch latency, making every in-game action precise and responsive.
The Poco X4 Pro is also plenty powerful with the Snapdragon 695 processor, which is able to run most games at 60fps without breaking a sweat. And thanks to the LiquidCool Technology 1.0 Plus, which uses layers of graphite and a large copper pipe, keeps the phone cool for hours as it intelligently dissipates heat so you can game for longer.
Genshin Impact
Developed by China-based miHoyo, Genshin Impact has seen nothing short of a sensational launch. Released back in September 2021, the game has accumulated a player base of around 60 million worldwide, with revenue touching northwards of USD 3.7 billion so far.
As such, it remains one of the most exciting breakthrough games of the last couple of years. And thanks to its popularity, it has seen constant development with new characters, events, and items being added on a weekly basis. It also has taken a leaf out of Fortnite and has collaborated with a number of popular games for cross-promotional events.
Genshin Impact is an open-world RPG that is as dense and expansive as you would expect. It wears its The Legend of Zelda: Breath of the Wild influences on its sleeves with similarly gorgeous cell-shaded visuals, and stamina and combat system. You play as one of the world-hoping siblings who are stopped by a mysterious God and stripped of their powers, and cast away into a strange land that you must slowly discover and conquer.
Genshin Impact can be played solo with a diverse set of party members, or you can team up with friends to band together. The game is available on iOS and Android, as well as on PC and all current and next-gen consoles, and also supports cross-platform play.
Sky: Children of Light
Sky: Children of Light is the latest from the visionary game studio, thatgamecompany. If the name sounds even remotely familiar to you, that is because they were the developers behind the hugely successful and critically acclaimed console game, Journey.
In a way, Sky: Children of Light almost seems like a spiritual successor to Journey. Both feature an evocative visual style, the soundtrack is mesmerizing as always, and even the characters move in a similar fashion. But a key element that both games share, and is expanded upon in Sky, is the way you interact with other players.
Sky: Children of Light may be an MMORPG, but it's not meant to be an action-packed adventure that is usually associated with the genre. Instead, thatgamecompany has taken a different approach, even calling their game "peaceful", where players must journey through seven realms, uncover their mysteries and save lost spirits to set them free.
What truly sets Sky apart is the social interaction system. Instead of using voice communication or dialogues, the game only makes use of a collection of quaint and heartwarming gestures to communicate with other players. You can hold out a candle to greet them, sing songs with each other, and even hold their hands as you move around the world together. You can add players to your friend list, but since you cannot see their actual name, you must assign a name yourself, giving another sense of personalization and involvement with the game that would otherwise have been lost.
You can team up with 8 other players and explore the worlds, solve simple puzzles and free spirits together. You can also do it completely solo, and the game will remain as enchanting as it is when playing with strangers or friends.
Rocket League Sideswipe
Developer Psyonix has brought the popular Rocket League's 'soccer but with cars' formula to mobile devices, and the result is as fun and frenetic as ever.
If you have never played Rocket League before, here's a quick rundown: You control an RC-like car, you have a gigantic silver ball in front of you, and your only objective is to shoot the ball through one of the goal posts. It's literally soccer but with cars, only here you can boost, jump, double roll, and summersault your way through victory.
Rocket League Sideswipe successfully adapts the formula for a smaller screen. But instead of moving the car through a 3D arena, Sideswipe has you controlling your car on a 2D plane, strategically executing double jumps, boosts, and sometimes, a combination of both to score a goal. If you are under the impression that the skill-level has been lowered to make the game more accessible to a mobile audience, you would be sorely mistaken. The game remains as challenging as ever, requiring exact maneuvering of your car and precise mechanical execution to one up your opponents.
The game can be played with bots, or you can take your game online in 1v1, 2v2, and 3v3 matches. Sideswipe is currently in its third season, bringing a host of new changes, improvements, and new arenas to conquer.
Marvel Future Revolution
Marvel Future Revolution is Marvel's first open-world action RPG on mobile devices, and it's easily its most high-end production to date. Future Revolution is crammed with content, with a fully-voiced single player campaign, numerous PvE and PvP modes, tons of loot-packed Raids, and over 400 million hero customizations. If you are looking for a Marvel game to hype yourself for the upcoming Multiverse of Madness movie, Future Revolution should deliver that in spades.
Funnily enough, the game's story is about multiple realities colliding with each other, as well. Future Revolution borrows elements from the Convergence storyline from the comics, creating a brand-new story that sees our beloved superheroes coming together to not only save one Earth, but all of them.
The game is fully 3D with a combat system that is tailored for each superhero. Spider-Man can use his acrobatic moves to take down enemies, as well as perform a number of super moves with his web. Iron-Man can shoot rockets from his suit, while flying and punching enemies to submission. Star-Lord has jet boots and pistols to cover large areas, whereas Storm can whip up a massive bolt of electric current to cause damage. There are tons of superheroes in the game, including Captain America, Captain Marvel, Doctor Strange, and Black Widow, with tons more to be added soon.
Marvel Future Revolution can be played solo, or with friends.
To the Moon
First released on PC to critical acclaim, developers Freebird Games have ported their sweet, emotional story-driven adventure game, To The Moon, for mobile devices as well.
To the Moon is light on gameplay, but its story is a worthy endeavor to take. The game is about two doctors who present an opportunity to dying patients to alter their memories so that they can change their lives - at least in their minds - before they leave the perils of the mortal realm. This specific story is about a dying man whose dream was to visit the moon. Our doctors must now enter the man's mind and change his memories, but the procedure results in one of the most engrossing and heartwarming stories you will ever come across.
If you are already sold on the game, might we suggest going in blind from hereon and experience the game fresh as it slowly unfolds its many layers.