Even in 2021, the best fax machines are still important tools for many businesses, and on this page we've picked the top devices you can buy right now.
Many offices still uses faxes to communicate with suppliers and customers, as well as other parts of the business, and if you're looking to upgrade your fax machine, the good news is that these days there are some brilliant devices that will let you quickly and easily send faxes, including important documents, across the world.
While faxes are becoming less common in modern offices, that doesn't mean you should stick with your old fax machine. The best fax machines on this page come with some great additional features.
In fact, some of the best fax machines are actually all-in-one printers, which not only send faxes, but can print, scan and photocopy documents. Not only can these devices save you money, but also space, which makes them ideal for small offices.
We've compared these fax machines on various aspects, from their faxing and printing capabilities to their ease of setup and size. We assessed what sizes of businesses they'd be best suited for and how powerful their overall performance is.
We've also reviewed the best business computers and the best PC for photo editing.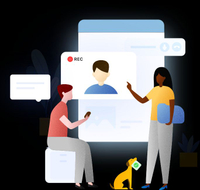 (opens in new tab)
Zapped by Zoom? Here's 20% off Ringcentral Office (opens in new tab)
Integrated video conferencing, screen sharing and messaging for teams big and small. Get more done before, during, and after meetings with fully integrated messaging and a modern business phone system. Join Ringcentral Office and get the first month free, buy a phone and get another for free plus 20% off. This is a limited time offer.
Best fax machines at a glance:
Why you can trust TechRadar Our expert reviewers spend hours testing and comparing products and services so you can choose the best for you. Find out more about how we test.
Epson WorkForce WF-2750DWF
Samsung M2885FW 4-in-1 Multifunction Xpress laser printer
Brother MFC-L6800DWT
Brother FAX-2940
Samsung SF-760P
---
The best fax machines of 2022 in full
(opens in new tab)
If you want the best fax machine that also doubles up as a printer, photocopier and scanner and you want it for a low price, then the Epson WorkForce WF-2750DWF is the one to go for. Sure, it looks a bit boring, and when in use it can get quite noisy, but the amount of features the Epson WorkForce WF-2750DWF offers, plus the quality of its scanning, printing and faxing, makes it a brilliant choice for home and office use on a budget.
It has an automatic document feederthat can scan up to 30 pages, making it a lot more convenient than using its flat bed scanner and switching out pages manually. This fax machine has WiFi connectivity and is compatible with iOS devices and AirPrint, so you can easily print documents from any of your devices easily.
(opens in new tab)
With wired (Ethernet/USB) and wireless (Wi-Fi/NFC) connectivity, duplex printing, decent eco settings, and support for a wide range of media, the Samsung M2885FW is an excellent all-rounder, and one of the best fax machines you can buy.
As it's a 4-in-1 device, it can handle printing, scanning, and photocopying as well, so if you don't need those, then this is a bit overkill. However, if you are looking for a fast laser printer and fax machine for a busy office, it is a brilliant choice.
The printer looks good, doesn't occupy much space, and is easy to shift around. To simplify and make the WiFi setup hassle-free, there's a Samsung Easy Wi-Fi Setup you can download from the support page. A problem is that the LCD display lacks a backlight, lowering visibility in darker rooms.
(opens in new tab)
If you're looking for the best fax machine for a busy and large office, then the Brother MFC-L6800DWT is definitely worth investing in. As a laser printer, it's incredibly fast, but maintains a high print quality, and it comes with a large range of connectivity options to work as a fax, including USB and network. As a fax machine, it offers 33.6Kbps speeds, as well as fax forwarding, automatic redialling, and group dialling features.
The Brother MFC-L6800DWT can print close to 5,000 pages a month. It can print from mobile devices and has AirPrint compatibility, so you can enjoy seamless printing without needing the printer near your computer. There's also a 12.3cm LCD color touchscreen that makes it easy to input commands.
This machine also has advanced security, with Brother's Secure Function Lock 3.0, Internet Protocol Security, and other security systems.
(opens in new tab)
If you're only looking for a fax machine, then you don't want to spend extra money on an all-in-one printer that will offer you features you'll not use. If you just want a fax machine, then the Brother FAX-2940 is the best dedicated fax machine money can buy.
As primarily a fax machine, it offers plenty of great features including 200 speed dials and up to 500 pages of transmit/receive memory, which means you won't miss out on any faxes if the Brother FAX-2940 runs out of paper. You can also download a free printer and scanner software update that turns it into a multi-function device.
The setup can be a bit tricky, but once you're past that, it should get significantly easier to use the machine. The Brother FAX-2940 is best suited for small and mid-sized businesses.
(opens in new tab)
If you're looking for a dedicated fax machine and don't mind (or even prefer) a rather old school design, then the Samsung SF-760P could be the best fax machine for you.
It's got a no-nonsense design that sums up what we like about this fax machine so much. It's dedicated to sending and receiving faxes, and that focus means it excels at its job, offering plenty of features and a decent 33.6kbps fax transmission speed. It can also be used as a printer and scanner, but we'd recommend only using this for faxes.
The fax machine's control panel could look complex at first, but it becomes easier to use over time. It can store over 200 locations as autodial numbers and can send faxes to multiple destinations at the same time, improving overall user efficiency.
---
What is a fax machine?
A fax machine is a gadget to send and receive prints (text or image) over telephonic lines by digitizing the documents with an optical scanner and transferring them as electronic signals.
These transfers are called faxes, which can be between a fax machine and a computer or between two fax machines.
How to choose the best fax machines for you?
When choosing the best fax machine, start with assessing whether you need a dedicated fax machine or a machine with faxing, scanning, printing, and copying capabilities.
You'll want to evaluate the size of your business and its overall faxing and printing requirements. Larger businesses will want swifter and more powerful machines that can keep up with higher requirements.
Wireless functionality makes it significantly easier and more efficient to operate the machine, so make sure to check whether the device has wireless functionality. You'll then want to look at its size and weight. If the fax machine is fairly large, ensure you have enough space at your home or office. Similarly, if you want to be able to shift the machine around easily, opt for a lightweight option.
The best fax machines: How we test
When testing the fax machines, we started with evaluating whether they were dedicated fax machines or four-in-ones with printing, scanning, copying, and faxing capabilities.
We looked at the technical capabilities of the fax machines, like their fax transmission speed, the number of speed dials, and the number of pages of transmitting/receiving memory, among other aspects.
We analyzed how easy the setup process was, how powerful the printing and scanning features are, and what sizes of businesses they'd be most suitable for. We also checked the machines' dimensions to determine how much space they require and whether they're lightweight and easy to move around.