Apple Music and Apple TV are now on Windows 11, but with some catches
Beta versions are here, but with some cool features missing so far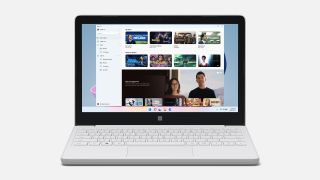 (Image credit: Microsoft / Apple)
In late 2022, Microsoft announced that Apple Music and Apple TV apps will soon be launching on Windows. The good news is, they're finally here. Windows users no longer need to rely on the outdated iTunes for Windows app, or the web versions of Apple Music or Apple TV+.
The bad news is they're preview versions. This means they're in an early, beta release stage and may not work as smoothly as they're meant to yet – and so appear to be missing a few features. You can download them right now, but most users will be met with a warning that notifies them iTunes will no longer work and other features may not be fully-functioning. You'll also run the risk of losing some content too, such as your podcasts or audiobooks.
In particular, the Apple TV app seems to be missing Dolby Vision and HDR10+ support, though regular 4K HDR is available. Dolby Atmos sound doesn't appear to work in either app, though lossless audio support seems to be fine in the Apple Music app. Losing both Vision and Atmos is a shame for anyone with a TV connected to their PC, but maybe won't be such a problem for anyone watching on just a regular PC monitor with wireless headphones.
A few other features aren't here either, such as the lyrics option in Apple Music. Apple declined to comment about whether these features would be added later – but as we mentioned above, these are just in beta, so it's entirely possible they'll appear later.
As well as Apple Music and Apple TV, there's also a preview version of a new app called Apple Devices. This allows you to manage and sync content across multiple Apple products on Windows, a necessary addition considering you'd have relied on iTunes to do this in the past. According to MacRumors, this app is also interesting because it appears to contain some references to Apple's upcoming mixed reality headset.
If you want to try the preview versions of the Apple Music, Apple TV and Apple Devices apps, you can click the links below:
We don't expect you'll experience major difficulties with these preview versions, but if you'd rather not risk losing content or features temporarily, then play it safe and wait until stable versions of the apps arrive – especially if you rely on podcasts and audiobooks to get you through the day.
Once the new apps are up and running properly, they'll bring a much more streamlined experience to Windows users who use Apple services. The Apple TV app will provide users with access to TV+ subscription content, as well as other Apple TV channels, like Paramount+ and Showtime. You'll also still be able to access any rented or purchased content from within the app, too.
With the Apple Music app you'll be able to access Apple Music, as well as your music library. But this is where that new Apple Devices app comes in, which you'll need in order to sync your media with iPhone or iPad over a cable.
Sign up to receive daily breaking news, reviews, opinion, analysis, deals and more from the world of tech.
Becca is a contributor to TechRadar, a freelance journalist and author. She's been writing about consumer tech and popular science for more than ten years, covering all kinds of topics, including why robots have eyes and whether we'll experience the overview effect one day. She's particularly interested in VR/AR, wearables, digital health, space tech and chatting to experts and academics about the future. She's contributed to TechRadar, T3, Wired, New Scientist, The Guardian, Inverse and many more. Her first book, Screen Time, came out in January 2021 with Bonnier Books. She loves science-fiction, brutalist architecture, and spending too much time floating through space in virtual reality.