We've heard a lot about when the rumored Apple AR/VR headset will be launching and how much it might cost, but one important detail has been less clear – what will Apple's headset actually be used for? Now some new rumors may be helping to fill in the gaps.
According Bloomberg's Mark Gurman, the Apple AR/VR headset will have a surprisingly long list of skills when it lands at Apple WWDC 2023 in June. Broadly speaking, these will apparently include "gaming, fitness and collaboration tools" and "services for watching sports", which could tie in nicely with Apple's move into Friday Night Baseball and its rumored bid for Premier League soccer matches.
Another interesting possibility is that the "roughly $3,000 headset" will have "new versions of Apple's existing iPad features". This could be a way to give the mixed reality headset a generous helping of launch apps, including ones like Apple Books and Freeform for brainstorming ideas.
Like the iPad, the AR/VR headset will also apparently have some familiar controls, including a similar home screen and the usual Control Center for tweaking settings like Wi-Fi or the volume. According to Bloomberg, there will also be a next-gen version of Face ID, with the headset relying on "a scan of the user's eyes, rather than a face or fingerprint".
But the most interesting thing about these new rumors are the potential use cases for the Apple AR/VR headset, which we've broken down below. The length of this list might suggest that Apple is throwing everything at the wall and hoping something sticks, rather than crafting a headset with a clearly-defined purpose.
Still, it's also promising that Apple does appear to be building an array of fun, consumer-friendly experiences for its headset, despite its professional-level price tag. Here are the nine main use cases for Apple's incoming headset outlined by Bloomberg's latest report.
1. Fitness workouts
It might end up costing the same as about three Peloton bikes, but Apple's AR/VR headset does have great potential for fitness – and that's apparently going to be an early highlight, according to Bloomberg's report.
It claims that "Apple is also working on a version of its Fitness+ service for the headset, which will let users exercise while watching an instructor in VR". Assuming the AR/VR headset has better sweat resistance than its Apple AirPods Max headphones, this could be a powerful, motivational experience.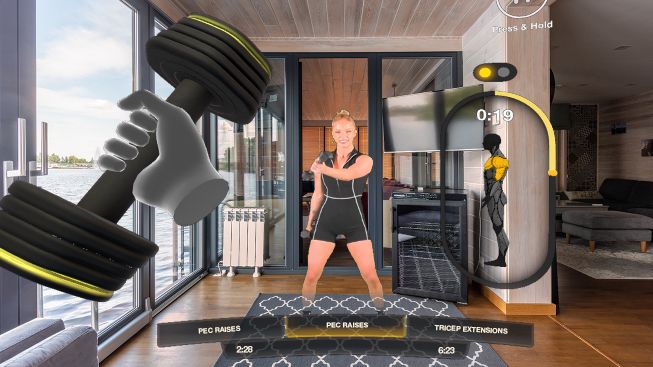 We've already seen Meta push the VR fitness experience with some of the best Oculus Quest fitness games, but adding an AR component to the mix could be even more powerful, by overlaying gaming-style targets on your real-world view.
2. Meditation
Some might argue that strapping on a $3,000 mixed reality headset is the antithesis of true meditation, but that apparently won't be stopping Apple from offering the feature as part of its AR/VR headset's wellness offering.
According to Bloomberg, "an app will help wearers meditate with a series of calming graphics, sounds and voice-overs". In some ways, this does play to the strengths of an AR/VR headset – while isolating yourself from the world could be seen as a negative for some activities, it's a potential benefit for meditation.
Still, while a VR version of Headspace does have potential, this would undoubtedly be a bonus extra rather than a reason to buy Apple's headset.
3. Brainstorming ideas
Back in the world of work, Apple apparently sees its AR/VR headset as being a new way for teams to collaborate and brainstorm ideas.
Bloomberg's report claims that "Apple is developing a version of its Freeform collaboration app for the headset", which it apparently "sees as a major selling point for the product".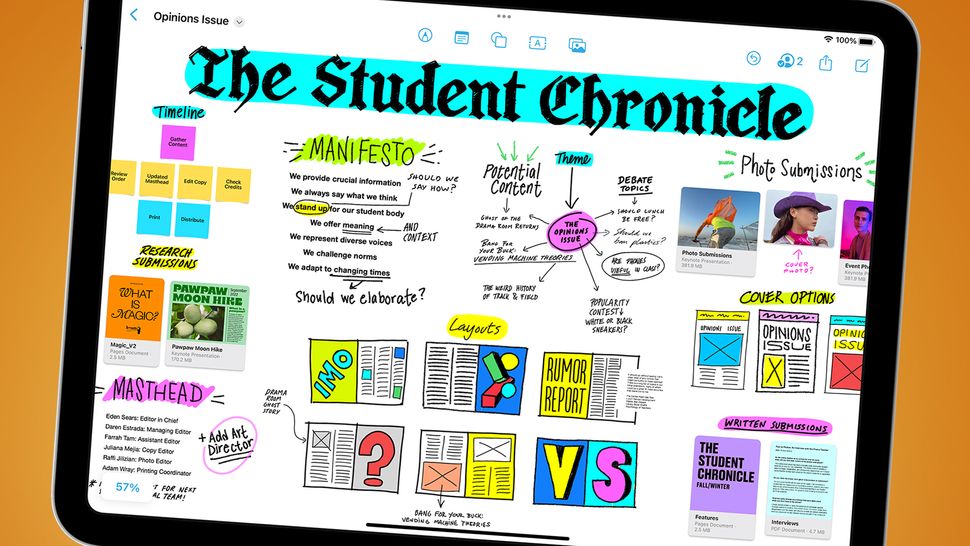 Given our experiences of working for a whole week in VR with the Meta Quest Pro, we're yet to be convinced by that. But the service will apparently "let users work on virtual whiteboards while in mixed reality", suggesting that Apple definitely sees its AR/VR headset as a business accessory.
4. Watching sport in new ways
A little more exciting that VR whiteboards is the prospect of watching TV and live sport on Apple's mixed reality headset – and according to Bloomberg, that will be another big focus at launch.
Bloomberg claims that "one selling point for the headset will be viewing sports in an immersive way", which will tie into Apple's existing deals for live games from Major League Soccer and Major League Baseball on Apple TV Plus. This could also explain why Apple is interested in bidding for Premier League soccer rights in the UK.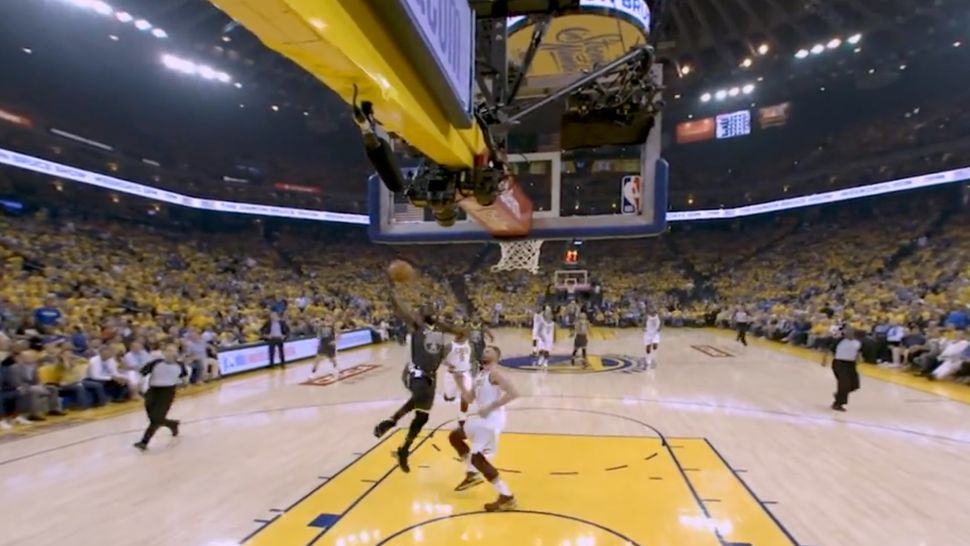 How might this experience work? We can get a glimpse by looking at NextVR (above), a company that produces live VR sports experiences for the Meta Quest 2 – and which has now been acquired by Apple. These take you onto the pitch or courtside for replays, while also giving you a decent seat at virtual comedy and music shows.
5. Video and music production
Two of the key apps that Apple is apparently optimizing for its AR/VR headset are iMovie and GarageBand, which could introduce new experiences for video and music production.
Given that Apple's headset is rumored to be a controller-less device that'll instead track your eyes and hands, this could be a potentially powerful new way to make and polish your digital creations.
Another benefit of an AR/VR headset is that it can simulate real-world equipment that costs a lot more than the headset itself – for example, Tribe XR is a virtual reality DJ studio and school that lets you learn how to use industry-standard equipment like the Pioneer CDJ-3000.
These kinds of creative experiences are likely to a big sell for Apple's mixed reality headset, if its control system is more intuitive than those of today's best VR headsets.
6. Gaming
You'd have thought gaming would be a central component to the appeal of any AR/VR headset, but that wasn't initially the plan for Apple's, according to Bloomberg.
Still, in a "reversal from Apple's stance earlier in the product's development", gaming will apparently now be "a central piece of the device's appeal". Apple's gaming background isn't exactly stellar, so we'll withhold judgement on this one.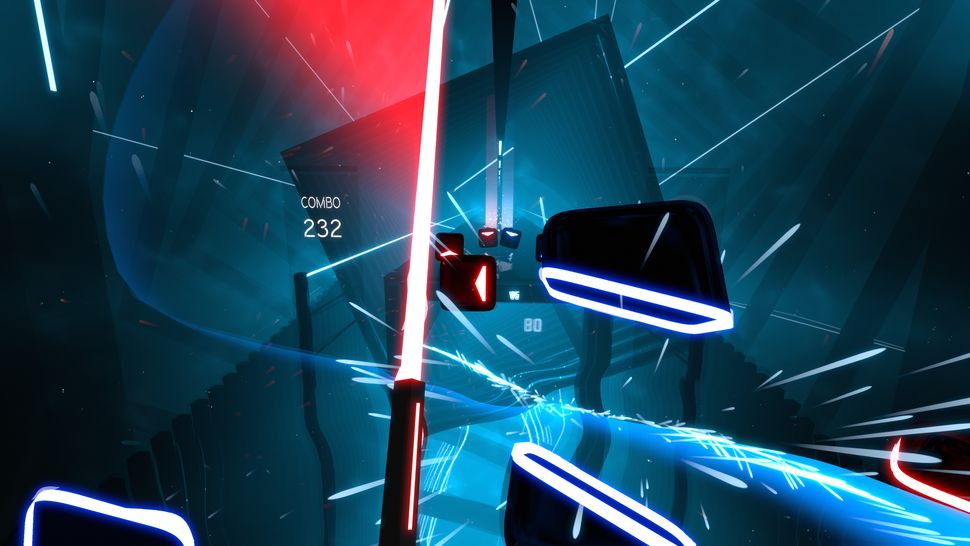 But equivalents of titles like Beat Saber (above) and Pistol Whip from the Meta Quest 2 would definitely add to the device's overall appeal, even if they'd struggle to justify being the main reason to get Apple's pricey headset.
7. Next-gen FaceTime
Given our experiences with VR meetings in Horizon Workrooms on the Meta Quest, we're again pretty dubious about how well this one will work – but Apple is apparently planning a next-gen version of FaceTime for its AR/VR headset.
According to Bloomberg, the new FaceTime "will generate 3D versions of users in virtual meeting rooms", with the idea being to "make participants feel like they're talking together in the same place".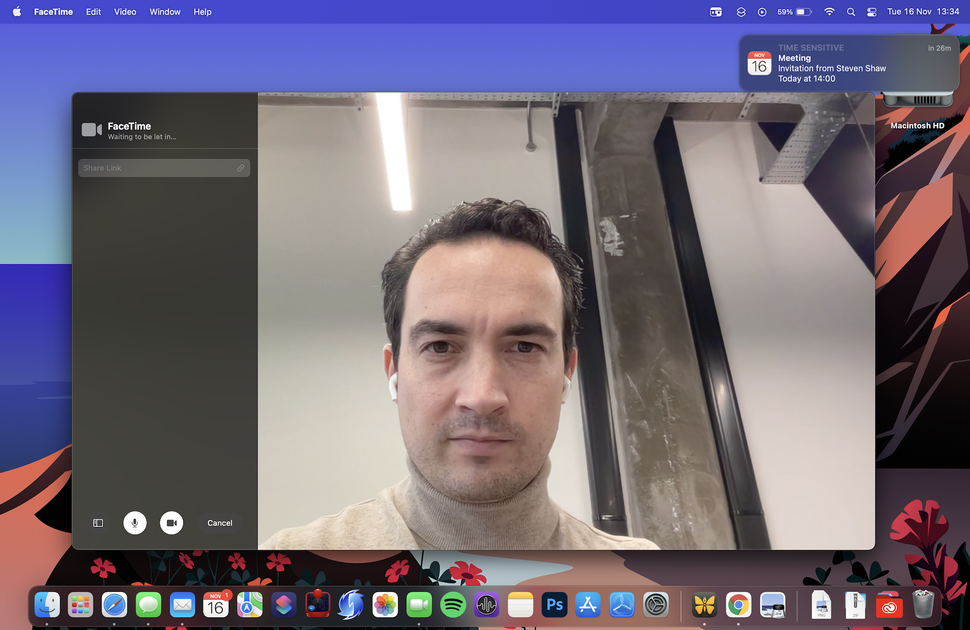 We've heard this one before, and we're yet to see a major real-world benefit to VR video conferencing, even if it does let you do it from a virtual beach. But we're definitely looking forward to trying this out, while crossing our virtual fingers that it works more consistently than today's standard FaceTime.
8. An extension for your iPad
A slightly surprising aspect of Bloomberg's new report is just how many iPad apps Apple is apparently planning to port over to its AR/VR headset at launch.
According to the rumors, this will "include optimized versions of the Safari web browser and Apple's services for calendars, contacts, files, home control, mail, maps, messaging, notes, photos and reminders, as well as its music, news, stocks and weather apps".
The stocks app in VR or AR? That sounds like a form of torture to us, but more appealing is the prospect of being able to access "millions of existing apps from third-party developers via the new 3D interface". The best apps will surely have to be optimized for the AR/VR experience, unless you like the idea of strapping an iPhone to your face.
9. Virtual reading
On the surface, this is perhaps the most baffling use case for Apple's AR/VR headset from Bloomberg's report, but hopefully we'll be pleasantly surprised. According to the site's rumors, Apple "is working on a version of Apple Books for the headset that will allow users to read in virtual reality".
Perhaps we're lacking in imagination, but we can't yet see how virtual books could trump reading on an iPad or from a real book, unless the experience transports you to the Library of Congress or the British Library. There's also potential in the concept of interactive books, particularly for learning, so this is another one we're looking forward to seeing in (virtual) reality.