5 computing innovations that shaped 2015
New OS, USB, Pencils, bezels and storage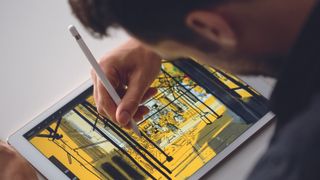 (Image credit: Future)
Introduction
This year, we saw releases of big computing items. Apple's iPad Pro, Microsoft's Surface Book and Dell's XPS 13. Each of these products generated huge, hype-worthy buzz for their performance and iconic designs, but it's the underlying technology that has helped shape 2015's computing trends.
Although technology like a new USB port, a digital pencil, slimmer bezels, bigger drives and faster processors may not sound as sexy as the devices that debuted them to the world, these innovations have each rightfully earned mind share in 2015, and I expect them to generate even more impact in 2016.
1. Windows 10
Even though Windows 10 looks similar to previous versions of Windows, the operating system signals a new era for Microsoft.
First, for Windows 7, 8 and 8.1 users, Windows 10 is available as a free upgrade during the first year of release. Microsoft is also shifting its strategy. Instead of delivering Windows as a standalone software product, Microsoft is entering the software as a service business. Under this model, Microsoft promises to release new features, improvements and security updates.
Second, Microsoft is showing that it is rallying its energy around a single platform. Windows 10 will be available for desktops, laptops, tablets, convertibles, Xbox and Internet of Things (IoT) devices. Instead of maintaining separate OSes for different product categories, unifying development around Windows 10 will hopefully mean that we'll see more apps for Windows phones and tablets.
Third, and probably the biggest feature of Windows 10, is Continuum. With Continuum, Microsoft promises that you'll have the same great experience regardless of your computing device's form factor.
Convertible notebooks will automatically switch between laptop mode and tablet mode for the optimal experience. Continuum is also present on Windows 10 Mobile phones as well. Once you connect Microsoft's Lumia 950 to a display dock, you'll see a bigger desktop interface. Instead of seeing a blown up smartphone display mirrored onto your large display, you'll get an experience that's similar to a Windows PC for enhanced productivity. Continuum for Windows 10 Mobile is like having a PC in your pocket.
2. Singular connection
Apple made an early bet with the USB Type-C connection when it released its slimmer than "Air" MacBook. In a highly controversial move, the 12-inch laptop sheds all of its ports, including a power port, for a single USB-C connection.
USB-C offers three main benefits, including fast transfer speeds, a reversible connection so you won't have to figure out which way to plug in and the ability to handle diverse input and output protocols. It allows you to connect peripherals, power, accessories and displays to your devices, essentially replacing your power, traditional USB and HDMI ports.
Google didn't take as drastic a leap as Apple with the Chromebook Pixel. The high-end Chromebook added the next generation standard, but retains support for legacy full-size USB Type-A ports.
USB-C is here to stay, and expect to see tablets, phones, docks, monitors, hubs and additional devices adding the standard in 2016. It may be a while for laptop manufacturers to go all-in like the MacBook, but the port will begin appearing beside standard USB ports on your next notebook, like Dell's recent quad-core 15-inch Latitude 15 5000 Series (E5570).
Hopefully, for you, this means no more traveling with a tangled bundle of cables. For mobile users, USB-C for power could open the door to a universal external battery pack that can recharge your phone, tablet, laptop and other accessories so you can leave your power brick behind.
3. New interactions
Convertible notebooks have taken a leap as consumers want devices that can do more, allowing them to create and consume content on the go. Led by popular models like Microsoft's Surface Pro 4, Microsoft's Surface Book and Apple's iPad Pro, these convertibles show that the pen can be a versatile input tool.
Long a staunch opponent of the stylus, Apple has gone all in with the Apple Pencil, a digital stylus with low latency that can handle various levels of pressure and angles, allowing the tool to be used for creative projects much like a real pencil. Through the Apple Pencil, developers are even adding "right-click" support to the non-3D Touch display on the iPad Pro.
Microsoft is also expanding support for inking. The company has hedged big bets on the stylus a decade earlier with the launch of the Tablet PC, and Windows 10 continues to support Microsoft's investment in digital inking. Cortana can now understand your handwritten reminders, so you can scrawl on your tablet as you would a Post-it note.
And for Android users, Samsung's Galaxy Note series still leads the charge. Even though Samsung hasn't released a new Galaxy Note tablet in over a year, the Galaxy Note 5 phone also comes with improved handwriting support, making it a portable digital Moleskine.
Beyond the touchscreen, Microsoft is adding better voice support with Cortana on Windows 10 PC and bringing biometric security to make passwords obsolete. The ease of use Touch ID on the iPhone is coming to PCs, and Windows Hello supports both fingerprint and facial recognition. Microsoft also introduced an iris scanner on its latest Lumia 950 smartphone.
This year, we also got a glimpse of how touch works beyond a simple tap. Apple brought its Force Touch tech to touchpads and 3D Touch to the iPhone. We're already seeing this tech adopted by HP on the EliteBook Folio 1020's touchpad, and there are rumors that more phones and tablets will integrate touch-sensing capabilities in 2016 that will make right-clicking easier.
4. Bulking up and slimming down
Bigger is better, unless you're a mobile user. The benefit of a bigger device is that a larger display can help boost productivity, allowing you to see more on your screen. The downside is that a bigger display makes the device larger, and a larger footprint adds bulk to your desk and gear bag.
Dell stunned the world early this year when it introduced the Dell XPS 13. The notebook's trademarked Infinity Display comes minimizes the bezels and make the screen appear larger than it is. Dell claims the 13-inch notebook occupies the footprint of an 11-inch device, meaning you're literally getting a Windows-powered 13-inch notebook in the size of an 11-inch MacBook Air. The company also introduced a similarly compact XPS 15 with an Infinity Display.
Microsoft also upped its game with the launch of the Surface Pro 4. Because the Surface Pro 4 is a tablet, Microsoft simply can't just chop off the bezels. Instead, the Surface Pro 4 occupies the same footprint as the Surface Pro 3, but Microsoft increased the screen size from 12 inches to 12.3 inches.
Hopefully, this trend continues. As 4K resolution becomes mainstream on high-end notebooks and convertibles in 2016, we want to have more space to see the extra pixels, but users don't necessarily want to carry a bigger, bulkier device when traveling. Slim bezels will allow device manufacturers to fit a larger screen in the same notebook footprint.
In the desktop space, we're also seeing slimmer bezels on monitors. This helps make a multi-monitor setup appear seamless.
5. Need for space
For a while now, switching from a slower hard drive to speedier solid state storage means sacrificing storage capacity. This trend seems to be reversing, as we're seeing more storage on devices than before.
SSDs with 1TB of storage used to be a rarity in the notebook space, but Samsung announced that it will soon release a 1TB version of its compact M.2 form factor SSD drive. More manufacturers will likely introduce 1TB M.2 drives in 2016, but for now, Samsung is first to make the announcement.
Additionally, Microsoft is topping out its Surface Book and Surface Pro 4 configurations with a 1TB SSD option, but be prepared to pay top dollar for these options.
Beyond 1TB of storage, there are several promising drive technologies on the horizon that will bring faster speeds, more reliability and larger capacities. Intel announced that it will release a speedy Optane drive developed with 3D XPoint technology. SanDisk and HP's Storage Class Memory (SCM) technology is an Optane rival.
Air-filled drives will also help boost your storage needs. For businesses harvesting copious amounts of data, air-filled drives will increase storage capacity on traditional hard disk drives. Seagate announced an 8TB air-filled drive, and Western Digital is relying on Helium to boost capacity to 10TB. These drives will help the industrial Internet of Things collect, store and analyze data.
Are you a pro? Subscribe to our newsletter
Sign up to the TechRadar Pro newsletter to get all the top news, opinion, features and guidance your business needs to succeed!