The iPad mini 3 is exactly the same dimensions as the iPad Mini 2, at 200 x 134.7 x 7.5 mm and 331g.
The design isn't terrible by any means - the chassis is very similar to that seen on the first iPad mini two years ago, but that was such a pleasurable thing to hold that I don't mind seeing it again and again.
Unfortunately the gold version, which will be most buyers' color of choice, isn't the most attractive if you're going for the 4G version. The top features a cut-out section needed to let the radio signal through, but it's white. This jarring decision is out of keeping with the attention to detail expected from Apple.
Holding the iPad mini 3 isn't a bad sensation at all - it's a pleasing, well-packaged device indeed.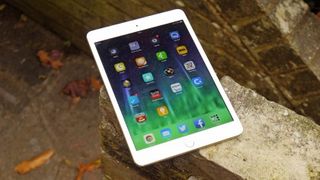 It lacks the balance of the iPad Air 2, despite being over 100g lighter, and feels a little chunkier in the hand thanks to the greater thickness.
But it fits nicely in a jacket pocket and at 331g, doesn't weigh it down too much either.
The power button, volume keys and silencer switch (the latter remaining although it's disappeared on the iPad Air 2) are all exactly where they were on the mini 2 - are you getting the feeling that there's a theme here?
There's a sense of a massively missed opportunity here from Apple. The iPad mini 2 was a triumph as it was simply a shrunken version of the iPad Air, with the same design language and power.
The mini 3 is just a rebadged mini 2. It could have been amazing. If this was slimmed down to the same extent as the Air 2, it would have been perfect for the pocket. The screen could have been sublime, the edges improved and overall look and feel a step up.
Given it costs the same as last year's model, I would have expected it to have the same upgrades and attention - as it stands I can't work out where Apple has spent the money to bring the new technology. Touch ID isn't enough to explain it.