The Asus ROG Phone 3 is not for everyone. It is meant for a specific type of user instead of going for the masses. As cool as niche products are, they haven't really worked well for smartphones. In the recent past, gaming phones have been the closest we've gotten to an exception to that axiom.
Starting out, I didn't think that the phone would impress me, primarily because I prefer my phones to be all-rounders and not one-trick ponies. Interestingly, with the odds against it, the ROG Phone 3 still managed to keep me engaged as it became clearer that its target audience extends beyond just hardcore mobile gamers. Those additions made it a much more likeable device, sometimes even trumping the established choices in its segment.
Having said that, most decisions on the phone are aimed at power users and enthusiasts that want to squeeze and tweak every little aspect of their phones. If you enjoy geeking out over such minutiae, this offering from Asus definitely deserves consideration. For everyone else, you already know what the competition is. In case you still have an open mind, let me elaborate through this review on why you might just enjoy using the Asus ROG Phone 3 more than expected.
Price in India
The 16GB + 512GB variant will not be available in India
In India, the Asus ROG Phone 3 is priced at Rs 49,999 for the base 8GB+128GB variant and goes up to Rs 57,999 for the 12GB+256GB model. The Aero case and a 3.5mm dongle will be included with the phone, as will the 30W fast charger. It will be available for purchase starting August 6 on Flipkart.
Check out the Asus ROG Phone 3 on Flipkart
Design
Relatively subtle design
Big and bulky
RGB logo on the back
Image 1 of 2
Image 2 of 2
Asus tells us that the ROG Phone 3's design is a lot more toned down and muted than its predecessor to appeal to more people. That is technically the truth, but in any comparison with any other regular phone in the market, it is sure to stand out. That's not necessarily a bad thing as gamers are known to prefer over the top looks that are unique, and most phones fail to provide that distinction.
The back is primarily dark grey with some lines that run across and gleam at certain angles. The copper-coloured colling system is replaced by a silver and red coloured one that sits under the see-through glass. The centre of the back has a big ROG motif that is RGB, obviously. The hardware overview on the front doesn't pale in comparison. It starts with a big 6.59-inch display that is flanked with bigger bezels on all sides in an unapologetic manner. The forehead and the chin house front-firing stereo speakers, making it the only phone to do so. These also act as resting areas for your palms while gaming.
With a weight of 240 grams, it is amongst the heaviest mainstream smartphones in existence. Combined with the slippery glass, it becomes a nightmare to wield. One-handed operations are not only nearly impossible but also painful. We highly recommend using the included Aero case which adds flair as well as grip to the phone.
Image 1 of 2
Image 2 of 2
If this wasn't exciting enough, the Asus ROG Phone 3 has a few more tricks up its sleeve. For starters, there's a USB Type-C port on the bottom that is slightly offset to the left. Then, there's another customized dual-USB Type-C port on the left which can be used for charging (while the phone is in landscape) as well as connect accessories. By default, it is covered by a gasket that is pretty difficult to pry out with just fingernails. Keep a pair of tweezers handy if you plan on using it often.
On the other side, apart from the usual power button and volume rocker, are two shoulder buttons that can be used for extra inputs for gaming. Now evolved to 'AirTriggers 3', these buttons now learn quite a few new tricks and adding many new ways of input.
As you must have noticed by now, the ROG Phone 3 has been designed such that no parts get in the way of gaming. Asus has even expanded the number of microphones – there are four now, including one on the back near the flash – to ensure that, no matter how many accessories you clip onto the phone, you can continue communicating with your team.
Accessories are also a big part of the ROG Phone experience. Along with the case that comes included, you also get a 3.5mm dongle as the headphone jack is done away with. The other accessories are optional and include gamepads, display docks and streaming devices. You can check out the complete list and pricing here.
Display
6.59-inch AMOLED panel
144Hz refresh rate, 270Hz touch sampling
HDR10+ capable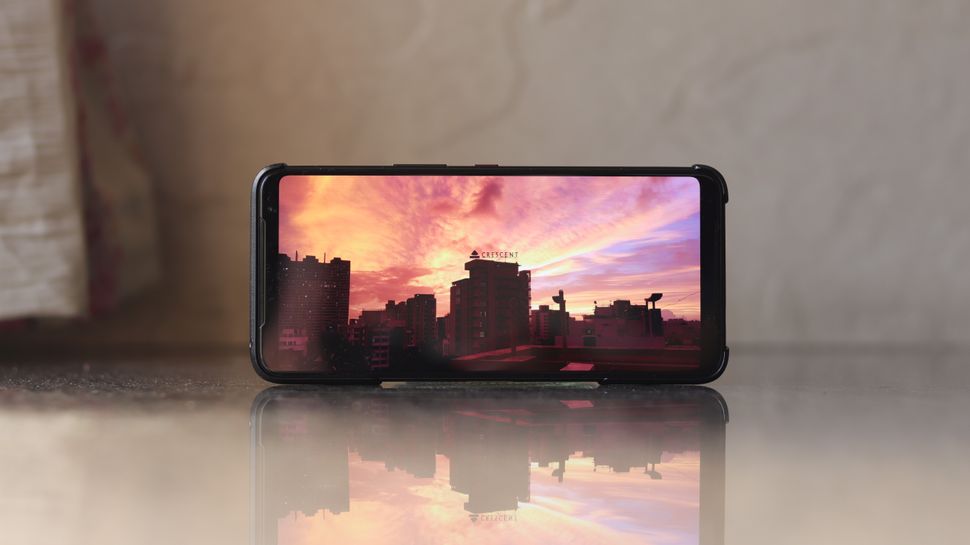 On paper, the ROG Phone 3's display is quite similar to its predecessor with a 6.59-inch AMOLED display with a Full HD+ resolution (19.5:9), HDR10+ certification and a 1000nits of peak brightness. The upgrades are subtle but take it to the next level - a refresh rate of 144Hz, 270Hz touch sampling and a tap latency of just 25ms. As with most gaming displays, the resolution is not the highest priority, which is a fair trade-off for better gaming.
Oddly though, not all of them translate well in real-life usage. Let's start with the good stuff. The 144Hz panel is a joy to use. The difference between it and a 120Hz panel might not be evident, but once your eyes get used to the higher one, going back to lower ones is difficult. This is an important aspect that is not just reserved for gaming as it makes the entire interface smoother, be it opening apps, scrolling through pages or general social media.
Moreover, you also get the option to switch between 60Hz, 90Hz, 120Hz, 144Hz and auto to balance battery life without sacrificing the experience. Auto adapts the refresh rate based on each app and screen, so the panel pushes only the necessary amount of frames that a program supports.
The display gets bright enough for most scenarios as all flagship phones, so no real complaints there either. Things start falling apart when you take the brightness down though. At the lower brightness levels, the panel struggles to render colours in their true form. Not only are the colours very inaccurate, but there's a fair bit of extra crushing and noise all over. This is very evident on content that is primarily black or dark. And the lowest brightness isn't even all that low.
Asus offers a tonne of customisations even for the display profiles. Apart from choosing the colour space (default, natural, cinematic, standard and custom), you can also fine-tune the saturation and colour temperature as per your liking. It's one of the only phones to offer both with such granularity. Mind you, that it is still inconsistent, as the warmth changes with brightness levels and you might have to recalibrate.
The second issue was a lot more severe. In usage which alternates between swipes and taps (which is most apps), the display just refuses to accept touches out of nowhere. For instance, scrolling through WhatsApp to find a conversation and then clicking on the chat to open it wouldn't work many times. This seems like something that can be fixed via updates, so shouldn't be a long term concern.
The ROG Phone 3 is also clearly not chasing higher screen-to-body ratios, and for good reason. Most phones these days push the display to the edges, leaving little room for palm rest. Then there are curves and notches which can negatively impact gaming too. Asus's approach is old school - add bezels on all sides, and make use of the thicker ones by adding giant speakers in it. This also allows for the selfie camera to reside in the forehead rather than eating into the display. Just keep in mind that these will affect how easily you use the phone with one hand if that is something that you've not given up on yet.
Overall, we understand why Asus decided to prioritize the refresh rate and touch input latency more than the colour accuracy. It is very difficult to create a good and bright AMOLED panel that also has a high refresh rate. In fact, this is something that the family is suffered from since the beginning. It is a minor issue but one worth keeping in mind.
Audio
No headphone jack
Stereo speakers
For media consumption-centric devices, audio is an important factor of the equation. It's also one of the strong points of the Asus ROG Phone 3. For starters, it is one of the only phones this season to have dual front-firing speakers that are equal. Combined, it makes the phone one of the loudest around, and perhaps the only one with real channel separation thanks to Dirac. They barely distort or rattle even at the highest output. This also translates into a more immersive gaming experience without necessitating earphones.
Unlike its predecessor, we no longer have a headphone jack on the phone. A dongle is included in the box to turn either of the Type-C ports to a 3.5mm port to connect earphones. As overengineered as it may seem, the secondary connectors on the side do make a lot of sense and help with the grip while gaming.
Audio over Bluetooth was excellent too. The ROG Phone 3 takes the family's lineage ahead with one of the best audio experiences around.
Biometrics
For a change, things are pretty standard here. There's a Goodix in-display fingerprint scanner that works extremely well (save for the initial setup) and wakes when necessary. 2D face unlock is the other option which works equally well. No complaints here either.