Shark vs Eufy: which brand makes the best robot vacuum cleaner?
Two brands. Tons of robots. But which one's better?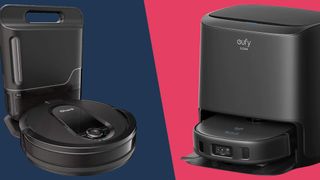 (Image credit: Future)
While iRobot's Roomba may be the best known robot vacuum range, two brands in particular have become serious competitors: Shark and Eufy. According to retail experts NPD, Shark – part of the large SharkNinja home appliance company, also known for producing some of the best air fryers and multi-function cookers – is now the number one multi-function brand in America; meanwhile Eufy is a sub-brand of the electronics giant Anker and makes a wide range of home products including smart scales and security systems.
In recent years we've seen both of these brands deliver increasingly smart and powerful robot vacuums at a range of prices. From affordable, compact cleaners to extremely clever laser-guided models there's a Shark or Eufy to suit every kind of home. But there are differences in what they do, and in how much you'll pay for the features you need.
In this guide we're going to compare the current robot vacuum range from both brands. We'll be focusing on the models available in the US market, where both firms offer the most products, but many of the available models are also sold in other countries.
Shark vs Eufy: price and availability
Both brands offer two main kinds of cleaner: dedicated vacuum cleaners, and vacuum cleaners that can also mop. Those cleaners are then offered in two forms: as stand-alone units, and with self-emptying docking stations that empty the dust container and in some cases, refill the mopping water tank.
It's worth pointing out here that both Shark and Eufy are keen discounters during events such as Prime Day and Black Friday, so it may be wise to take recommended retail prices with a pinch of salt; as we write this, both firms are offering discounts on multiple models – so for example Eufy's cheapest model has a suggested retail of $399.99, but it's being sold for $199.99 in the US.
As of late 2023 Shark's cheapest vacuum is the Shark Ion, which has a suggested retail of $279.99. The most expensive model is the Shark Matrix Plus 2-in-1 self-emptying robot vacuum/mop, which is $699. These models are currently only available in the US; Shark doesn't currently sell its robot vacuums in the UK or Australia, although some models are available via third party importers.
The current Eufy product range includes a mix of vacuum and hybrid vacuum/mop cleaners. The simplest and most affordable models are the Eufy Clean models, which in the US currently begin at $199.99 (discounted from the $399) for the mop/vacuum Eufy Clean L35 Hybrid. The most expensive model is the X9 Pro, a hybrid mop/vacuum with self-emptying station that is currently retailing for $799.99.
In Australia the Eufy range begins with the AU$399.99 Robovac 25C and the top of the range is the Robovac X8 Hybrid at AU$1,299.95. And in the UK the range starts with the RoboVac 11S Max, currently £239.99, and the top model is the Eufy Clean X9 Pro+, which is currently £958.99 including an accessory kit.
Shark vs Eufy: design and features
Both brands use variations of the familiar circular robot design popularised by iRobot's Roombas and are pretty good-looking as far as robot vacuums go. Both are controlled via smartphone, Amazon's Alexa or Google Assistant. You'll need a 2.4GHz Wi-Fi network for your cleaner to connect to.
The features you get will depend on the model you buy. The very cheapest cleaners don't have built-in mapping or laser navigation so you can't set no-go zones or room-specific cleans, and they don't have object evasion: they'll detect things when they bump into them but don't have the ability to see them in advance. That means you'll need to ensure your floors are clear before letting them do their thing. The cheaper models tend to have less suction power too.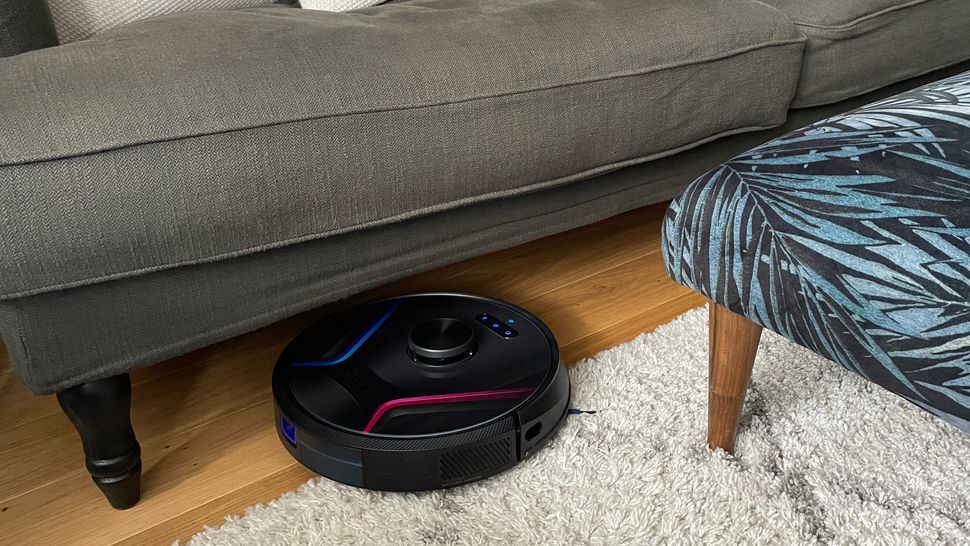 Things get more interesting as you move slightly up the product range. For example the Eufy Robovac X8 adds laser navigation and AI mapping to automatically scan your home and find the best way around it, spotting and avoiding obstacles as it goes.
Shark's similarly priced cleaners have similar technology, and the more expensive Matrix models have what the firm calls Matrix clean: instead of one-pass cleaning they repeatedly roll over the same area to remove more dust and dirt. They also have NeverStuck, which enables the cleaner to raise itself up to get over thresholds and onto thick carpets, and edge cleaning to address a common cleaning problem with small robots. Both brands also offer anti-tangle brushes on their more premium models to reduce the need to remove hair and pet fur from their brushes.
The most expensive models in each firm's line-up have cleaning stations, which are charging stations that also empty the cleaner and refill the mopping water tank where appropriate. These stations are designed to transfer the dust without it escaping: several of the Shark ones have HEPA filtration while the Eufy ones use "bacteriostatic" bags to keep the dust inside.
Shark vs Eufy: performance
We've reviewed many of both firms' cleaners, so how do they compare?
In our review of the Eufy Clean X9 Pro we gave it four stars: it's a great robot mop but we felt that its vacuum performance was sub-par. However, our review of a budget Eufy, the Robovac 11S – a precursor to the current Eufy clean models – found it was a great vacuum on hard floors and excellent value for money.
In our review of Shark's flagship AI Ultra 2-in-1 robot vacuum and mop, we gave it four and a half stars out of five: "it performs very well" on both vacuuming and mopping, but was a little on the pricey side. The more affordable Shark IQ Self-Empty XL achieved 3.5 stars in our review last year: it cleaned well but was a little loud and the mapping wasn't best in class.
Shark vs Eufy: other considerations
If you're concerned about the country of origin, on paper at least Shark is the more patriotic buy: its headquarters are in Needham, Massachusetts while Eufy's home is in China. But today's electronics firms are global and outsource their manufacturing, so both brands' cleaners are primarily made in China.
If you're more interested in practical considerations such as warranties, that varies from product to product. Shark's more affordable robot cleaners come with a 1-year VIP warranty, but more expensive models increase that to three years. Eufy's standard warranty is one year.
Shark vs Eufy: which is right for you?
Both firms make solid and effective robot vacuum cleaners that represent good value for money, especially during their many discount periods, and we'd be happy with either firm's products in our home.
However, once you start moving from the most affordable models to the mid-range and premium ones, our pick would be the Shark: while in our iRobot vs Shark comparison we plumped for the more expensive Roombas than the Shark models, in this particular face-off we think Shark has the smarter devices and better specifications. But of course, every home is different so we'd recommend checking out our guide to the best robot vacuums to see what might fit your particular requirements best.
You might also like
Get daily insight, inspiration and deals in your inbox
Get the hottest deals available in your inbox plus news, reviews, opinion, analysis and more from the TechRadar team.
Contributor
Writer, broadcaster, musician and kitchen gadget obsessive Carrie Marshall (Twitter) has been writing about tech since 1998, contributing sage advice and odd opinions to all kinds of magazines and websites as well as writing more than a dozen books. Her memoir, Carrie Kills A Man, is on sale now. She is the singer in Glaswegian rock band HAVR.