Four years ago today, on April 30, 2019, we were introduced to the Valve Index – an uber-impressive VR headset from the company behind the wildly popular Steam PC gaming platform.
The Valve Index was teed up to be a runaway success; not only did the headset arrive boasting a solid set of specs, but Valve was even reviving one of its most beloved franchises to help promote it with the Steam-exclusive game Half-Life: Alyx. Yet, despite the gadget receiving a lot of love from critics and VR fanatics alike, the Index hasn't managed to capture the same wave of hype that has propelled the Meta Quest 2 (formerly Oculus Quest 2) into the mainstream. As such, there's uncertainty over whether we'll ever see a followup to the beloved Valve headset.
To celebrate four years of the Valve Index being in our lives, here's a look back at our – and your – reactions to the VR device, and a look forward at what a possible Valve Index 2 would have to deliver in order for a Steam headset to reclaim the top spot in the VR world in the eyes of the masses.
The best VR has to offer
In our four-and-a-half-star Valve Index review, we commended the headset's impressive "knuckle" controllers and its stunning display. Although the former takes some time to get used to, they're a "real step up" compared to what rivals offer.
The headset is rated second in our collection of the best VR headsets available – it was in pole position for a long time – and we aren't the only folk to believe so. Content creator Mercanthony praised the Index for its mind-blowing visuals, more comfortable design compared to rivals such as the Quest 2, and "insane" finger tracking.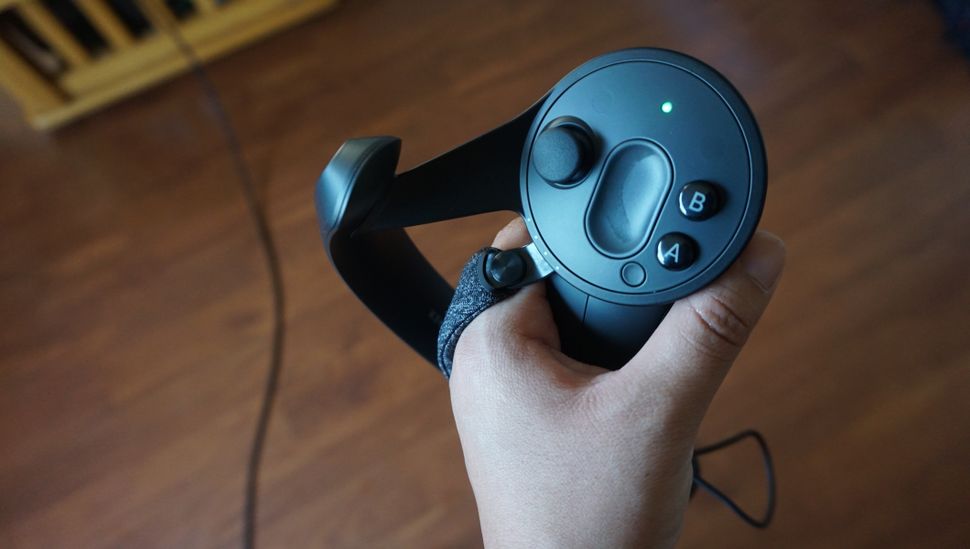 But what's the point in having a fantastic VR headset if you can't put it to good use? Thankfully, the Vive Index has access to some impressive titles via Steam VR.
Of course, there are the cross-platform VR essentials you'll find on our best VR games list – the likes of Beat Saber and Walkabout Mini Golf among others – but Steam is also home to some exclusive VR titles including the incredible Half-Life: Alyx. This made-for-VR experience can be enjoyed on any Steam-compatible headset, but thanks to its fantastic controllers and other upgrades, the Valve Index is clearly the best way to enjoy this title.
Half-Life: Alyx has absolutely floored me, and I'm maybe halfway through it. I'm making an effort to stream every time I play though my first run to capture my reactions.https://t.co/djUyLPmEOR#HalfLifeAlyxMarch 27, 2020
Out of stock, out of mind
Unfortunately, the Valve Index has hit a few bumps in the road during the past four years, with one major issue being that the headset hasn't always been the easiest to get your hands on.
Just search "out of stock" in the Valve Index subreddit – a forum dedicated to all things related to the VR headset – and you'll find post after post, across the past four years, of excited people such as user u/DrHuxleyy struggling to order the headset. Just as they had managed to save enough funds to finally buy the VR headset, it went out of stock (although they did eventually manage to buy one).
On the occasions that the headset is in stock, another barrier to entry has been its price. The full VR kit, which comes with everything you need (the headset, controllers and base stations for tracking), costs $999 / £919 (around AU$1,500). In addition, you'll need a fairly decent PC to power the Valve Index. We found that our PC powered by an Nvidia RTX 980 GPU was more than sufficient for our review, but its performance will be enhanced significantly by a more modern setup – PCs that are likely to cost you at least another $500 / £500, if not a fair bit more.
Twitter users such as @Stealth40k reacted to the Index's price announcement in 2019 by highlighting that for the same price you could instead buy a Nintendo Switch console and a large library of games.
My first reaction to learning about the Valve Index VR price was....wow.....you could buy a Switch and 11 retail games for that same price of $999. This was the first thing that crossed my mind haha.May 1, 2019
Quest for greatness
These faults are perhaps the issue that the Oculus Quest 2 VR headset hit the mainstream. In its first year of sale, Meta shipped 10 million Quest 2 units (according to a Qualcomm exec, via The Verge), while Valve is believed to have only shipped roughly 150,000 Index headsets in its launch year (via SuperData).
Instead of costing $999 plus the price of a PC, the Quest 2 was phenomenally cheap at launch costing just $299 / £299 / AU$479 for the base 64GB model. For this you get the headset and controllers, and since this is a standalone headset you don't need any external base stations for tracking or a PC to run it – you pay $300 and have everything you'd need to start enjoying VR. Even at its new $400 / £400 / AU$630 minimum price for the 128GB version (following the discontinuation of the 64GB model and a price hike in July 2022), the Quest 2 is still a bargain compared to the Index.
What's more, while the Quest 2's performance isn't remotely on par with Valve's headset, the Meta device is still solid. In our four-and-a-half-star Oculus Quest 2 review, we commended its "lightweight" and "comfortable" design, adding that it's "powerful enough to run impressively detailed virtual reality experiences" without any external help.
Oops suddenly I love VRKanon got me an Oculus Quest 2 abs I'm!!! Having so much fun!!!! Mostly just fishing for silly cartoon fish but I love it so much holy HECKMay 26, 2022
It's no surprise then that Valve reportedly has plans to take a few pages out of the Quest's playbook with the rumored Valve Index 2. Back during the Valve Index's launch party, Valve CEO Gabe Newell stated that the company was "looking into several methods to do untethered Index," and patent documents have teased that Valve is developing wireless and standalone headsets.
What's more, since launching the Index Valve has released another piece of much-loved hardware: the Steam Deck. This portable PC that comes in a similar form factor to the Nintendo Switch is impressive – simply put, it's one of the best gadgets to launch in the past few years. If Valve can take everything that made the Index great and work in the portability lessons it learned from creating the Steam Deck then we won't be surprised if the result is the Quest-killer that the VR industry has been waiting for – provided that it isn't too pricey.
What do you enjoy (or despise) about your Valve Index, and what do you want to see from a Valve Index 2? Be sure to let us know on social media, we'd love to hear your thoughts.