Hailed by Hershesons as "Lighter. Faster. Better than anything you've used before", The Great Hairdryer has plenty of expectations to meet.
Produced on a limited-edition run by a well-respected haircare brand with three decades of experience, The Great Hairdryer offers a professional-grade design that's been developed for use both at home and in the salon. In fact, it claims to be "7 times faster than an average hair dryer and 30% quicker at drying, compared to a range of industry leaders". If you're considering one of the best hair dryers for 2023, you may want to take a closer look at this latest new kid on the block before it sells out.
I was keen to put it to the test in my daily routine at home, to compare its performance against other leading hair dryer designs. I also wanted to challenge the claims it was making to discover if it was indeed lighter, faster and quieter than rival models.
Read on to find out how well The Great Hairdryer performed over the course of a month's testing at home, and whether it truly does stand out from the crowd.
---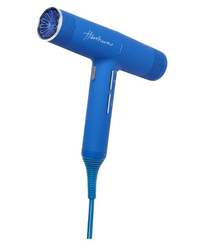 Hershesons The Great Hairdryer Big Blow Out Edition: £356 £295 at Hershesons
The Great Hairdryer is believed to be the best hair dryer in the world. It sits in the palm of your hand and comes with built-in technology that increases smoothness and shine. Right now, you can save £65 off the Big Blow Out Kit which contains some cream, foam and a brush for styling.
Weighing 294g, Hershesons The Great Hairdryer is lighter than a can of Coke, which is an attractive feature in itself since blow-drying your hair can be a chore. In addition, the brand states that you can dry hair 30% faster with this model over other hair dryers as a result of its 110,000 RPM. Its special 'Venturi Effect' feature acts as an air outlet that boosts air flow without using extra power. It also has a life-long motor to ensure that it outlives other hair dryers.
Emitting a sound level as low as 78dB, The Great Hairdryer is apparently the quietest model available to buy. And, alongside being lightweight and fast-drying, its special "Oxy Active" technology emits active oxygen, enhancing your locks by improving colour fixation and shine.
Arriving in a shiny blue presentation box with compartments that neatly house the main body and accessories, The Great Hairdryer certainly looks eye-catching – and I couldn't wait to give it a try to see if its claims hold up in my standard daily routine.
Over a month, I alternated between using the Hershesons The Great Hairdryer and two other well-known hair dryer models, to see which I preferred.
I have thick, wavy, shoulder-length hair, which can prove a challenge to blow-dry. I have tested numerous hair dryers over the years from the likes of Dyson, GHD, T3 and Shark, so feel that I know what makes for a good design. A hair dryer that achieves smooth and shiny results is always a top priority for me, since it reduces the need to use flat irons after drying, and makes my hair more manageable. A hair dryer that's fast, quiet, easy to use, and that doesn't cause arm ache, is always welcome – as is the ability to use it to dry my young children's hair, too.
The experience of drying hair can differ from one person to the next, depending on hair length, type – be it wavy, curly or straight – and how damp it is when you first start.
With that in mind, each time I washed my hair, I cycled between the Dyson Supersonic limited edition Vinca Blue and Rose, Hershesons The Great Hairdryer and GHD's Helios. When drying my hair, I timed how long it took and rated the results for smoothness and manageability. I also assessed whether the model's weight and low noise level made any difference to my user experience, and whether it proved faster and quieter than its competitors.
Verdict: Is this Hershesons hair dryer as light, quiet and fast as it claims?
My first impressions of The Great Hairdryer were very positive. In terms of size, it's very slim and lightweight. At just 294g, compared to the Dyson's 680g, I didn't really notice much of a difference between the two models in the hand, although The Great Hairdryer is noticeably slimmer. At 1540g, the GHD Helios is noticeably heavier than The Great Hairdryer, and this can impact how and for how long you use it. Nevertheless, I do think some people may prefer a hair dryer with a bit more weight, to deliver more balance and control when styling.
Swipe to scroll horizontally
| Header Cell - Column 0 | Weight |
| --- | --- |
| Hershesons The Great Hairdryer | 294g |
| Dyson Supersonic | 680g |
| GHD Helios | 1540g |
Overall, there's no denying that the light weight of The Great Hairdryer proved beneficial for drying my thick, long hair, and is likely to be a win for hairdressers, too, who may need to use the dryer for extended periods of time, but wish to avoid suffering any arm ache as a result.
For noise, The Great Hairdryer claims to be "the quietest you can buy". "With a sound level as low as 78dB, it's not like any other dryer, it's a whole new sound experience,' says the press release.
I did find The Great Hairdryer quiet in operation next to the majority of hair dryers I've tried – and this is something my kids certainly appreciated when I used it on their hair. However, to the ear, the difference between it and the Dyson Supersonic was negligible. I used my decibel meter app and measured the sound of each of the hair dryers on their highest temperature and speed settings:
Swipe to scroll horizontally
| Header Cell - Column 0 | Noise level |
| --- | --- |
| Hershesons The Great Hairdryer | 78 dB |
| Dyson Supersonic | 85.3 dB |
| GHD Helios | 84.4 dB |
What surprised most about The Great Hairdryer was the level of power it offered considering its light weight. Hershesons claims this model is seven times faster than a standard hair dryer, although the brand's website doesn't state exactly which "standard" hair dryers it's been tested against.
Like the Dyson Supersonic, The Great Hairdryer offers 110,000RPM of power, and on the occasions I used both models on the highest and fastest settings to dry my hair, it was difficult to tell which design seemed quicker – I was able to get my hair comfortably dry in under the five minute mark using both.
The concentrator nozzles on The Great Hairdryer proved a joy to use, since they directed the air flow very effectively to create a smooth finish. However, while the Great Hairdryer is powerful, the air flow doesn't feel as strong as the GHD Helios, for example, which on its highest setting really packs a punch.
Note that on the highest setting, The Great Hairdryer's nozzles can become quite hot to touch, so take care if switching between the nozzles. They could sometimes feel a little stiff to attach, too.
Swipe to scroll horizontally
| Header Cell - Column 0 | Speed |
| --- | --- |
| Hershesons The Great Hairdryer | 110,000 RPM |
| Dyson Supersonic | 110,000 RPM |
| GHD Helios | Not stated |
This Hershesons hair dryer offers a good range of controls, with three temperature settings, three speed levels and a cool shot – all of which are conveniently positioned on the handle, which I felt was comfortable to hold.
Featuring Oxy Active technology, this model emits active oxygen as it dries, which is designed to enhance your hair and improve color fixation and shine. Having only used The Great Hairdryer for a month, it's hard to say whether it's improved the color of my hair; but I can say that I was pleased with the results. My hair felt smooth to the touch, displaying plenty of bounce and shine.
Overall, I'd put the Hershesons The Great Hairdryer in my list of top 5 hair dryers; it's well worth checking out ,if your budget can stretch. Its lightweight design and gentle yet powerful performance makes it ideal for use at home and when you're traveling.