This foldable OLED TV was printed by inkjet and it could be the future of 8K
A TV that tidies itself away into a table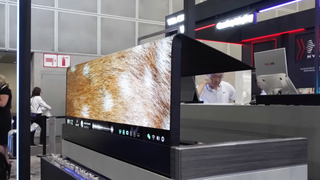 (Image credit: Vincent Teo / HDTVTest)
TCL showed off the prototype for a folding 65-inch OLED TV at last week's annual Display Week in Los Angeles, which isn't just a showcase for the company's physical design ambitions, but also its inkjet-printed OLED tech.
When TCL's first inkjet-printed 8K OLED prototype was unveiled in 2021, it sparked ideas that 8K OLED TVs could finally enter the mainstream thanks to its theoretically simpler production. Much like traditional inkjet printers, the process works by essentially depositing OLED pixels from a nozzle onto a suitable screen surface.
Chase Li, a senior analyst at IHS Markit – a market research firm that forecasts inkjet printing to reduce OLED TV prices by 15% to 25% – has claimed that the technique has the potential to be significantly cheaper than current manufacturing methods.
But TCL has not provided an update on when we can expect these to be rolled out. The company had said that it expected to start production of a 65-inch 8K OLED model in 2023, but that has not yet been confirmed.
A world first
TCL's latest 65-inch OLED TV is the world's largest flexible OLED foldable screen using inkjet printing technology, and is the first model at this size with 8K resolution and a 120Hz refresh rate.
In addition to "ultra-high-precision" inkjet printing technology, the model uses IGZO (a type of semiconducting metal) TFT backplane technology, which essentially means that the back panel of the TV has thin-film transistors that control the pixels – of which there are 33 million per frame. These are flexible enough to allow for the TV to fold in half, then folding itself away into its own stand.
TCL has been one of the front runners in rollable and foldable OLED screens. It developed a sideways rollable OLED TV in 2020 – around the same time that LG released the Signature Series OLED TV R, which also disappears into its stand, much like TCL's model.
Seen as a solution for the ever-expanding size of TVs and how we might fit these in our homes, rollable and foldable OLED TVs could be the future – just as long as they can actually keep the price down.
For those excited to get a look at TCL's 65-inch 8K OLED TV and see its folding mechanism in action, Vincent Teoh, of the YouTube channel HDTVTest, reported on the demonstration of the prototype at last week's trade show (watch the video below).
Not only does the display reconfigure itself into a second horizontal screen when it is folded in half, but it also tucks away into a small box with a clear glass panel above it so you can use it as a tabletop.
TCL says that the 65-inch OLED model has a bending radius of less than R25 mm. You also won't have to worry about wearing out the folding mechanism either as the company claims that the model has a bending life of up to 100,000 times.
Is inkjet printing the future of OLED?
This isn't the first inkjet printed OLED TV display. In 2021, Taiwanese display manufacturer AU Optronics showcased a 4K OLED display that was printed by inkjet. Before that, one of the only companies using inkjet printing to make OLED TVs was JOLED, which started production of smaller sized models in 2019.
However, the Japanese display technology company filed for bankruptcy at the end of March 2023. Its OLED intellectual property was transferred to Japan Display, which has said that it will close its unprofitable panel manufacturing division.
With one of the biggest players out of the inkjet printing OLED market, TCL could become the leader of this cost-effective manufacturing process. Its potential to bring down the price of the best OLED TVs makes it an exciting proposition.
While we're yet to hear how much TCL's inkjet printed 65-inch OLED TV will cost, this impressive piece of engineering marks a significant step in the journey to cheaper, larger 8K TVs of the future.
Sign up to receive daily breaking news, reviews, opinion, analysis, deals and more from the world of tech.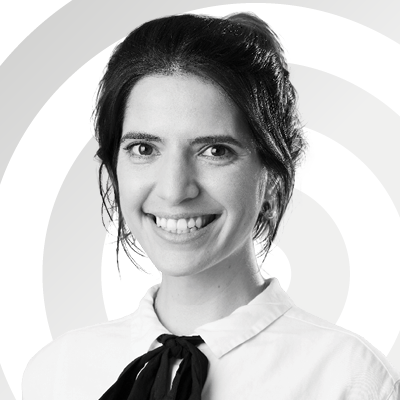 Senior Editor UK, Home Entertainment
Amelia became the Senior Editor for Home Entertainment at TechRadar in the UK in April 2023. With a background of more than eight years in tech and finance publishing, she's now leading our coverage to bring you a fresh perspective on everything to do with TV and audio. When she's not tinkering with the latest gadgets and gizmos in the ever-evolving world of home entertainment, you'll find her watching movies, taking pictures and travelling.