Looking for an air fryer baked potato recipe? We follow a popular online recipe we've found on YouTube which has over 90,000 views (and counting) below and put the humble air fryer head-to-head with a conventional fan oven to find out which cooking method delivers the best results.
Once you've got your hands on one of the best air fryers for 2023, it's easy to conjure up delicious mid week meals and weekend suppers as we found out.
There's nothing that makes for a more reliable lunch or dinner idea than a jacket potato stuffed with your favorite topping, after all. And using an air fryer to bake your potato can produce surprisingly delightful results. Just like baking it in an oven, it can create that crispy skin with soft and fluffy centre. Using an air fryer can be a more cost-effective solution too - provided you buy one with a low wattage and use forego pre-heating times.
Having read such positive things about air fryer baked potatoes, we had high hopes that it would better an oven-cooked spud. Read on to find out our verdict.
Air fryer baked potato recipe
Search online at the likes of YouTube, TikTok or Instagram and you'll find lots of recipes that claim to achieve the perfect air fryer baked potato. Here we tried the method by My Little Kitchen on YouTube because it's simple, effective and easy to follow. With 1.1K likes and 90K views and comments such as 'very tasty' and 'amazing' we thought it was worth a try.
Air fryer baked potato ingredients
Baking potato
Olive oil
Salt
Air fryer baked potato method
To make our air fryer baked potato we used the Instant Vortex Plus 6-in-1 Air Fryer with ClearCook & OdourErase, which is currently at position one in our best air fryer guide. It comes with a viewing window that lights up as and when you need so you can check the status of your food without having to disturb the cooking cycle. It comes with useful presets so you can air fryer, bake, reheat, dehydrate and more, but also has a variable temperature and timing dial so you can tailor the cooking cycle to your needs.
Step 1: Wash and dry the jacket potatoes and fork them. Drizzle with a little olive oil and rub over the skin. Then sprinkle a little sea salt over the top. Remember that the crispier you want your baked potato the less oil you should use.
Step 2: Preheat your air fryer. Add the jacket potatoes. Set it to 392°F/200°C for one hour. Half way through the cooking cycle, open the air fryer basket and turn the potatoes over. Then air fry for another 30 minutes.
Step 3: After 30 minutes they should be piping hot and evenly cooked. Stick a knife in them and if it goes in easily then the potato is ready.
Step 4: slice the potatoes in half and fill with your favorite fillings.
Try staples such as grated cheese and ham, grated cheese and baked beans or go for more adventurous fillings such as chill con carne, lentil dahl or whipped feta and sumac.
For an extra delicious finish, you can halve your baked potato, add a filling such as cheese and ham and return it to crisp in the air fryer for a further 5-10 minutes. Then all that's left to do is eat and enjoy!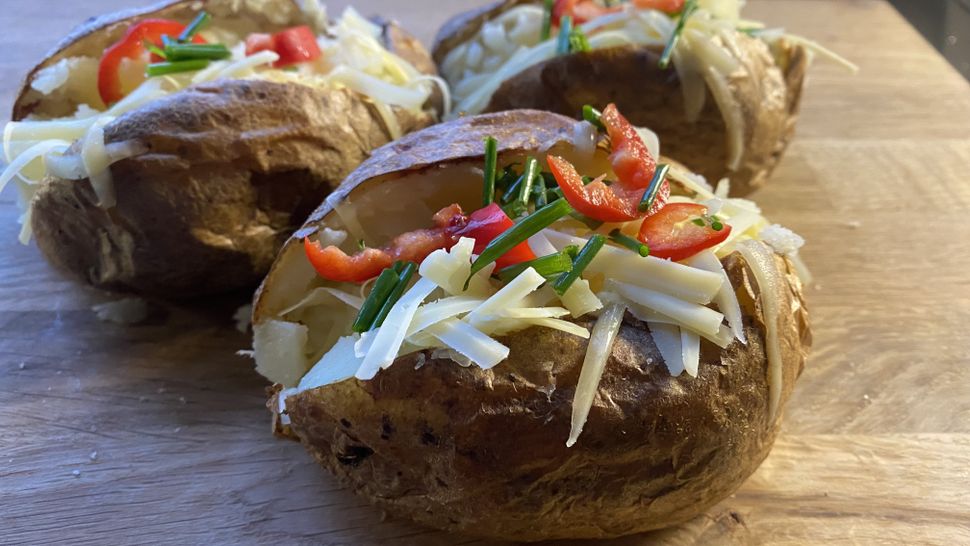 How long should you bake a potato in an air fryer?
You'll find a host of recipes online varying in timings from around 40 minutes to 1 hour. It's worth experimenting with your air fryer as it will depend on how powerful a design you own and also how crispy you like the skin. While some air fryers will need to be pre-heated, you can sometimes skip that part and get straight to the cooking.
As a general rule, if you add oil to the skin before you cook a potato, the skin won't be as crispy compared to if it goes in the air fryer unseasoned.
Is it faster to bake a potato in the oven or an air fryer?
How long you cook your potato in the oven will vary depending on what type of oven you have - gas or electric - how big the potato and how crispy you want the skin. Once you've taken into consideration the pre-heating times for both an oven or an air fryer, you can bake your jacket potato in the oven from anywhere between 45 minutes to 1 hour 15.
Likewise, for an air fryer it can take anywhere between 45 minutes to 1 hour. While it might not be necessarily faster to cook a baked potato in an air fryer, it may be easier, make less mess and save you money on energy bills as you'll probably be heating a smaller capacity for a shorter time.
Look online and you'll discover lots of suggestions for creating the perfect oven-baked potato. These include tips such as making sure you dry your potato after washing, pricking it with a fork to ensure any steam is released while it cooks and placing it on a piece of foil in the oven to conduct the heat and help it cook faster.
Why are potatoes soggy in air fryer?
Potatoes can come out soggy in an air fryer if you don't dry them after washing. Once you've washed your spuds you need to dry them thoroughly. If you don't then excess moisture can seep into your potato while it's being cooked and result in a soggy skin. If you prick holes into the skin before you bake it, this will allow any excess steam to escape while it's being cooked and help to result in a far tastier finish.
Verdict: oven baked potato vs air fryer baked potato
When testing this recipe we were keen to find out if making an air fryer baked potato was quicker and more efficient than making a baked potato in an oven. We also wanted to know if it tasted better or different in the air fryer.
We used the Instant Vortex Plus 6-in-1 air fryer with ClearCook to bake some large baked potatoes for one hour at 392°F/200°C - after 3 minutes of pre-heating. At the same time, we also cooked a similarly sized baked potato in a conventional fan oven for one hour at 392°F/200°C - after pre-heating the oven for 10 minutes.
Is it cheaper to air fry a potato?
Energy costs of using an air fryer will depend on the capacity of your air fryer, the wattage and cooking time you choose. It's always worth asking the question of "do air fryers use a lot of electricity?" to gauge whether or not an air fryer is for you. You can use the Joteo Electricity Usage calculator to work out how much your appliance will cost you to use.
In some instances, an air fryer can end up being more expensive if you use it for a longer period of time. According to business utilities retailer Love Energy Savings,, ovens cycle through heating stages to maintain a constant temperature, so a 3kW oven over the course of an hour will use on average 0.9kW. Meanwhile, a standard air fryer is around 1.5kW. This can mean that depending on how you use it, it can end up costing you more to use the air fryer.
That said, while cooking a potato in an air fryer wasn't as speedy as we may have liked, it was quicker than cooking it in the oven, however. And if you find yourself having to open the oven a lot to check your food, more energy could be lost.
You could speed up the cooking time using an air fryer even more by microwaving the potato first - although this makes things a little more complicated. When using an air fryer, you also don't have to put much - if any - oil over the potato if you prefer not to, so it can be a healthier alternative.
Swipe to scroll horizontally
| Air Fryer vs Microwave | Power (kW) | Time in use (hrs) | Price (p/kWh) | Cost (£) |
| --- | --- | --- | --- | --- |
| Air Fryer (1hr @200°C) | 1.55 | 1 | 34 | £0.57 |
| Microwave (7 mins @ 800W) | 0.8 | 0.116666667 | 34 | £0.03 |
| Oven (1hr @ 200°C) | 0.9 | 1 | 34 | £0.31 |
Information provided by Love Energy Savings. Calculated by the current cost per energy unit as estimated by Ofgem in the UK. Costing based on the Instant Vortex Plus with ClearCook - 5.7L Digital Health Air Fryer (1700W).
Was it worth the extra money?
After 1 hour, the baked potatoes in the oven and air fryer looked very similar in color and finish. The taste was pretty much the same, with the air fryer version having the edge over the oven-baked potato in terms of soft and fluffy inside.
Both were slightly crispy to touch and evenly cooked. And while the jacket potato cooked in the oven came out with a very slightly crispier skin, the one cooked in the air fryer was a tad fluffier inside and easier to fork.
Both tasted delicious and had a satisfying fluffy and creamy centre made even tastier when we added butter.
Having seen the results, and despite it costing a little more to power, we'll probably be using an air fryer all the way when baking a potato in future. And while some people swear by the 10-minute microwave method, there's no way you can achieve the same crispy skin like you can get with an air fryer.
If you're still asking are air fryers worth it? there's only one way to find out and give it a go yourself. We were pleased with the results, the clean up was easy and we found the cooking time faster compared to a standard oven - and for those reasons alone we think an air fryer is a great go-to appliance.