A solid effort from JLab to produce a mid-range wireless keyboard, the JLab Epic Wireless is comfortable to use and lightweight enough to carry with you, although a few small lacking features hold it back from true greatness.
Pros
+

Very lightweight

+

Decent build quality

+

Reasonably priced

+

Media dial is pleasingly tactile
Cons
-

No adjustable height

-

No included wrist rest

-

Membrane keys are weaker for gaming
Why you can trust TechRadar We spend hours testing every product or service we review, so you can be sure you're buying the best. Find out more about how we test.
JLab Epic Wireless: Two-minute review
JLab is a brand that might already be familiar to many of our readers - it certainly was to me since I actually owned a pair of JLab wireless earbuds for workouts for several years. It turns out that the folks over at JLab also make keyboards and mice; and they're actually pretty darn good, able to trade blows with some of the best keyboards out there.
The one I'm looking at today is the company's flagship keyboard, the JLab Epic Wireless. I wasn't expecting much; JLab's hardware is typically good quality but also affordable, so you shouldn't go in expecting seriously premium kit.
Despite that, the Epic Wireless managed to impress me in many areas - and the drawbacks are relatively minor too, making it one of the best wireless keyboards out there.
Unboxing the keyboard, it immediately feels like a good-quality product. While parts of the keyboard are plastic, the underlying base is metal, which means there's very little flex in the casing even if you're a heavy-handed typist. The keys have a slightly concave center, which comfortably guides your fingertips into each key for a smoother typing experience.
The keys themselves are membrane scissor switches with soft white LED backlighting. They don't provide the same level of tactility as the best mechanical keyboards, but if you're a membrane fan you'll likely find it very amenable. The key travel is only 1.8mm, but the actuation felt sufficiently responsive that I rarely mistyped while testing out the keyboard. However, as many gamers will attest, they don't quite provide the same degree of precision as the best gaming keyboards.
The keys are near-silent, which JLab touts as a feature - I do contest this slightly, as virtually any membrane board is significantly quieter than the average mech keyboard, but it's fair to say that this is one of the quieter keyboards I've used. There's a little more bounce in the keys than I like, but that's an issue of individual preference so I won't be marking the Epic Wireless down for it.
The headline feature here is the volume dial, which JLab refers to as the 'Smart Media Knob', a name that I've personally been called by colleagues and friends. Regardless of the silly nomenclature, it's an excellent feature; the brushed metal dial has a pleasingly tactile rotation with silent notches that make it easy to control. It can also be clicked to play or pause your media.
The keyboard layout is full-scale, with dedicated keys for switching between different modes. You can use the JLab Epic Wireless with Windows, Linux, or macOS devices, and the hybrid USB dongle/Bluetooth connectivity allows you to connect to multiple devices simultaneously. Being able to swap between two computers at the press of a button isn't a unique feature, but it is a very welcome one. The JLab Work App software lets you set up custom key profiles with mappable hotkeys, too.
Despite being a wireless device, the Epic does come with a cable because it isn't an AAA-battery-burning keyboard; it has a rechargeable 2000mAh battery that lasts an impressive amount of time between charges, further cementing it as a solid choice for on-the-go workers. There's even a magnetic slot concealed in the underside that can hold the USB dongle.
In terms of key criticisms, I really don't have much to gripe about. My main complaint is that the rear feet aren't height-adjustable, a feature that I'd expect to be a staple of any keyboard you wouldn't find in a supermarket bargain bin. There's no bundled wrist rest either, which is an inclusion I always appreciate with a keyboard, though that's hardly a dealbreaker.
Overall, this is a sterling wireless keyboard from a manufacturer I wasn't sure would deliver, given JLab's usual fare is specifically audio-focused kit. With a very reasonable price tag (more on that below), it's very easy to recommend the JLab Epic Wireless Keyboard to anyone who needs a straightforward work keyboard that can be taken on the go.
JLab Epic Wireless: Price & availability
How much does it cost? $69 / £69.99 (around AU$110)
When is it available? Available now
Where can you get it? Available in the US, UK, and Europe
The JLab Epic Wireless Keyboard will run you $69 / £69.99 (about AU$110), placing it pretty squarely in the midrange when it comes to keyboard pricing. You could easily spend a lot more on a keyboard like this; many mechanical keyboards, like the Razer Pro Type Ultra, will cost you more than double that price.
Sure, there are cheaper models out there - the Logitech Signature K650, our current favorite keyboard, is a ridiculously cheap $49 / £49 / AU$89 - but JLab's offering is still very reasonably priced considering that it feels relatively premium and performs as advertised.
The Smart Media Knob (ugh) is obviously a key selling point here, and hunting for other keyboards with a similar dial feature shows that even the cheapest unheard-of brands on Amazon will cost you at least forty to fifty bucks, so getting a known brand-name product for $69 feels very reasonable to me.
JLab Epic Wireless: Specs
Swipe to scroll horizontally
| | |
| --- | --- |
| Layout: | Full-sized |
| Switch: | JLab 'soft touch' membrane scissor switch |
| Programmable keys: | Yes |
| Dimensions: | 42.5 x 14.0 x 3.2 cm |
| RGB or backlighting: | White 1-zone LED |
| Connectivity: | Bluetooth 5.2 |
Should you buy the JLab Epic Wireless?
Swipe to scroll horizontally
| | | |
| --- | --- | --- |
| Value | At $69 (£69.99 / about AU$110), this feels like a good keyboard at a fair price. | 4 / 5 |
| Design | The clean aesthetic, smart design choices, and media dial are all great - I just wish I could adjust the height. | 4 / 5 |
| Performance | Rapid typing is comfortable and accurate thanks to the concave keycaps, even if the membrane key switches aren't ideal for gaming. | 4 / 5 |
| Average rating | A solid keyboard from a manufacturer that I didn't expect to impress me, the JLab Epic Wireless is easy to recommend. | 4 / 5 |
Buy it if...
You want a dial
If your ideal keyboard includes a pleasingly tactile dial for media control, the JLab Epic Wireless is a great choice. The Smart Media Knob may have a silly name, but it feels great to use.
You want wireless portability
Despite being a full-scale keyboard, the JLab Epic Wireless is lightweight and thin enough to be slipped into a bag to take with you on the go, and its long battery life means you won't need to worry about running out of juice.
Don't buy it if...
You're a serious gamer
While this is a criticism that could be leveled at virtually any membrane keyboard, the scissor switches used here just aren't quite as snappy for high-stakes gaming as their mechanical siblings.
You're on a super-tight budget
At the end of the day, the JLab Epic Wireless is great value for money and doesn't cost a tonne - but it's still not exactly cheap, so there are better options out there for cash-strapped typists.
JLab Epic Wireless: Also consider
Swipe to scroll horizontally
| | JLab Epic Wireless | Logitech Signature K650 | Das Keyboard 6 Professional |
| --- | --- | --- | --- |
| Price: | $69 / £69.99 / about AU$110 | $49 / £49 / AU$89 | $199 / £169 / AU$329 |
| Layout: | Full-sized | Full-sized | Full-sized |
| Switch: | JLab 'soft touch' membrane scissor switch | Plunger style membrane switch | Cherry MX Blue / Brown mechanical |
| Programmable keys: | Yes | No | No |
| Dimensions: | 42.5 x 14.0 x 3.2 cm | 45.7 x 19.4 x 2.4 cm | 44.45 x 13.55 x 2.98 cm |
| RGB or backlighting: | White 1-zone LED | None | White 1-zone LED |
| Connectivity: | Bluetooth 5.2 / USB reciever | Bluetooth 5.0 / Logi Bolt USB receiver | Wired USB |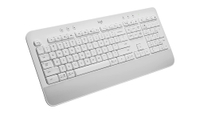 Logitech Signature K650
Our current favorite keyboard at the time of writing, the Signature K650 from Logitech is a clean, simple wireless full-sized keeb that offers good performance at a very affordable price.
Read our full Logitech Signature K650 review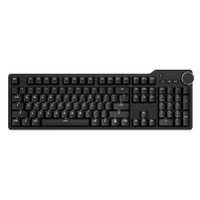 Das Keyboard 6 Professional
If a volume dial is what you want, the Das Keyboard 6 Professional offers that and then some. Phenomenal build quality, snappy mechanical keys, and built-in USB ports make this a desktop dream for professional users - though it'll cost you a pretty penny.
Read our full Das Keyboard 6 Professional review
How I tested the JLab Epic Wireless
Used the keyboard at home for two weeks
Did everyday work, casual web browsing, gaming
Took it with me to a friend's house to test portability
I've been reviewing keyboards for years, and over that time I've developed a careful process for testing them. Shockingly enough, that involves using them: I spend a week minimum simply replacing my go-to ROG Strix Scope at my desk with the keyboard I'm testing out.
That means doing everything I do normally: typing up reviews like this, researching online, using image editing software, and of course, playing a whole bunch of games, invariably including my long-time fave Warframe - a game that can force your fingers into some truly arcane hand movements on your keyboard. I also threw it in my backpack and took it to a buddy's house for a gaming session, to check exactly how portable this keyboard was.
We pride ourselves on our independence and our rigorous review-testing process, offering up long-term attention to the products we review and making sure our reviews are updated and maintained - regardless of when a device was released, if you can still buy it, it's on our radar.
First reviewed August 2023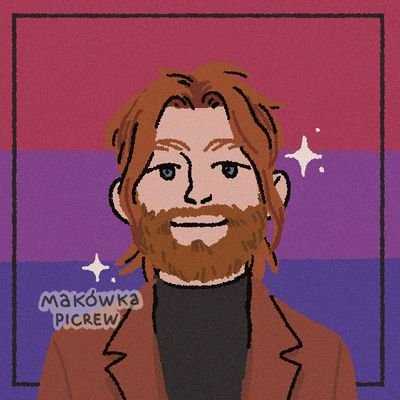 Christian is TechRadar's UK-based Computing Editor. He came to us from Maximum PC magazine, where he fell in love with computer hardware and building PCs. He was a regular fixture amongst our freelance review team before making the jump to TechRadar, and can usually be found drooling over the latest high-end graphics card or gaming laptop before looking at his bank account balance and crying.
Christian is a keen campaigner for LGBTQ+ rights and the owner of a charming rescue dog named Lucy, having adopted her after he beat cancer in 2021. She keeps him fit and healthy through a combination of face-licking and long walks, and only occasionally barks at him to demand treats when he's trying to work from home.