14700K vs 13700K: Intel's best midrange CPUs put to the test
Which Intel workhorse should you buy, 14700K or 13700K?
Efficiency Cores: 12
Performance Cores: 8
Threads: 28
Base Clock (E-Cores): 2.5 GHz
Base Clock (P-Cores): 3.4 GHz
Boost Clock (E-Cores): 4.3 GHz
Boost Clock (P-Cores): 5.5 GHz
Total Cache: 61MB
TDP: 125W
The Intel Core i7-14700K is a seriously impressive chip delivering Core i9-13900K levels of performance, including the best gaming performance of any Intel chip, at an i7 price point—and a lower one than its predecessor to boot.
For
Core i9-13900K performance
Outstanding gaming processor
Slight price cut from previous gen
Against
Only a small gen-on-gen improvement
Runs very hot
Higher power usage
Efficiency Cores: 8
Performance Cores: 8
Threads: 24
Base Clock (E-Cores): 2.5 GHz
Base Clock (P-Cores): 3.4 GHz
Turbo Clock (E-Cores): 4.2 GHz
Turbo Clock (P-Cores): 5.4 GHz
Cache: 78MB Total
TDP: 125W
The Intel Core i7-13700K is an outstanding processor for just about every purpose, making it a great workhorse CPU that can get all manner of work done quickly. Its energy efficiency is laughable, unfortunately, making it a poor choice for any low-profile, low-power PC builds despite it being well-priced.
For
Outstanding gaming performance
Excellent price
DDR4 and DDR5 support
Against
Absolutely drunk on (electrical) power
Runs hot, so get a great cooler
Now that the Intel Core i7-14700K has hit the scene, a lot of us have been excited to put Chipzilla's midrange workhorses head to head, and the 14700K vs 13700K is an interesting battle for sure.
Each chip has its advantages, and while the 14700K does have the benefit of being a generation ahead of the Intel Core i7-13700K, Intel Raptor Lake Refresh is the last chip generation to run on Intel's LGA 1700 platform, so in reality, there hasn't been much of a spec upgrade this generation, broadly speaking.
Except for the i7-14700K, which received a slight boost in its core count, the only 14th-gen chip to be so blessed. But is it enough to overpower the i7-13700K, my long-running pick for the best processor on the market for most people? And with the release of the 14700K, will the 13700K drop in price enough to make it a value titan, essentially the very best of both worlds?
Fortunately, I've tested both chips extensively over the past few weeks, so I know these two processors inside and out. I'm here with all my data to help you pick the best Intel processor for your midrange build, or at least to alleviate your curiosity over which of these two processors comes out the midrange champ.
14700K vs 13700K: Price
While the rest of the Raptor Lake Refresh lineup has pretty much remained static, there has been some interesting movement on the Core i7-14700K vs 13700K: a slight drop in price from $419 (about £335/AU$610) to $409 (about £325/AU$595), for starters.
This might not seem like a lot, but it's something, especially since the i7-14700K packs in some added cores for better performance, making it an even better value, at least at MSRP.
Of course, now that the 14700K has been released, we can fully expect the 13700K to drop in price, but as it stands, the 14700K comes out the winner here on both absolute pricing and actual value for the price you're paying.
Winner: Intel Core i7-14700K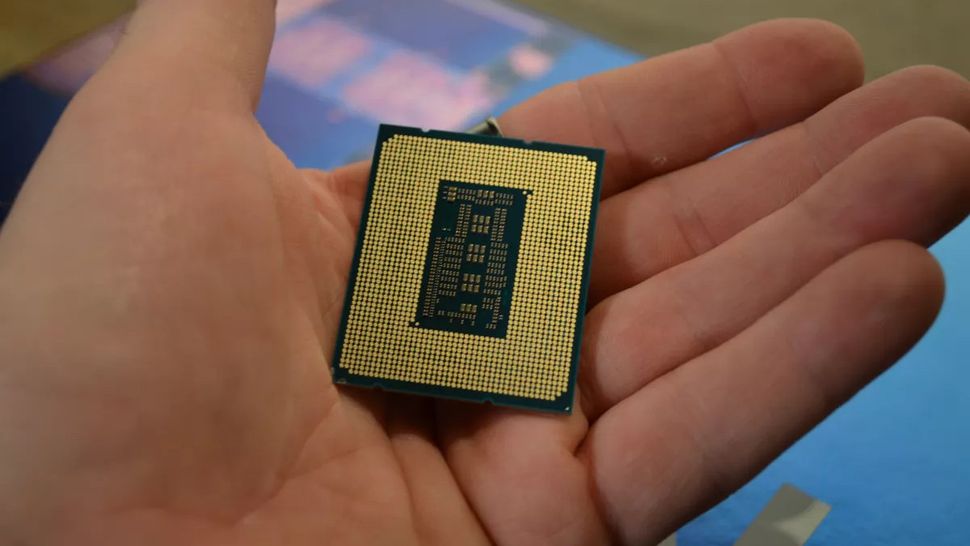 14700K vs 13700K: Specs & features
The specs on the Intel Core i7-14700K vs 13700K are the most interesting comparison of the entire Raptor Lake Refresh lineup primarily because they are the only ones that have changed substantively gen-on-gen.
It's not a huge change, but the 14700K has an additional four efficiency cores
for a total of 12 E-cores compared to the eight E-cores for the 13700K. These aren't the more powerful performance cores that do the heavy lifting when video encoding or playing the best PC games, but they do add some extra resources to an already powerful chip. These cores also bring an additional four processing threads for a total of 28 (compared to the 13700K's 24) and some extra L2 cache for those E-cores, bringing the total L2+L3 cache for the 14700K up to 61MB from the 13700K's 54MB.
As far as clock speeds, the 14700K gets a minor 100MHz boost to its P-core and E-core turbo clocks, bringing them up to 5.5GHz and 4.3GHz from 5.4GHz and 4.2GHz, respectively.
Like the other Raptor Lake Refresh chips, the 14700K also has support for discrete Wi-Fi 7 and Thunderbolt 5, though neither of those technologies will be available to the mainstream user for a while (Editor's Note: Intel has since reached out to correct its original announcement to add that the recently released 14th-gen desktop chips will not, in fact, support Thunderbolt 5).
Swipe to scroll horizontally
Intel Core i7-14700K vs i7-13700K specs

| Header Cell - Column 0 | Intel Core i7-14700K | Intel Core i7-13700K |
| --- | --- | --- |
| Performance Cores | 8 | 8 |
| Efficiency Cores | 12 | 8 |
| Threads | 28 | 24 |
| P-Core Base Clock | 3.40GHz | 3.40GHz |
| P-Core Boost Clock | 5.50GHz | 5.40GHz |
| E-Core Base Clock | 2.50GHz | 2.50GHz |
| E-Core Boost Clock | 4.30GHz | 4.20GHz |
| Cache | 61MB | 54MB |
| TDP | 125W | 125W |
| Motherboard Socket | LGA 1700 | LGA 1700 |
Winner: Intel Core i7-14700K
14700K vs 13700K: Performance
The extra specs on the Core i7-14700K vs the 13700K do translate into some extra performance, but the question is how much?
Image 1 of 13
Broadly speaking, the performance gains for the Core i7-14700K are the strongest of all three Raptor Lake Refresh launch chips, with a 4.5% single-core improvement over the 13700K and a 13% improvement in multi-core performance, thanks to those extra E-cores.
On the productivity side of things, the 14700K actually comes off a bit worse (1.1% worse, to be exact) than the 13700K, but this was almost entirely down to its poorer Crossmark performance (especially its 15.2% lower responsiveness score), while its PCMark 10 performance showed a slight improvement of 1.7% over the 13th-gen i7.
Given the nature of benchmarking unreleased hardware, those crossmark scores might improve after an update, but maybe not, and you gotta take the scores as you get them.
Image 1 of 7
When it comes to creative workloads, the i7-14700K was universally the better chip, and sometimes by a decent amount. Its Blender 3.6.0 results were 14% better on average than the 13700K, while its V-Ray 5 CPU results were 15.2% better and its Handbrake 1.6 4K to 1080p encoding rate was about 7.2% faster.
Its Crossmark Creativity results were negligibly higher (1.7%), and its PugetBench for Adobe Photoshop results were likewise only 1.8% better. Overall, this translates into a roughly 10% better creative performance, which is something, even if it's not quite what people might be hoping for.
Image 1 of 6