The Netvue Birdfy Feeder AI is a comprehensive bird feeder camera system with everything you need to view birds from your phone or tablet. It comes with a lifetime subscription to Netvue's AI Bird Recognition program, which usually costs $4.99 a month. The Full HD camera is as sensitive to movement as any typical security camera, which means you'll never miss a visit from a feathered friend, and it even has features to scare away unwanted birds and squirrels. The solar panel is a great additional accessory, as is the Perch Pro if you're fortunate to live amongst more exotic birds.
Pros
+

Easy to set up both the feeder and the camera

+

Advanced features include a light, alarm and optional solar panel

+

Plenty of mounting options
Cons
-

AI recognition isn't perfect (though it should improve over time)

-

Quite expensive

-

Not very natural looking
Why you can trust TechRadar We spend hours testing every product or service we review, so you can be sure you're buying the best. Find out more about how we test.
Two-minute review
Netvue's Birdfy Feeder AI is one of the most widely available and premium bird feeder cameras on the market. It comprises the feeder and camera, and solid metal bracket to screw it to a wall or fence. Also included is a strap, which I used to mount it on a tree trunk, and there are also clips for mounting it on a bird feeder pole. There's even a plastic Arca Swiss-style plate that you can use to mount it on a tripod, so you shouldn't have trouble finding somewhere to set it up. The camera has an IP65 certification which means it is dust tight and water resistant. It's well protected under the roof of the feeder, and there are covers for ports that aren't being used. My review sample was outside during a storm, and has thus far survived.
Setting up the camera is easy – it connects to the Netvue smartphone app for iOS or Android, much like any other camera device, in this case relying on a QR code to help register the connection. Connecting to my home network via 2.4Ghz Wi-Fi was equally straightforward for anyone with experience with Wi-Fi compatible devices. On the rear of the bird feeder is a 5dBi Wi-Fi antenna that can be rotated to get a better signal, but with the feeder positioned around 10m from my house I had a good signal with no need for tweaking anything at either end. Netvue says Birdfy AI is compatible with Amazon Alexa, which could make for some fun integrations; however, I couldn't get this to work. It would have been great to watch the footage directly on a smart TV, or to have Alexa turn on a smart plug that powered some kind of water cannon every time the Birdfy detected a squirrel.
The camera is powered by an internal battery that can be charged via the supplied USB-C cable, and there's also an optional solar panel kit. This adds a solar panel, 3m USB-C cable and the option to either mount the panel using a twisty flexible arm that can be wrapped around a tree branch, or a more traditional security camera-style ball-head mount.
I would recommend getting the Solar panel kit, given that it's a relatively small additional outlay. During a very busy few days of testing I received over 100 movement notifications from the camera triggered by birds, squirrels, branches blowing in the garden, and even myself just walking out to the garden. All of this action meant that the battery lasted for around a week. If I had mounted the solar panel in a nice sunny spot, it would have kept the battery topped up, and possibly completely full. I did mount the camera in a different position where it received little activity, but where the solar panel received hours of summer sunshine, and the battery life was always at 100%.
Netvue Birdfy Feeder AI Price and release date
The Netvue Birdfy Feeder AI has a list price of $249.99 / £249.99 (unavailable in Australia), while the Birdfy Feeder Lite costs $199.99 / £199.99 / AU$329.99.
Filling the feeder involves simply opening the hinged roof and filling the vessel surrounding the camera. The feeder holds 1.5 liters of seed, which will take weeks for birds to eat, but a matter of a few minutes for squirrels to eat and spread everywhere. It took a day or so before the birds and squirrels found their new feeding spot, after which time it was a hive of activity. Alerts regularly came, even telling me what was visiting and, if it was a squirrel, recommending that I turn on the feeder's light and alarm. The alarm, which sounds for a few seconds, scared the squirrels initially, but they soon got used to it, and repeated sirens did nothing to stop them from eating the food. If you use the option to mount the Birdfy to a pole, a baffle is supplied to prevent squirrels from climbing to the pole to steal food.
Generally, the AI bird recognition works well. Netvue claims that it can identify over 6,000 bird species, although this was hard to put to the test in a south London garden. It did know the difference between a wood pigeon and a European robin, although it wasn't always perfect – it turns out that, side-on, a squirrel also looks a bit like a sparrow. If you don't need the bird recognition AI, there's also a Birdfy Feeder Lite, which costs around £200 / $200 / AU$329 (if you're in Australia, you can only get it from Amazon). This is essentially the same device, including the solar panel option for a little extra money, but it lacks the AI bird recognition features; if you change your mind, the AI recognition can be added for $4.99 a month.
The Full HD footage captured by the camera is as good as that from other security cameras. It's sharp enough, and detailed, but it is subject to image compression. However, this isn't a device for capturing high-quality photos and video; it's designed to let you watch and identify the birds visiting your garden, and share videos with friends and family.
Photos and video can be saved to a microSD card in the camera, but the clips, which can be between 10 and 30 seconds long, are also saved online for 30 days, and can be downloaded to your smartphone for sharing.
The Birdfy is equally useful as a security device. The squirrel alarm could be used to scare off unwanted human intruders, and the built-in speaker can also be used to alert potential intruders to your presence, or just to talk to someone in your garden; it essentially acts like a Ring security camera with a bird feeder bolted onto it.
Netvue Birdfy Video Sample
Another optional accessory is the Birdfy Perch Pro, which replaces the standard perch at the front of the feeder with a larger one. It has holders so you can add a suet fat ball, some fruit and even some sugar water for hummingbirds (maybe not essential in London). It's a nice addition that will increase the variety of birds that come to visit.
Overall it's a well-made product that's easy to set up, with an equally intuitive app. My only negative point would be the choice of color for the feeder. While it looks modern, and would look good on the side of a modern house if you want to mount it in a more rustic environment the white plastic and blue stick out like a sore thumb.
Should I buy the Netvue Birdfy Feeder AI?
Buy it if...
You want to capture every movement in your garden
A bird feeder camera triggered by motion ensures you won't miss the action in your garden
You want the convenience of a camera bird feeder and security camera
An added benefit to a bird feeder camera is that it can double up as a security camera and can alert you regarding intruders.
You want to have the ability to mount the feeder in a variety of locations
The Birdfy Feeder AI has a generous selection of mounts so you shouldn't have a problem finding a place to attach it securely in your garden.
Don't buy it if...
You don't need the AI features
Not excited by the AI features? You can save some money by opting for the Birdfy Lite version of the camera instead.
You won't make use of the additional security features
There are simpler and therefore cheaper alternatives out there.
How I tested the Netvue Birdfy
The first thing to note when you install a birdfeeder camera is that, contrary to The Carpenters, birds won't suddenly appear the second you install one. For this review I mounted the camera to a tree in my garden and left it there for a week.
Over this time I had the chance to test the battery life and see how this was improved by the optional solar panel, which wasn't always in full sunlight. I altered the sensitivity settings to test how well the movement of birds (and squirrels) was detected, and distinguished from motion such as the branches of a tree blowing in the wind.
I was also able to see how the camera fared in a thunderstorm, particularly given it was mounted to the tree using just a velcro strap.
First reviewed June 2023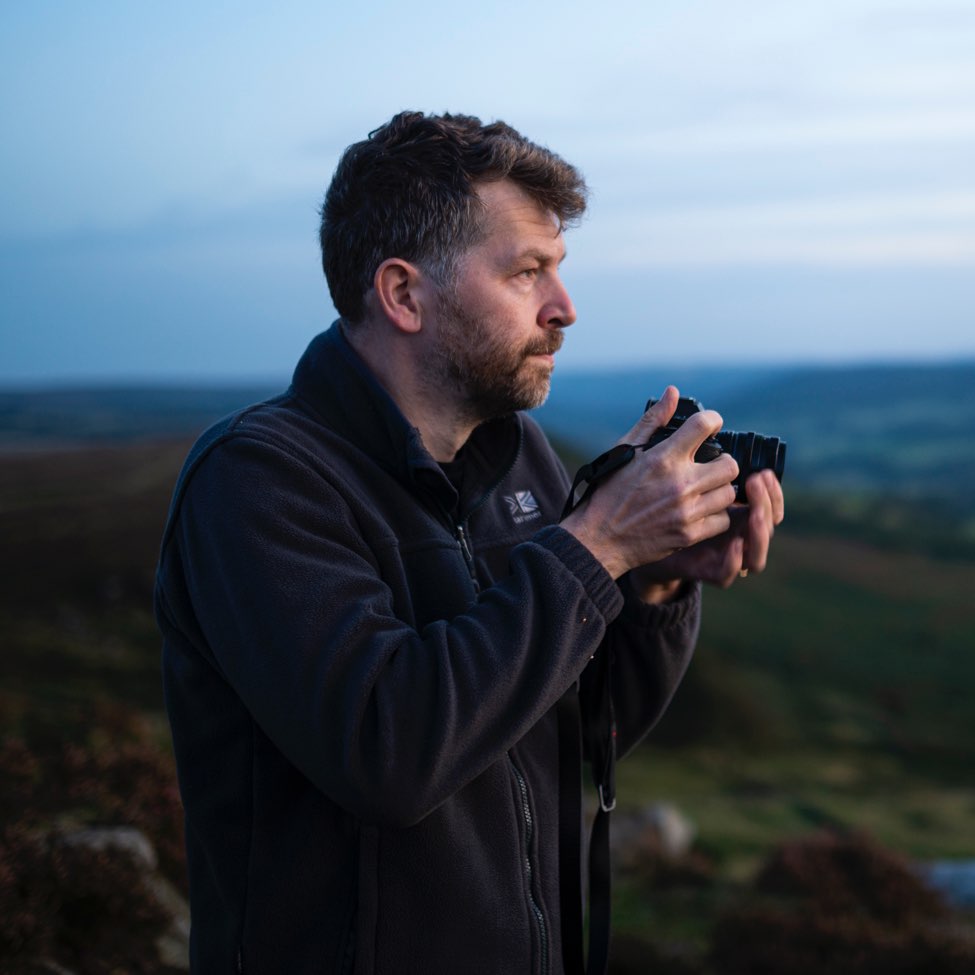 Richard Sibley is a photographer and writer passionate about travel and landscape photography. With over 15 years of experience writing and reviewing in the photo industry, he was formerly Deputy Editor at Amateur Photographer magazine and has had his words and images published in numerous other magazines and websites. Richard combines his love for photography with a deep interest in technology and gadgets. Beyond his professional pursuits, Richard embraces fatherhood and finds solace in gardening, cold plunges, long walks, and listening to podcasts. He is an aspiring minimalist, though the constant lure of new gadgets significantly challenges this ideal.