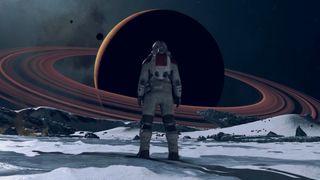 (Image credit: Bethesda / Microsoft)
While not officially bearing the usual iconography and setup, E3 2023 season was packed with world premieres and all-new information on games previously announced. Between Summer Game Fest, the Xbox Games Showcase, and beyond, there's plenty to be excited about throughout the rest of this year and into 2024 when most of these titles will be launching.
Most games in this list will be coming to PS5 and Xbox Series X|S and, should they live up to the hype, potentially find a place in our best PS5 games and best Xbox Series X games lists. No matter which console you own, there's something in our list below to be excited about. And we're sure that'll be the case for the best Nintendo Switch games, too, when the publisher inevitably runs its next Nintendo Direct.
The TRG team covered all the big E3 2023 events live, and we've made our selections below based on how strongly we feel about each game, and how much we're looking forward to playing them when they launch. Read on, then, for our list of all the best games and announcements from E3 2023.
Starfield
Starfield was the biggest showing over the course of E3 2023, with a near hour-long Starfield Direct dedicated entirely to itself. Bethesda Game Studios' space-faring RPG is shaping up to be a grand adventure, with tons of content and a vast galaxy with over a thousand planets to explore.
Nearly everything about Starfield looks to be a huge improvement over the divisive Fallout 4, the studio's last single-player title released in 2015. Starfield looks gorgeous and appears to have an extremely in-depth character creation process where you can also determine your background and quirky traits for enhanced role-playing. Shipbuilding looks to be intuitive and comprehensive, with players able to customize them to the smallest detail and hire a crew to keep them running at full capacity.
Microsoft is clearly going all-in on Starfield. The game's Constellation Edition packs in a fancy smartwatch, and you can also buy a limited edition Starfield Xbox Wireless Controller, not to mention a headset.
Starfield launches on September 6, so we won't have to wait too long before cruising the stars on Xbox Series X|S, PC, and Xbox Game Pass.
Mortal Kombat 1
Netherrealm Studios' latest fighting game was already teased before E3 2023, but we got the full reveal of Mortal Kombat 1 during the Summer Game Fest showcase. Series co-creator Ed Boon debuted a new trailer for the game, followed by a brief look at how it will play.
In terms of feel, Mortal Kombat 1 appears to be a little faster than the slow-paced Mortal Kombat 11, but not quite as breakneck as Mortal Kombat X. The most interesting new feature is certainly the Kameo fighters, who can jump into the match at the press of the button, acting as an assist character capable of defensive moves and combo extenders.
We won't have to wait long for Mortal Kombat 1 as it's launching on September 19 this year for PS5, Xbox Series X|S, and PC. So far, only a handful of fighters have been revealed, but expect the rest to be teased in the coming weeks and months.
Sonic Superstars
The hedgehog's first 2D outing since 2017's Sonic Mania didn't disappoint. We got to check out Sonic Superstars on the show floor at Summer Game Fest (link), and it's safe to say it's on track to please longtime series fans.
Sonic Superstars is going big on co-operative play. Sonic, Tails, Knuckles, and Amy are all playable and have different abilities that let them traverse and explore certain parts of any given stage. The game's zones are also confirmed to be entirely new, so no more Green Hill rehashes here, thankfully.
Sonic Superstars is launching later in 2023 for all platforms. Before that, we have Sonic Origins Plus releasing on June 23, and a couple more big Sonic Frontiers updates to look forward to throughout the year. It's a pretty great time to be a Sonic fan, for a change.
Star Wars Outlaws
Star Wars Outlaws is the next game coming from Ubisoft's Massive Entertainment, developers of Tom Clancy's The Division series. This open-world Star Wars title stars Kay Vess, a smuggler who takes on dangerous jobs, and who seems constantly on the run from the Empire with companions Nix and ND-5.
Outlaws is set between the events of The Empire Strikes Back and Return of the Jedi, meaning that cameos of iconic Star Wars characters are very much on the table. The game is visually incredible.
Star Wars Outlaws is launching in early 2024 for PS5, Xbox Series X|S, and PC, meaning we're less than a year away from playing the full game for ourselves.
Fable
After years of radio silence, this year's Xbox Games Showcase kicked off with a bang in the form of the most detailed Fable trailer yet. Starring actor and comedian Richard Ayoade as a vegetable-obsessed giant, Playground Games' take on the series clearly gets its sharp humor, and that was on full display in the trailer.
We still don't really know how Fable will play, nor was a release date announced for the upcoming game (link). But it does seem like Playground Games is nailing the painfully British tone of the franchise originally created by the now-defunct Lionhead Studios.
Prince of Persia: The Lost Crown
Easily one of E3 2023's biggest surprises, Prince of Persia: The Lost Crown looks like a brilliantly fun 2D Metroidvania. The series' nail-biting platforming looks more intense than ever in The Lost Crown, as our protagonist utilizes wall jumps and air dashes to traverse hazardous environments. Meanwhile, combat is looking both slick and satisfying against fierce enemies and gigantic bosses.
The Lost Crown also features some time-bending mechanics. Using certain powers can accelerate or rewind time to change the environment around you, creating new openings for you to be able to explore more of its visually impressive world. It may not be the long-delayed Sand of Time remake, but Prince of Persia: The Lost Crown is shaping up to be a more than suitable stand-in, and a confident return for the long-dormant series.
Prince of Persia: The Lost Crown is launching on January 18, 2024, for all major platforms as well as PC and the Amazon Luna cloud streaming service.
Dragon's Dogma 2
Dragon's Dogma 2 closed out the Capcom Showcase, and was easily the highlight of the Japanese publisher's presentation. The long-awaited sequel is hitting all the notes fans expect; gorgeous visuals, improvements to the pawn system and dynamic monster encounters are shaping a title that will most likely please series fans.
Game director Hideaki Itsuno stated during the showcase that Dragon's Dogma 2 will be roughly "four times" the size of the original game, which was already one of the vastest open worlds available on the seventh generation consoles all the way back in 2012.
There's currently no release window attached to Dragon's Dogma 2, but it's looking like we can expect it sometime in 2024 for PS5, Xbox Series X|S, and PC.
Persona 3 Reload
The trailer for Persona 3 Reload may have leaked before E3 2023, but it was nonetheless a welcome sight during a stacked Xbox Games Showcase. Reload looks to be a faithful recreation of the 2006 PS2 classic, with a Persona 5-esque UI makeover and enhanced visuals. New music from rapper Lotus Juice is extremely welcome, too.
Persona 3 Reload has been confirmed to feature entirely new content and will include scenarios introduced in the FES version of the game. Sadly, the remake is ditching the Answer epilogue and the much-loved female protagonist introduced in Persona 3 Portable. Hopefully, both can be brought in via eventual DLC or future versions of the remake, though that does seem unlikely at this stage. Never say never, though.
Persona 3 Reload is coming to Xbox Series X|S, PC, and Xbox Game Pass in early 2024. Curiously, PS5 has not been confirmed as a supported platform at present, which would make it the first mainline Persona title not to launch on a Sony console.
Sign up for Black Friday email alerts!
Get the hottest deals available in your inbox plus news, reviews, opinion, analysis and more from the TechRadar team.

Rhys is TRG's Hardware Editor, and has been part of the TechRadar team for more than two years. Particularly passionate about high-quality third-party controllers and headsets, as well as the latest and greatest in fight sticks and VR, Rhys strives to provide easy-to-read, informative coverage on gaming hardware of all kinds. As for the games themselves, Rhys is especially keen on fighting and racing games, as well as soulslikes and RPGs.