Best Apple Watch sleep apps
It's worth noting that there aren't a lot of apps for sleep tracking, as the Apple Watch can't really last overnight on battery.
That said, there are some clever apps to do it, and many people are now on their sequel Apple Watch and can even have one for the day and one for the night - so sleep tracking with your 'Night Watch' is possible.
NapBot
While Apple now includes sleep tracking as part of watchOS, there's still room for improvement, and plenty of third-party apps are offering more sleep tracking features than Apple provides.
The latest version of the popular NapBot sleep tracking app includes a particularly interesting feature: sleep apnea detection. Sleep apnea is a sleep disorder that means your breathing pauses or becomes very shallow more frequently than other people, and it can seriously disrupt your sleep – which means you'll be more tired the next day.
NapBot can detect apnea via the respiratory rate measurement on your watch, which is enabled whenever the sleep focus mode is on. It also monitors environmental audio so you can see if external factors are contributing to poor sleep, and as you'd expect it provides the usual analysis of your sleep states.
The core app is free but you can also unlock a Pro subscription for $0.99 / £0.99 a month or $9.99 / £9.99 annually. That gives you two extra features: Sleep History and Sleep Trends, both of which enable you to see the big picture of your sleep habits and the effects of any lifestyle changes.
NightWare
NightWare is an app that you can only get if it's prescribed by your doctor, and for now it's focusing on ex-military personnel. It's a US, FDA-approved app for people who suffer from PTSD-related nightmares, and it uses the Apple Watch motion and heart rate sensors to detect when you're having a nightmare.
It then uses the Watch's haptic engine to rouse you without waking you up – so it breaks the nightmare without breaking your sleep. It's a good example of how wearable computing can be used for more than just fitness monitoring and vital sign tracking.
The app works by monitoring your sleep patterns for around ten days, using the heart rate, accelerometer, and gyroscope data to calculate what the makers call a "stress threshold". If your sleep goes through that threshold it indicates that you're having a nightmare and the Watch intervenes with a low intensity vibration. If that doesn't work, it increases until you're back in a gentler sleep mode.
Why prescription-only? Privacy. The app generates data that's stored and sent securely for review by your healthcare professional. To begin with the app is available through the US Veterans Health Administration (VHA) health care system and the Department of Defense Military Health System (MHS).
Pillow Automatic Sleep Tracker
The next time you go to bed, take an extra pillow – one that lives in your Watch. Pillow is a sleep tracker with an interface very similar to Apple's own Activity app, but where that analyzes what you do when you're awake, Pillow does the same when you're asleep.
The app is designed to do two things: to let you know about the quality of sleep you're getting, and to use that information to detect the optimum time to gently buzz you awake so you bound out of bed full of joy and optimism for the beautiful day ahead.
It syncs with the Apple Health app to input into the wider picture of your overall health, so for example if you also sync data from fitness trackers or from Apple's own fitness tracking then you can develop insights into what behaviors seem to lead to the best night's sleep.
If you wish, the app can also record any frightening noises you happen to make in the night or play a particular song from your iTunes library to wake you up, although audio features are not available in the automatic tracking mode: you'll need to stick with manual mode if you want recordings or music playback.
AutoSleep Tracker
There are plenty of sleep tracking apps in the App Store, but AutoSleep is among the best. Now in version 6 it delivers more information than you could ever ask for, with good use of color-coding to prioritize information.
AutoSleep presents its analysis in three key areas: Sleep, which as you'd expect tells you how long you slept for; Quality, which tells you how restless you were; and Readiness, which is an attempt to predict how well you're going to cope with the day's demands based on your recent sleep history. The interface is strongly and deliberately reminiscent of Apple's own activity tracking, with the same use of colored rings to show what you've achieved.
The Watch app even works if you don't wear your Apple Watch to bed: simply touch the Watch in the morning and AutoSleep knows you're up. If you do wear it to bed, though, the app will analyze sleep quality based on restlessness, time awake and heart rate – and you can adjust the sensitivity if you're a very restless sleeper. It integrates with Apple Health and Siri Shortcuts, and it also works as a complication for your chosen watch face.
Best Apple Watch apps for music, podcasts and audiobooks
Endel
Endel is an ambient audio app with a difference. It automatically generates audio soundscapes based on multiple inputs: the weather, your heart rate, your location and more. The aim is to help you relax, sleep, focus or study better by creating the perfect personalized soundscape, with AI responding to changes in inputs by adjusting your soundscape accordingly.
The interface is as minimalist as the music, and on the Apple Watch it feels more like using some kind of scientific instrument than an audio app.
Voted the best Apple Watch app of 2020, Endel has continued to add new soundscapes, and it's also collaborated with artists including James Blake, Grimes and Plastikman to create wholly unique audio experiences. It also has specific modes such as the recently added Wind Down, which helps you drift off to sleep, and Commute, to make traveling less irritating.
Although the app itself is free, the soundscapes are free to try for seven days; after that you'll need to take out a subscription, which is currently $9.99 / £5.99 per month or $59.99 / £48.99 annually. In addition to your Apple Watch your subscription unlocks the soundscapes on iPhone, iPad and Apple TV too.
Streamlets
Streamlets is a simple and effective app that enables you to stream radio stations to your Apple Watch and listen to them on your Watch's speaker or on your Bluetooth headphones – and it works without requiring a companion iPhone app.
It's based on the Community Radio Browser service and gives you free access to over 26,000 radio stations from around the world, enabling you to search by name, by genre and by location – and because Community Radio is a collaborative project, you can add any stations that aren't already in the database by visiting radio-browser.info.
The selection here is huge, and there's a great mix of completely obscure stations as well as big names such as the BBC – including 6 Music – and commercial stations such as Capital FM. Sound quality isn't up there with iPhone-based streaming apps, because the stations here are mostly streaming in 128kbps MP3 format, but some do stream in higher quality.
One of the best things about Streamlets other than the choice is that it can run in the background, so you can use it as the soundtrack while you do something else. It also integrates with the Workouts app to help motivate or distract you while you get fit.
YouTube Music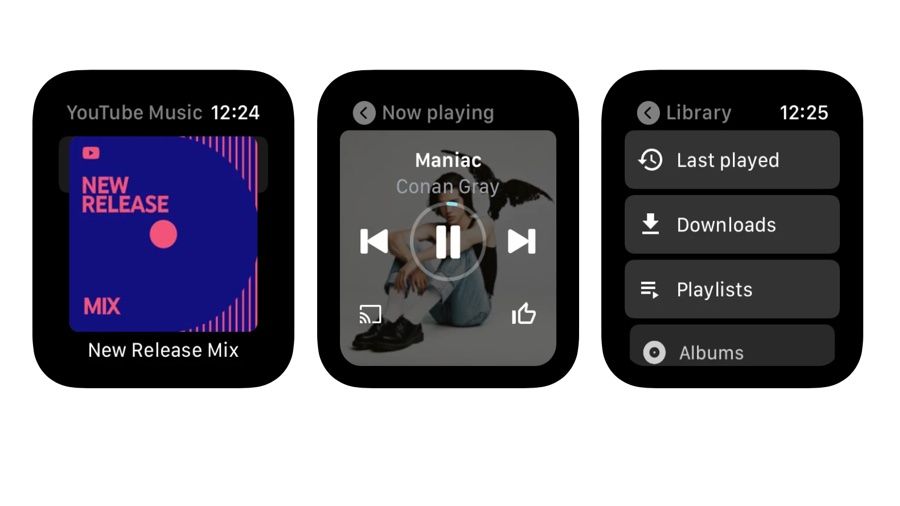 We think the best music app/service for the Apple Watch is Apple's own one, but that's because we already subscribe to Apple Music and only use Apple devices. If you'd rather get your streaming music from a company other than Apple, there are decent Apple Watch apps for all the major platforms including Tidal, Deezer, Spotify, Amazon, and YouTube Music.
Like all such apps the interface of this one is limited in terms of how much it can show you and how attractive it can be, but the app does everything you'd expect from a big-name music service with new releases, albums and a whole bunch of curated playlists based on genre or mood. If you're a paying subscriber, you also get ad-free audio and the ability to download tracks for offline listening.
As you'd expect from YouTube, the video content here is very strong with a good collection of live performances and videos available in the iPhone app. On your phone you can also get the song lyrics so you can bellow along to your favorite tracks, and you can upload tracks you own to add them to your online library to stream from anywhere.
Overcast
Our favorite podcast app has been given a significant update, with a completely overhauled Apple Watch version. It's faster than before, and it syncs episodes directly with the podcasts' servers rather than going via your phone. You can now skip podcast chapters and adjust the playback speed, and there's improved Siri support too. Unfortunately, the improved app requires watchOS 7, so it won't work on the Apple Watch Series 1 or 2.
We really like Overcast. Its Smart Speed enables you to race through podcasts without turning the contributors into chipmunks, and Voice Boost does a great job of normalizing the volume so that speakers aren't louder than others. On the iPhone its podcast management and playlist features are superb, and if you don't want to pay £8.99 / $9.99 / AU$12.99 a year there's an ad-supported version that won't cost you a penny. The app works with CarPlay, and we've found the Watch version useful for controlling playback when we stream over Bluetooth to our car stereo.
The other thing we really like about Overcast is that it's the work of just one person. There's no massive corporation mining your data to try and monetize it; it's a labor of love from someone who really cares about podcasts.
Spotify
Yes, we know you know about this one. But you might not know that in November 2020 Spotify began to roll out the ability to stream music and podcasts directly to its Apple Watch app, no iPhone required. There's still no offline playlist support, but hopefully that's coming in a future update.
To take advantage of the streaming feature you'll need an Apple Watch 3 or later with a Wi-Fi or cellular network connection and watchOS 6.0 or better, with watchOS 7.1 recommended. The update is a server-side update so if you don't see it, don't worry about updating your app: the feature will appear as soon as Spotify decides to make it available to you, and you'll see a notification asking if you want to stream on your watch. It's going to be a particular boon to outdoor types who like to listen to music when they run: if their Watch is a cellular model they'll be able to leave the phone at home.
Streaming or no streaming, the Spotify app is a good companion to the main iPhone app, as you can use it to control your music, send music to other devices via Spotify Connect, skip through the boring bits of podcasts, and so on.
iHeart: Radio, Music, Podcasts
In recent months we've seen a number of big-name music services return to the Apple Watch, so for example Spotify is now a fully-featured Watch app and Pandora is Watch-friendly too. iHeart is the latest such service, and the radio giant's new Apple Watch app provides easy access to the service's recommendations, playlists, and podcasts.
The Apple Watch app works independently of your iPhone (or as a remote control when your phone is around) and connects happily to home speakers, AirPods Pro and other accessories. However, like Pandora it isn't available worldwide because of licensing issues: at the time of writing iHeart Radio's app is only available to listeners in the US, Canada, Mexico, Australia, and New Zealand.
If you live in one of the supported areas the app does a good job of reimagining iHeart for your wearable: you can sync your library, access your favorite podcasts and playlists, and adjust the playback speed for spoken word content. And the companion iPhone app has offline listening (the Watch app doesn't, although it can stream offline content from your phone) and CarPlay compatibility. The app is free but some advanced features require a subscription; they start at $5.99 / AU$8.49.
Pandora: Music & Podcasts
It seems like just yesterday that we were writing about Pandora's Apple Watch improvements, and it was: February 2020, to be precise. A few months later and there's another big update to look at, this time based around Siri.
Siri support is now in both the iOS and Apple Watch app; the former enables you to add music to your collection or to a specific playlist if you have a premium subscription, while both iPhone and Watch enable you to use Siri to record that you like or dislike a song. You can also control the Apple Watch playback with Siri, for example by telling Siri to play a particular radio station, album or podcast.
As before, Pandora is simple and effective, making good use of the Apple Watch's limited screen real estate, and it works across all your devices: iPhone, iPad, Apple TV and Watch.
It has a truly massive music library and lots of really good features to help you discover music it thinks you'll like or that other people are liking, and the Premium version boosts the sound quality, offers even more customization, and banishes adverts. Unfortunately it's still not available globally: this one's strictly for US consumers.
Overcast
We've recommended Overcast before: it's our favorite iOS podcast player. And we're going to recommend it again because it's just had an important update to make it even better.
The latest version of Overcast introduces support for Apple's AirPlay 2, with optimized playback when you're streaming to HomePods and other AirPlay 2 devices, and it has a brand new version of Voice Boost.
As the name suggests, Voice Boost is designed to make voices clearer, and while it has always worked very well it wasn't great with podcasts that mixed speech and music: the music would sound overly compressed and a bit weird. Voice Boost 2 solves that problem, reliably boosting speech without doing strange things to music.
The rest of the app is pretty great too, with offline playback, excellent subscription options, custom playlists and adjustable speeds.
Overcast is free, or $9.99/£8.99/AU$12.99 without the ads. We'd recommend going for the ad-free version, because while the advertising isn't too invasive, this is an app that's been put together by people who really care about the end user experience. If you do too, making Overcast ad-free is a great way to help secure the app's future.
SoundHound
Music discovery, you say? Isn't that what Shazam is for? The answer to that is yes, but also no – because while Shazam does a brilliant job of finding songs based on listening to the currently playing music, it doesn't attempt to recognize your humming and singing.
That's SoundHound's speciality. It promises to identify that song that's driving you crazy: all you have to do is hum or sing a reasonably accurate version of it and SoundHound will do the rest. As you'd expect, it's extremely hit and miss.
That's not all SoundHound offers, though. It brings up the lyrics of the song it has matched, which is helpful if you fancy singing along, and if your Watch is the cellular version you can recognize songs and grab lyrics without needing a connection to your phone.
On your iPhone the app also offers a few features that Shazam doesn't. You can bookmark songs and add them to Spotify playlists, and there are some useful voice-controlled features such as "okay Hound, show me lyrics for…" or "okay Hound, play today's top songs."
It's that voice control that really elevates SoundHound over rival apps, as it turns the app into a voice-controlled hub for pretty much any musical task.
Pocket Casts
Pocket Casts is a firm favorite among podcast users, with 8 years of constant improvements under its belt. Now in its seventh incarnation, it's one of the best ways to stay on top of your podcast pile. It's also eminently sociable with support not just for the Apple Watch but for Chromecast, Sonos, CarPlay and AirPlay.
Although the app is perfect for beginners, there's a lot here for serious listeners, including excellent filters, automatic downloads, listening history and extensive notifications.
Version 7 enables you to listen to individual episodes without subscribing, streamlines the user interface, has excellent archiving that retains your playback history and supports Siri Shortcuts. There's been a big effort to improve discovery, so the app makes it much easier to find new podcasts it thinks you'll like as well as the podcasts you've found for yourself.
As with other apps of this ilk most of the heavy lifting is done by the iPhone app, with the Watch app there to provide access to the features that make sense on your wrist: playback control, of course, but also speeding the podcast up or down, trimming silence and boosting the volume. You can see what's next, browse new releases and scroll through the podcast charts too.
Castro Podcasts
The Castro podcast app has been around for a while and has developed a loyal fanbase, and it's just been given a major overhaul as well as an Apple Watch companion app.
On your wrist it's really very simple: it enables you to move around the audio, change the volume or move between episodes.
On the iPhone the main app has been completely rebuilt with a brand-new playback engine to significantly boost speed and responsiveness, and the player screen now incorporates AirPlay controls for easier streaming to compatible hardware.
It's a very good app, and there are extra features if you go for the optional Castro Plus subscription, including getting rid of silent sections, mixing stereo down to mono, episode limits to prevent your device from downloading entire volumes of podcasts, and automatic start positions to skip past standard intros and other pre-content content.
You can set these preferences on a per-podcast basis, which is a really useful option for power podcast users. You can try Castro Plus for a week before deciding whether to get it, and it's available as a quarterly or yearly sub.
Audible
You may know Audible already: it's the Amazon-owned audiobook service that enables you to devour books on the move, in bed or anywhere else you can get comfortable. The catalog is vast, books are often narrated by very big names and the overall quality is very high. And now, you can use it without taking your phone with you thanks to its Apple Watch app.
The app is compatible with every Apple Watch made so far and enables you to transfer audiobooks to your Watch, provided of course that you have enough available storage.
It's important to note that Audible doesn't stream to your watch: you need to sync your audiobook(s) from your iPhone, which can take a while over the Watch's desperately slow connection. But once the book has been transferred you can play, pause, fast forward and rewind. You could listen via the Watch's speaker but we wouldn't recommend it; Audible is best experienced on a decent pair of wireless headphones.
We think the Audible Watch app is best suited to environments where you don't want to have your phone: the gym is the one that springs immediately to mind: we can't be the only people who'd rather listen to a book than pumping techno on a treadmill.