Best HR outsourcing service of 2023
Best
Contributions from
last updated
Simplify your HR process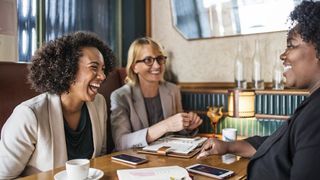 (Image credit: Pixabay)
The best HR outsourcing services make it simple and easy for you to more efficiently manage your Human Resources admin and costs.
These are especially useful for small businesses and startups, where outsourced HR services can prove far more cost-effective in the short-term than hiring dedicated HR staff for your organization.
There are different levels of outsourcing available, however, from basic options that cover the essentials such as payroll and benefits, to full Professional Employer Organization (PEO) services that can handle every aspect of the HR process, from hiring to onboarding, training and so on.
These services go a step further than traditional HR software that many people use to manage human resources – these companies use experts and professionals alongside their own software and analysis tools to supply a more in-depth service, and they've got in-house legal teams to ensure compliance too.
Many of the staff at these companies also have decades of experience that may not exist in your business. Additionally, they can use collective purchasing to ensure you get the best deals on compensation and benefits packages.
An HR outsourcing service will cost your company, of course, but you should get a lot in return – and an outsourcing service can save your company money, too. You won't have to pay to train or hire extra staff, and you won't have to rent additional office space.
Some people see HR as a necessary chore, but this is the sort of work that you can easily outsource to a company of experts, and it'll often be cheaper than staffing your in-house department.
Below we list what we think are the best HR outsourcing services currently available.
We've also featured the best job sites.

---
The best HR outsourcing services of 2023 in full:
Why you can trust TechRadar We spend hours testing every product or service we review, so you can be sure you're buying the best. Find out more about how we test.
A significant player for serious businesses
Reasons to buy
+
Suitable for larger firms
+
Nationwide service
+
Different packages offered
ADP HR Services is an ideal choice if you're responsible for the human resources of a larger business or if you want to free up time to focus on strategy rather than HR. It's also worthwhile if two companies are merging and need an HR provider to help navigate those potentially tricky waters.
ADP offers the whole gamut of HR services, from payroll and benefits administration to benefit and compliance management. ADP can help set up employee self-service processes, and you can rely on the firm's experts if you run into a sticky situation. ADP also supplies employee handbooks and job description wizards to streamline key documentation, and you can compare your company's HR practices against industry standards to see where you fall short.
This company offers different packages – ideal if you need to outsource your entire operation or if you need specific services – and ADP also uses analytics tools to work out where you can improve your business efficiency.
ADP has expertise in dealing with large businesses and complex corporate situations, so it's worth real consideration if you need an unfussy and professional HR provider.
Read our full ADP Human Capital Management review.

2. Insperity
A top choice for full-service HR plans
Reasons to buy
+
Nationwide service
+
Different plan levels
+
Certified by the IRS
Insperity offers a full-service HR solution that's focused on two specialized plans. The first covers organizations of between five and 149 employees, while the second is well-suited to firms of up to 5000 staff members.
Both cover all key HR areas, from administration and payroll to compliance, benefits, employee management, and training. The plans differ, though, in how those areas are handled.
The small business scheme delivers a well-supported and stable HR plan for companies that are unlikely to have all the required experience in-house – and that stability combines with a range of benefits that a small business wouldn't usually be able to afford.
The large business plan serves up the same broad swathe of services, but concentrates on productivity and profit, with a clear focus on preventing the sprawl and inefficiencies that can afflict larger organizations. Insperity supplies detailed, managed levels of cost and loads of data-based insight.
No matter the plan you choose, Insperity gets the job done using its own scalable HR platform, which allows you to supervise your business and get more work done. You're able to consult with Insperity's experts if you're unsure about any HR-related situation.
Insperity offers a nationwide service that works for smaller businesses and larger enterprises, and the firm claims that companies that use a PEO system grow up to 9% faster – so Insperity is well worth using.

3. Paychex
A top choice for full-service HR plans
Reasons to buy
+
Data-driven insights
+
Broad range of features
+
Consultancy available too
Paychex supplies human resources consultancy alongside a full range of PEO services, so you're able to customize your package to suit your business needs. If you need a single service or some guidance on streamlining your in-house HR department, then you'll get it here – and Paychex can step up if you need complete HR outsourcing, too.
Paychex can handle every big HR task, from payroll and benefits to legal services and training. That's not unusual for a prominent PEO provider. Paychex goes further than rivals by streamlining its services to make your HR operation as efficient and affordable as possible. It does this by using a huge amount of data to deliver unique insights and new opportunities.
You can manage your company's HR needs using Paychex's bespoke online platform, and you can allow employees to change their own personal information – which takes tasks away from your to-do list. You can talk to employees, receive real-time reports, and automate essential activities.
Paychex offers a full PEO service with maximum efficiency, so it's an ideal choice if you want to spend less time on HR and save money while you're doing it.

4. Infiniti HR
An excellent option for businesses in the service industry
Reasons to buy
+
Huge service and franchise experience
+
Broad range of services
+
Ideal for big business
Infiniti HR was created with hotels, service businesses, and franchises in mind, and now it's an excellent PEO provider for all sorts of large organizations. And, unsurprisingly, it's still got loads of ability in the service sectors where it began, and it regularly still works with companies like Best Western, Hyatt, and Baymont.
Infiniti's HR solutions come in four different strands that cover the critical HR responsibilities of any organization, from payroll and recruitment to insurance, risk management, and benefits. These solutions are extremely customizable, and Infiniti's size means that any company can attract staff using an excellent suite of benefits.
The broad range of services and Infiniti's extensive service industry and franchise experience means it's an excellent choice for large companies in that sector. However, it's worth looking elsewhere if you want an HR provider with more mobile technology – or if you need HR coverage for a smaller organization.

A flexible choice if you need maximum versatility from your HR department
Reasons to buy
+
Flexible scaling options
+
Good remote management tools
+
Plenty of features
Lots of businesses are moving to flexible, remote ways of working, and plenty of companies are growing quicker than ever. Rippling is the ideal HR provider if you need a company that can cope with the versatility of modern business.
Rippling offers remote laptop management and instant local tax registration, so you can manage staff no matter where they're located. It also provides a slick, straightforward dashboard that you can use to evaluate data, manage employees, pay salaries and alter employee benefits.
This company offers the sort of benefits you'd expect from the most prestigious organizations, and you can rely on one-on-one support from experts on a complete range of issues.
Rippling is eminently scalable, too: it's easy to upgrade or downgrade your services to match your business needs, and it's simple to stop using Rippling if you want to bring HR in-house. Services are billed using a flat per-employee rate, too.
If you've got a company dominated by remote or flexible working or if your business is growing rapidly, then Rippling could be the HR provider you need thanks to its balance of versatility and features.
Read our full Rippling employee management review.

6. TriNet HR Services
A flexible option with plenty of industry insight
Reasons to buy
+
Uses specialists for better insights
+
Per-employee payment
+
Accredited
TriNet offers the full range of HR services, from benefits and payroll management to legal services and consultancy, and it's all managed through the company's single software platform.
This company goes further than many others by offering mobile apps that can help manage employee benefits, payroll and expenses, and the entire suite of services can be purchased as a customized package designed for your business.
TriNet stands out in other areas, too. Many of its in-house experts have experience in specialist industries, like architecture, engineering, manufacturing, and technology, so you're more likely to work with an expert who really understands your industry and its various issues – and you'll get better insights as a result.
TriNet also charges on a per-employee basis, which makes it stand out from plenty of other companies that charge a percentage of your payroll. That helps keep HR costs manageable and consistent, which can be ideal for a business that needs stability.
This provider offers the full range of HR services alongside impressive insight and flexibility, so you should consider TriNet if you need a consistent and in-depth PEO service.

7. G&A Partners
Customized HR solutions
Reasons to buy
+
Nationwide availability
+
Packages and individual service available
+
IRS certified
G&A Partners provides a complete HR service, from payroll and legal to benefits and compliance, and it does so with its own WorkSight platform, which offers single sign-on access to a range of easy-to-use modules for tackling every key HR task.
WorkSight has robust security settings, it provides 24/7 access to services for staff and managers, and it has on-demand data available alongside scheduled reports. G&A also uses additional proprietary technology to help find and track applicants for new jobs at your company, and G&A can screen them during the recruitment process.
You can customize the size and range of the services you purchase from G&A, and the firm's in-house specialists are perfectly placed to tackle all of the relevant tasks and answer any questions. You can also scale the services you receive from G&A to match the needs of your growing business.
---
Also consider these HR outsourcing services
There are lots of different HR outsourcing providers out there, and many of them offer a more specialized service than the general providers that we've already covered. Some of these companies cater more to small businesses, for instance, and others focus on particular industries.
To help you find the HR service to suit you, we've listed below other notable HR outsourcing companies you should check out:
XcelHR supplies a range of HR solutions that includes human resources management, payroll and tax administration, talent acquisition, benefits administration, retirement services, and risk management.
Justworks is a full-service HR company that supplies support and consulting as required. Their main service provisions include payroll, benefits, and compliance, on top of routine HR tasks. Their emphasis on straightforward design means that these services are easier to use than those offered by more complex companies.
Abel HR offers a full-service provision as a PEO, including the option to train your staff in lots of different fields. It's also possible to use Abel HR to handle specific HR needs, which is useful if you don't need a full PEO package.
Acadia HR tackles a full range of HR support and management services for companies of all sizes, covering everything from payroll and compliance, to hiring and training.
We've also featured the best accounting software for small business.
How to choose the best HR outsourcing services for your business
Choosing the best HR outsourcing service should revolve around your business needs. If you have a small company and have no specific requirements, one of the do-it-all programs will likely be an excellent fit for your organization.
Conversely, if you have a specific pain point in your HR workflow, an outsourced service could be far more helpful. Recruitment and payroll are both examples of processes with dedicated solutions that an outsourced HR company can provide for.
How we test the best HR outsourcing services
Where possible, we sign up for every HR outsourcing services that we review. We look at how easy it is to get started and see what the service is like to use. Every key feature is put to the test and compared to what's offered in competing products.
We research a range of other factors, including data security, ongoing support, and pricing models. If we can't physically test the HR outsourcing services, we supplement our verdict with information found on the company's site, peer reviews, and user testimonials.
Are you a pro? Subscribe to our newsletter
Sign up to the TechRadar Pro newsletter to get all the top news, opinion, features and guidance your business needs to succeed!
Brian has over 30 years publishing experience as a writer and editor across a range of computing, technology, and marketing titles. He has been interviewed multiple times for the BBC and been a speaker at international conferences. His specialty on techradar is Software as a Service (SaaS) applications, covering everything from office suites to IT service tools. He is also a science fiction and fantasy author, published as Brian G Turner.