Best Apple Watch apps for learning and entertainment
WatchTube
Have you ever been watching YouTube and thought "I wish I could watch this on a much smaller screen while burning through my smartwatch's battery life"? Then this is the Apple Watch app for you.
It's a YouTube player for your wrist, and right now it seems to be designed for people with the GPS + Cellular versions of the Apple Watch; if you have the GPS-only model, you're likely to have your iPhone handy for as much YouTube as you might wish.
Developer Hugo Mason has done an excellent job of cramming a quart of YouTube into the Apple Watch's pint pot. In addition to watching you can like and subscribe, view your like history, and see closed captions.
While it's amusing to see video streaming to your wrist, the demands it makes on your battery mean this is not an app you'll want to use constantly. However the next version could be much more interesting, because that will have an audio-only mode that'll keep the screen off while you listen. Given that YouTube is one of the key services where people discover new music, WatchTube could turn out to be an important music player rather than a video one.
Tap Master
Some of the best video games we've ever played were defined by their hardware. From the days of Pong and Breakout to Panic's wonderful Playdate handheld, games that really understood the limitations and the possibilities of their platforms are the ones that tend to delight and which are most likely to endure. And we were reminded of those games while playing Tap Master, which feels like the game the Apple Watch was designed to deliver.
If you've ever lost hours to Google's no-internet dinosaur in Chrome, you'll know what we mean when we talk about the joy of simplicity. Here that means the simplest possible game mechanic: all you need to do is tap the target at the right time. The more you get right, the harder it becomes. And that's it.
We really like this game. The design is superb and it makes brilliant use of color, Apple-style activity rings and haptic feedback. It works on all sizes of Apple Watch, and because it's not ad-supported there's nothing to get in the way of that "just one more go" feeling. It's gaming distilled to its bare essentials: a tap, a timer and an increasingly tough challenge.
Audible: Audiobooks & Podcasts
The Amazon-owned Audible service is an excellent place to get audiobooks, including brand new releases, and this version enables you to store the books on your Apple Watch so you can leave your phone behind and enjoy them without interruptions. It's been made on the assumption that you're connected to your iPhone though, so even if you have a cellular Apple Watch you'll need to transfer the book(s) from the iPhone app.
We like Audible a lot, and the new Plus catalog makes it even more attractive: in addition to your monthly book credit, your subscription gives you access to Audible Originals, podcasts and selected books. In much the same way Kindle Unlimited doesn't feature the biggest new blockbusters, the selection of free books here isn't what you'd call spectacular, but the podcasts feature some big names from comedy and include some good documentaries.
The Audible Originals are interesting too, so for example Derren Brown's Boot Camp For The Brain series, which is exclusive to Audible, is fun and fascinating. You'll also find Audible Originals featuring the likes of Stephen Fry, Alan Davies and Idris Elba.
Scribd - Audiobooks & ebooks
Scribd's library is absolutely massive, with over 1 million titles, and you can now enjoy its audiobooks on your Apple Watch as well as from your iPhone or iPad.
It's a solid app with support for Bluetooth headphones, good playback controls and adjustable playback speed, but you can't browse from your wrist: the app is designed to access the titles you've saved on your other devices.
Provided you have an Apple Watch 3 or later the app works via cellular or Wi-Fi to stream directly to your watch, no phone required. That means it's really good for those times when you want to listen to something, such as when you're jogging or walking, but don't want to be tempted by social media or other distractions.
It also means that when you're not out and about you can use your Scribd subscription on your other devices to enjoy written content including not just books but magazines and even sheet music.
It's worth noting that while the subscriptions are billed as unlimited there are limits on some popular titles' availability. Unlimited access to the service doesn't necessarily mean access to an unlimited number of books each month, and if Scribd decides you're too voracious a reader or listener you may find you have to wait until the next billing cycle to read more in-demand titles.
Chords & Scales for Guitar
The Apple Watch has lots of possibilities for musicians: if you turn it so it's visible while you play your instrument you can use it as a tuner, a metronome or as a tutor. Chords & Scales for Guitar takes advantage of that, using your Apple Watch screen to teach you chords and scales.
It's a simple but effective app that's particularly good for beginners. In addition to individual chords it can teach you chord progressions in particular styles, and you can also get it to control backing tracks that you can then play along with. The metronome is haptic, pulsing on your wrist to help you stay in time, and you can customize the fretboard's design and color scheme to suit your own preferences.
Having chord and note diagrams on your wrist is very effective: not only can you see the chords while you're shaping them but you can use your strumming hand to tap on the app to see what's next or to change settings without taking your fretting fingers off the guitar. That doesn't sound like a big deal, but it feels more natural than trying to read printed tablature, not least because you don't need to find a place to put a book that's also a comfortable place to play.
Sundial Solar & Lunar Time
If you've messed around with Apple's solar watch faces, you might find Sundial fascinating: it's a sun and moon tracker for your Apple Watch that you can use to create hundreds of different complications to show you where the heavenly bodies are and when they'll rise and fall. It's a lovely thing, and it's particularly good on the Infograph watch face where you can have multiple complications to show different bits of information from the app.
In addition to your complications, you can also set alerts for 24 different kinds of celestial events: not just sunrise and sunset but moonrise, new moons, quarter moons, solstices and equinoxes and more. And because you can set the alerts to occur before the events, you can use them to remind you so you won't miss them. The developers' examples include setting a reminder so you can always walk the dog at sunset no matter when it occurs.
Is this overkill for the average Apple Watch user? Quite possibly, but that's why we like it so much: it's a great example of an app that's designed for a very specific group of people, and those people will really get a kick out of its many possibilities.
Ping Pong - Watch Retro Arcade
We're always here for retro games, and what could be more retro than one of the very first video games? The Atari original was originally released in 1972 and came in a full-sized arcade cabinet; now it takes up a tiny bit of space on your Apple Watch.
Ping Pong, as it's called here, works well on the Apple Watch because it only requires a single control, which in this case is the Digital Crown. Once you've picked your level and your preferred difficulty level the only thing you have to do is move your bat upwards or downwards to intercept the incoming ball. As in the original it seems very simple but it can get very difficult as things speed up.
Pong and its clones are much more fun when you're playing another human, and in a neat touch this app enables you to play with someone else by giving them your iPhone. They can then play against you by swiping the phone screen.
The basic game is free but there are a few little in-app purchases: the Customizer, which you can use to change the app's theme (we liked the football one) and app icons, and Breakout, which gives you 45 levels of brick-smashing in a rotated version of the arcade classic. If you complete the game on hard mode you get the Customizer for free.
Coloring Watch
Sometimes the best apps don't do very much. That's definitely the case with Coloring Watch, which is a little coloring app that runs on your wrist. It gives you a choice of 70 still images and 14 animated ones, and your job is to color them in with your finger.
Coloring Watch is a great example of what you can do with a good idea. The Apple Watch might not look like the ideal canvas for coloring in, but the interface here means it really is: simply tap on the screen to toggle between the different parts of the image, and use the Digital Crown to tune the colors. If you have to go and do something else the app saves your progress so you can pick up from where you left off, and when you're done you can save the image as a watch face. In some faces you can also use the image as a complication provided you're running watchOS 7 or later.
Coloring can be a great stress-buster, and Coloring Watch has some features that are designed to help with that. The Mindful Minutes feature gives you timed 5-minute sessions, tracking your heart rate and updating the Health app accordingly. You don't have to color in during these sessions – the heart rate tracking doesn't care if you're scribbling or just relaxing – but it's interesting to see the data after a short coloring session.
Star Duster
For readers of a certain age, Star Duster will fill you with retro joy. It's a loving tribute to long-gone, much loved LCD handhelds such as Game & Watch, and it captures the looks, the sounds and the gameplay of that era beautifully.
If you weren't around in the 1980s, here's a quick explanation: the limited hardware of the time meant that game developers had to think incredibly creatively in terms of gameplay and replayability, because the hardware couldn't really do much beyond very simple animation and audio: the only color on the screens was printed on stickers around it.
We know what you're thinking: are there bleeps? There are. Are there bloops? Oh yes. If you played Star Duster on an airplane, would the other passengers want to murder you? Without a doubt. And that's part of the charm: it's a bleepy-bloopy liquid crystal arcade with two fun game modes and that all-important "just one more go" appeal.
It's the little details we love: the OUCH on the score screen when you lose, the choice of Tortoise or Hare difficulty levels, the simulated burn-in on the display. Star Duster was clearly made with a lot of love, and we absolutely love playing it.
PlaneWatcher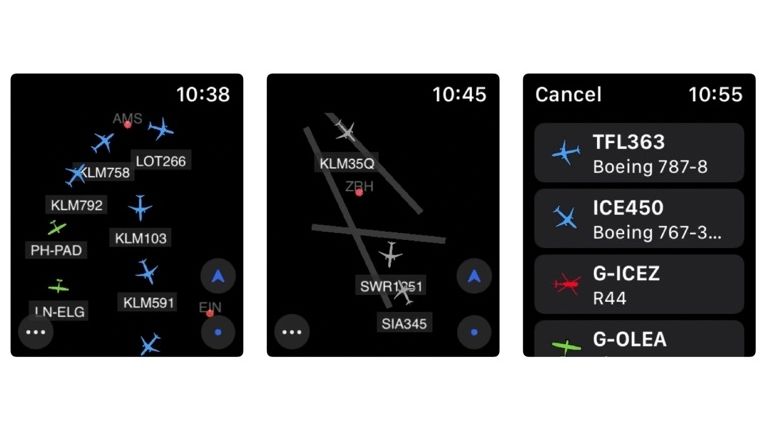 Do you like planes? Do you like Apple Watch apps? Then PlaneWatcher may well be the app for you. It's a flight tracking app that's native to the Apple Watch, and it enables you to discover what planes are flying overhead no matter where you are in the world.
It also enables you to take a look at the traffic in whichever airports you're interested in even when you're nowhere near, and to filter for specific kinds of aircrafts or airports – so for example if you want to exclude very small airports or aircraft you can.
The app was designed specifically for the Watch and uses some of its sensors in clever ways, so for example if you change the direction in which you're looking the map will rotate with you to keep the aeroplane information accurate.
You can zoom in and out with the Digital Crown, and you can drag the map around with your finger to see a wider area. Data comes courtesy of ADSBExchange and tells you the flight name, registration, operator, altitude, and speed, and you can filter the data and customize the view. There are even complications you can add to some watch faces.
Lifeline 2: Bloodline
The original Lifeline was something of a smartwatch sensation, offering a gripping narrative in a game that you could play on your watch. It used your Apple Watch as a communicator, with the game putting you in the role of somebody in contact with a crashed moon landing, and it was really something special: so special that it hit the top of the charts in 29 different countries. Lifeline 2 brings similar mechanics to a brand new, much longer story and adds a 28-minute original soundtrack.
This time around the story is about Arika, a young woman on a deadly quest to rescue her brother and avenge the death of her parents. It's by the same writer, Dave Justus, and has the same strengths as the original with a story that takes its time to fully unfold – but this time the game takes place right here on Earth. Or at least, some of it does.
The original Lifeline challenged people's expectations of what Apple Watch gaming could be. The sequel hasn't had the same impact but it remains an excellent example of how the Apple Watch can be a surprisingly great platform for interactive storytelling.
LookUp
If you're going to charge four bucks, dollars or smackeroonies for a word-of-the-day app it had better be good – and LookUp is good, satisfying, pleasing and agreeable. Yes, we've been playing with its thesaurus.
The main LookUp app has extensive definitions, the aforementioned thesaurus and the ability to create collections of favorite words, and it also comes in a user-friendly Watch form so you can improve your vocabulary when your phone isn't handy.
As you'd expect from a word-of-the-day app, every day you get a word – but it's what happens afterwards that makes LookUp good. If you tap on the word on your wrist you get not just a definition but also example sentences, details of where the word came from and even the Wikipedia entry where appropriate.
The app also supports Handoff, so you can move to your phone if you want to look into more detailed information or access the thesaurus.
The natural home for LookUp is in the Siri watch face, but it also comes with complications you can use to call the app up whenever you feel like boosting your vocabulary. The app has also been tweaked to improve its performance, making it noticeably faster than before.
Daily Dictionary
Daily Dictionary is a great example of the kind of apps that really work on your wrist: rather than blast you with notifications or try to cram tons of things into that relatively tiny screen, it delivers a little nugget of information that you might otherwise miss.
That nugget, of course, is a word. Every day, Daily Dictionary comes up with a new word. That can appear in your Apple Watch face's complication, or as a push notification, or you can call the app directly. The complication is well designed, as it also includes today's date, so you don't need to have as separate date complication, enabling you to use your limited complication space for something else.
The word selection is practical rather than esoteric. The aim is to provide you with words you'll actually use, so there's no jargon or scientific terms you're unlikely to use in your everyday conversations or writing. And the app enables you to see recent updates to catch up on any words you might have missed.
The core app is free, although a small purchase of just £2.99/$2.99/AU$4.49 a year unlocks the ability to customize the Apple Watch display.
Rosetta Stone
Rosetta Stone is one of the big brands in language learning, and its various apps have won shelves full of awards for its combination of effective teaching and user-friendly app design. The Apple Watch counterpart to its main iPhone app is a good example of how the Watch can be used to supplement more fully featured apps: it's tailored to the kinds of environments where the Apple Watch is the perfect device for a quick practice.
Rosetta Stone is all about real-life situations: ordering in restaurants, choosing things in shops, saying hello to people and so on. The Watch is ideally placed to practice that, and it's set out with sensible categories and simple and fast navigation to get you to the bit you need, with audio examples of how to do it.
The main thing to watch out for here is the price: while the app itself is free, it's useless without a language subscription. There are 24 languages to choose from and they start at $109.99/£93.99/AU$159.99 per year per language, with bundles for languages such as Spanish and French offering 5 levels for $199.99/£199.99/AU$319.99. Think of the app as a demo for the Rosetta Stone service rather than a stand-alone app.