The best gaming laptops 2023: Australia's top laptops for gamers
News
Contributions from
last updated
Get gaming with these neat portable powerhouse systems
VERDICT
REASONS TO BUY
REASONS TO AVOID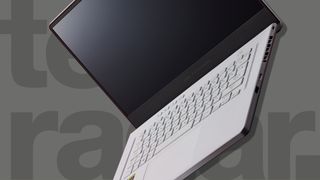 (Image credit: Future / Asus)
Best gaming laptop: Quick Menu
There are plenty of reasons for Aussies to seek out a gaming laptop – whether you're seeking a portable beast of a machine or if you simply can't build the desktop rig of your dreams due to the global scarcity of GPUs, it's a great time to go for a gaming laptop.
Gone are the days when all gaming systems were big and bulky units that would barely survive between powerpoints – thanks in no small part to the popularity of Ultrabooks, they're becoming more sleek and portable while maintaining the power needed to handle the latest games. There's even a whole category of Gaming Ultrabooks that give you impressive gaming performance in a thin and light package.
Regardless of whether you're in it for the sleek numbers to slip in your satchel on the go, or an all-in-one replacement for a desktop rig, we've sifted through what's on offer to bring you the best gaming laptops available in Australia.
It's worth noting that our list of the best gaming laptops here in Australia will be a bit different to our US and UK counterparts. While the laptops themselves are undisputedly powerful and capable, the Australian 'tech tax' means we simply don't get as good a deal down under, and so the value proposition is a little different.
The quick list
Want to cut to the chase and find out what the best gaming laptops are? Below, you'll find a roundup of our choices, and you can jump to a more detailed review of every pick, along with our price comparison tool to help you find the best deals.
Load the next 4 products...
The best gaming laptops in 2023
Why you can trust TechRadar We spend hours testing every product or service we review, so you can be sure you're buying the best. Find out more about how we test.
Below you'll find full write-ups for each of the best gaming laptop in our list. We've tested each one extensively, so you can be sure that our recommendations can be trusted.
The best gaming laptop overall
The best gaming laptop overall
Specifications
Graphics:
Nvidia GeForce RTX 4090
Screen:
17.3-inch 240Hz IPS display at 2560 x 1440 pixel resolution, 100% DCI-P3, 3ms response time, G-Sync
Reasons to buy
+
Outstanding performance
+
Great screen for gaming
+
Good value premium components
Reasons to avoid
-
720p Webcam is unimpressive
-
No biometric security features or card reader
The Strix Scar 17 has long been the flagship of Asus's gaming portfolio, and while this year we also get an even bigger 18-inch Scar in 2023 the 17-inch gaming powerhouse is just as powerful… and even better value.
This year's ROG Strix Scar 17 can be configured with an AMD Ryzen 9 7945HX CPU and an Nvidia GeForce RTX 4090 GPU for performance we rarely see in a laptop. The 7945HX CPU has been configured to pull up to 65 Watts while the 4090 is capable of drawing an impressive 175W. This massive amount of throughput delivers general working CPU performance gains of around 25 percent over a 55W Intel Core i9-12950HX on last year's Strix Scar 17 SE and up to double the performance on highly multi-threaded tasks.
This is a pretty amazing result for AMD since it was able to outpace a 65W Intel Core i9-13900 on a Lenovo Legion Pro 5i by up to 18-26 percent on two of our CPU benchmarks. That's a big performance difference for two processors with the same 32 thread count.
You'll also get up to 45 percent better graphics than last year's ROG Strix Scar 17 SE running a 175W 3080 Ti GPU. This equates to frame rate averages over 130 fps playing RDR2 or Cyberpunk 2077 on 1080p Ultra settings, or close to 90 fps using the screen's native QHD resolution and Ultra Ray Tracing.
That performance is more than enough power to really challenge the screen's impressive 240Hz refresh rate. At a resolution of 2560 by 1440 pixels the display offers a little more clarity in the 17.6-inch screen, without losing out on the competitive edge of a fast screen thanks to a 3ms response time.
The screen also offers an onboard G-Sync chip that'll allow you to have faster tear-free refresh rates and reduce any ghosting artefacts. The MUX Switch and Nvidia Advanced Optimus work well in swapping between 60 and 240Hz refresh rates, saving energy when working and ramping up performance during gaming sessions. This means this power hungry device can actually last a few hours on its 90Wh battery when you're just working.
AU$5,599 is actually less than the starting RRP of last year's Strix Scar 17 SE and the handful of other devices we've seen with 4090 GPUs have run at over AU$6K. You can get better value with slightly more conservative processors, but if you need a no compromise rig then this is a solid option at a fair price.
Read the full Asus ROG Strix Scar 17 review
The best budget gaming laptop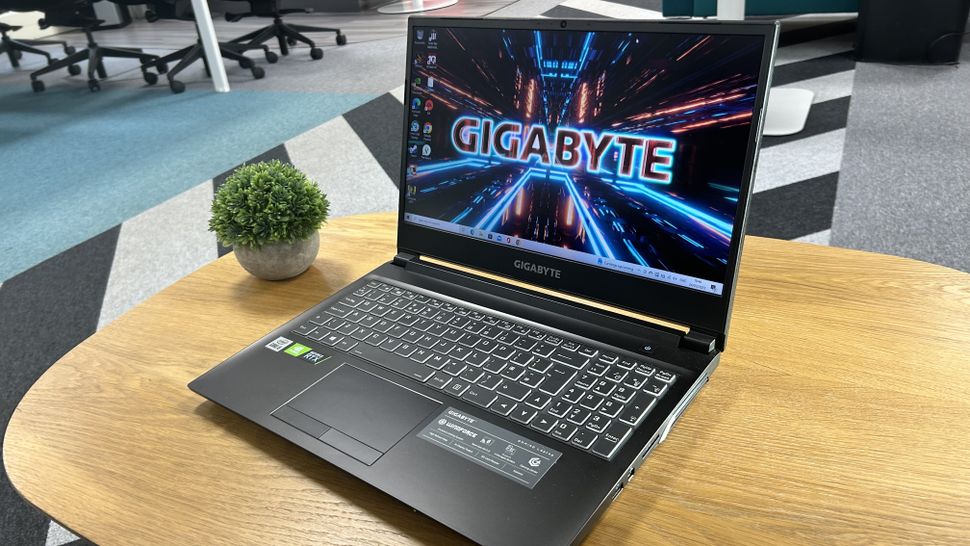 The best budget gaming laptop
Specifications
CPU:
10th Gen Intel Core i5
Graphics:
Up to Nvidia GeForce RTX 4060
Screen:
15.6" 1920x1080 LCD 144Hz
Reasons to buy
+
Unbeatable value on sale
+
Modern processors
+
Good balance of specs
Reasons to avoid
-
Dull display
-
Slightly lower performance
The full RRP of the 4050 G5 is AU$1,899, a price that isn't as good value as something like the last generation of Gigabyte Aorus SE4, but it's the best we've tested for something housing the latest generation Nvidia graphics. We've seen the 4050 model going for as little as AU$1,139 and the 4060 variant for $1,449. Prices that make the G5 laptops difficult to beat on value.

The G5 is able to undercut a lot of its competitors by offering only 8GB of RAM, which isn't ideal for a gaming laptop — since it can hinder performance by up to 10% — but it's not unreasonable considering the performance of the Intel Core i5-12500H CPU.
The device we tested managed to achieve 60-plus fps on RDR2 using Ultra 1080p settings using the stock 8GB configuration, a respectable level of performance for an entry level gaming laptop. The G5's 4060 has a Thermal Design Power (TDP) of just 75W, which means you'll get 4-5 hours of battery life from a small 54Wh battery, but it definitely leaves some performance on the table, lining up with results we have on file for an Acer Nitro 5 using a 140W RTX 3060 GPU.
The performance is well suited to the 15.6-inch 144Hz Full HD screen. You've got enough power to push that to its limits, but only using less demanding or older games. It is a little dull and colours are flatter than you might expect, but you'll get used to it if you don't have anything to compare it to.
When on sale, this device offers lot for anyone on a tight budget.

Read the full Gigabyte G5 review
The best value gaming laptop
The best value gaming laptop
Specifications
CPU:
Intel COre i7-13700HX
Graphics:
Nvidia GeForce RTX 4060 - 4070
Screen:
16-inch WQXGA (2560x1600), 240Hz, 500nit, VESA HDR 400,
Reasons to buy
+
Great performance
+
Excellent gaming screen
+
Great value
Reasons to avoid
-
Unimpressive battery life
-
MUX switch glitchy occasionally
The Lenovo Legion Pro 5i was one of the first 13th generation Intel gaming gaming laptops we'd tested, which can mean you're a bit in the dark with regard to the underlying value it offers. The Legion Pro 5i comes in a few configurations locally, and all of the devices are competitively priced but Lenovo is opposed to putting them on sale for up to 28% less than the RRP. If you can nab one at this price then they offer unbeatable value.
The main factor in this equation is the balanced 16-inch screen which offers a 2560 by 1600 pixel resolution. This is a great resolution as it adds a little extra clarity to FullHD, but not enough to tax the GPU capabilities too heavily. This combines with a 500nit peak brightness decent colour capabilities and a 240Hz refresh rate to make it one of the most well rounded gaming displays on offer.
The Legion 5i Pro also offers 32GB of RAM and a Nvidia RTX 4070 GPU at a price that would usually only get you a 16GB 3060 setup (and the other models are similarly well priced, especially on sale). This means you have a heap of power to really push games into the 100-plus fps range using Ultra 1080p settings and you'll get around 50fps in WQXGA resolution.

Battery life isn't amazing, lasting just 2.5 to 4 hours, but gaming devices rarely last much longer and it's perfectly portable at 2.49kg. The latest connectivity specs and a fast 1TB SSD round out a solid gaming laptop that costs much less than the nearest competitors. There's also an AMD alternative Lenovo Legion Pro 5 that goes for even less if you're open to a non-intel CPU.
Read the full Lenovo Legion Pro 5i review
The best lightweight gaming laptop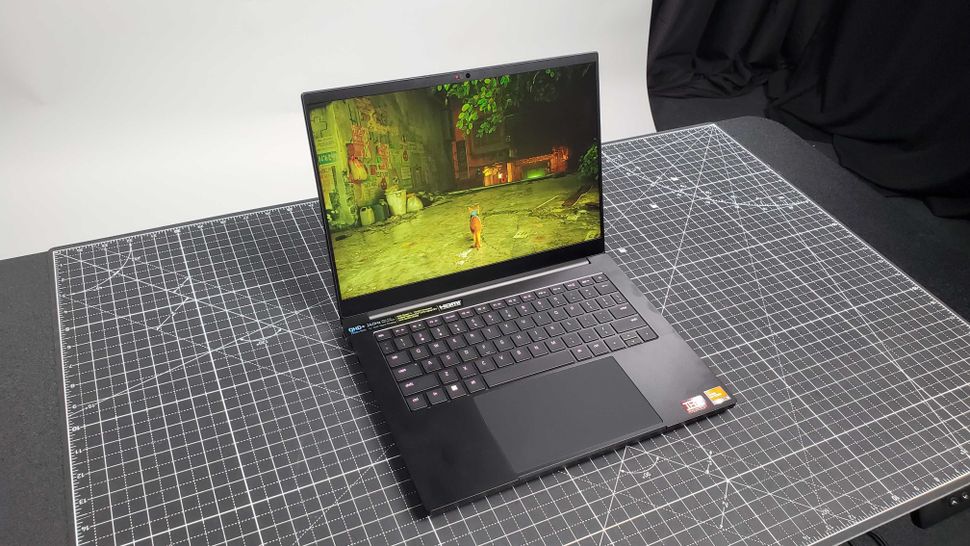 The best lightweight gaming laptop
Specifications
Graphics:
Nvidia GeForce RTX 4060 - 4070
Display:
14-inch, QHD+ (2560x1600), 240Hz, 3ms, 100% DCI-P3 color gamut
Storage:
1TB PCIe Gen4 SSD
Reasons to buy
+
Excellent gaming performance
+
Thin and light
+
Great audio system
Reasons to avoid
-
Expensive
-
Poor battery life
Sure, it might be very expensive, but the new Razer Blade 14 is just a thing of beauty; a compact, quiet, durable, and powerful gaming laptop that ticks just about every box. Top-notch internal components are joined by an incredibly bright and vivid screen, with the classic machined metal chassis that has come to define the aesthetic of the Blade laptop line.
What's even better here is that despite its thin and light chassis, it boasts excellent gaming performance that's comparable to similarly-specced yet less portable gaming laptops. During our usual round of testing and benchmarking, it felt like its CPU and GPU worked better in tandem, surpassing other laptops in performance with something like Cyberpunk 2077 on high settings. In Marvel's Spider-Man, its framerate didn't even dip below 75fps even under the highest possible settings.
Also for a thin laptop, it's got impressive cooling. That is, even though it did heat up during intense gaming sessions in our testing, it never suffered noticeable stuttering, freezing, or slowing down, meaning that you can push it like you would other laptops without getting frustrated. You might be disappointed by the battery life, though. Rated at 10 hours, it typically hovers around the eight-hour mark when used for productivity work. Sadly, that is cut down to at most half when you're gaming on it.
Read the full Razer Blade 14 (2023) review
The best AMD-powered gaming laptop
5. Alienware m17 R5 AMD Advantage
The best AMD-powered gaming laptop
Specifications
Graphics:
AMD Radeon RX6800S
Screen:
14-inch 120Hz IPS display at 2560 x 1600 pixel resolution; Full DCI-P3 Colour
Reasons to buy
+
Fantastic performance
+
Excellent, pro-colour screen
+
Good battery for gaming
Reasons to avoid
-
Older model
-
120Hz screen a bit dated
The Asus Rog Zephyrus G14 and G15s have regularly been at the top of our best gaming laptop roundups due to their great performance and reasonable price tags. This market dominance has given the company a bit of cash to splash on updating features like the 1,000-strong LED AniMatrix that can show battery life, audio amplitude animations, or even custom gaming visuals on the outside of the gaming shell.
This new look isn't the only thing this 14-inch gaming rig has going for it though, it's also got a 6th gen AMD CPU and GPU combo, a larger touchpad and a faster screen. The entry-level Zephyrus G14 comes with a Ryzen 7 6800S CPU, a Radeon RX6700S GPU and 16GB of RAM that'll set you back around AU$3K. Depending on the vendor selling the device you can nab either the FullHD+ 144Hz display or the QuadHD 120Hz panel with full DCI-P3 HDR colour for the same price. Although, if you go by what was still available on shelves, it seems the masses would prefer 24 extra frames to having a brighter, higher resolution and more colour accurate display.
Laptops like the ROG Zephyrus G14 will be a bit behind Intel 12th Gen in general computing tasks, but the Ryzen 9 has upped its boost clock speed to 4.9GHz, allows it to perform equally well in gaming tasks.
Asus is claiming noteworthy improvements in gaming performance translating to 70+ fps on your average Triple-A title running at 1080p Ultra settings. A six hour battery life for light workloads it's way better than your average gaming machine, and while it comes with a standard power brick, you can alternatively charge it using USB-C if you're in a bind.
Read the full Asus ROG Zephyrus G14 (2022) review
The best gaming laptop with fast refresh rate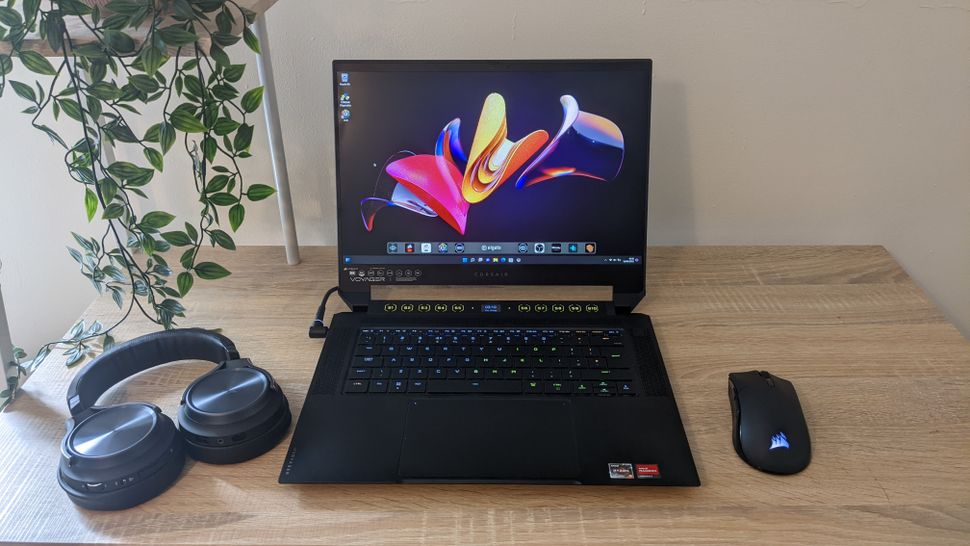 The best gaming laptop with fast refresh rate
Specifications
Graphics:
AMD Radeon RX 6800M
Screen:
16-inch QHD (2560x1600), 240Hz
Storage:
1TB - 2TB PCIe Gen4 SSD
Reasons to buy
+
Excellent QHD performance
+
Big screen with a high refresh rate
+
Amazing mechanical keyboard
Reasons to avoid
-
Quite expensive
-
Not enough ports
-
First-gen design will take some refining
Corsair only broke into the gaming laptop space this August, and we have to say we're seriously impressed with the manufacturer's first attempt. The Corsair Voyager a1600 is a laptop that stands out from the crowd, from its big, beautiful 16:10 screen to the bar of touch buttons (and a tiny LCD display) that rests above the keyboard.
That keyboard is great too - it uses Cherry MX Ultra-Low Profile mechanical key switches, a rare sight in gaming laptops, which feel absolutely incredible to play games with. This is a fully AMD-powered gaming laptop too, with the excellent Radeon RX 6800M graphics card and a powerful Ryzen 9 6900HS processor.
One other nifty feature is seamless 'Slipstream' connectivity, which allows you to instantly connect compatible Corsair peripherals (say, a wireless headset or mouse) without the need for a plug-in dongle. The touch bar and included software are also geared towards streamers, so if you're waiting for your big break on Twitch, this could be the laptop for you.
Read the full Corsair Voyager a1600 review
The best desktop replacement gaming laptop
The best desktop replacement gaming laptop
Specifications
CPU:
Intel Core i9-13900HX
Graphics:
Nvidia GeForce RTX 4080 (175W)
Screen:
18-inch 165Hz IPS display at 2560 by 1600 pixel resolution
Reasons to buy
+
Uniquely high performance
+
Large 18-inch screen
+
Mechanical keyboard
Reasons to avoid
-
Enormous and heavy
-
Average battery
-
Small SSD
What's most important in a supersized gaming workstation is performance and Alienware's unique configuration performed exceptionally well in a wide range of tasks. Despite going up against Nvidia 4090 GPUs with just a 4080, the Alienware was able to achieve frame rates within six percent of the combined averages of all laptops we've tested with a 4090.
Alienware seems to have achieved this by adding significantly more cooling to the architecture. Sure the added thermal mass adds a whole kilo over Razer and Asus' 18-inch competitors, but these large-format devices are hardly appealing to gamers wanting an ultra-portable experience and it means you'll keep up with the best using more conservative (and affordable) components.
The CPU scores weren't bad either, with the i9-13900HX keeping up with or outpacing higher specced Intel processors in demanding encoding tasks. The screen might be a little under gunned for professional gamers, but the best laptops still struggle to get over 150fps on modern titles like RDR2 and Cyberpunk 2077 in 1080p Ultra, so there's actually plenty of overhead for the rest of us.
Battery life was on par with competitors offering just two to three hours depending on what you're doing (don't expect to be able to game on battery). What's perhaps the biggest drawcard of this excellent gaming laptop it's over AU$1K less than the RRP of Asus's ROG Strix Scar 18, at just AU$5,298 on Dell's online shop.
Read the full Alienware m18 review