AMD and Intel are at each other's throats for control of the CPU market right now, after years of stagnation. This is thanks to the fact that AMD's Ryzen 2nd Generation is quickly claiming more and more market share, as Intel has responded in kind with 9th Generation Coffee Lake Refresh. As the eternal battle of Intel vs AMD rages on and on, 2018 is the best time to go out and buy one of the best processors.
These days, the best processors come in every shape, size and budget. If you're trying to save some cash, Intel has you covered with some low-powered T-Series desktop CPUs. And, if you're trying to squeeze as much performance as you can out of your machine, you may want to take a look at AMD Ryzen Threadripper 2nd Generation and Intel Basin Falls Refresh processors.
Even if you can't get your hands on the latest and greatest CPUs, there are still plenty of great Kaby Lake and Ryzen gen 1 processors out there that can still pack a punch. These older processors aren't just still good, they'll let you spend more on the best graphics cards.
The best processors are everywhere out there, so finding the right one for you can end in a cavalcade of confusing model numbers and specs. Luckily, we have your back – and have created a guide to all the best processors on the market, all of which we've tested and reviewed. So, ahead of all the Black Friday and Cyber Monday deals, get ready to realize PC performance you've never seen before.
Now that Coffee Lake Refresh has hit the market, and AMD Ryzen 2nd Generation processors are ubiquitous, you can expect plenty of Black Friday deals on the best processors. Make sure you keep an eye on tech-centric retailers like Newegg, Amazon or Overclockers in the UK and PLE in Australia. The best processors don't have to cost an arm and a leg.
Best CPU: AMD Ryzen 7 2700X
Cores: 8 | Threads: 16 | Base clock: 3.7GHz | Boost clock: 4.3GHz | L3 cache: 16MB | TDP: 105W
Dramatic performance improvement
Reasonable price
High energy draw
For the longest time, AMD has played second fiddle to Intel in many categories but value. Those days are over. With the Ryzen 7 2700X, and Ryzen 2nd Generation in general, AMD introduces the first 12nm CPUs and the performance backs that up, beating Intel in both single and multi-core workloads for the first time in recent history. If you're looking for a high-performance CPU at a reasonable price, trust us, look no further.
Read the full review: AMD Ryzen 7 2700X
Best high-end CPU: AMD Ryzen Threadripper 2950X
Cores: 16 | Threads: 32 | Base clock: 3.5GHz | Boost clock: : 4.4GHz | L3 cache: 32MB | TDP: 180W
Better performance
Even more affordable
Still has a very high TDP
With last year's Ryzen Threadripper 1950X, AMD already had the best value in the HEDT world. However, with the Ryzen Threadripper 2950X, not only do we get higher clock speeds – but it's even more affordable at the same time. The 2950X brings the same number of cores and threads as its predecessor, but the increased performance and lower price makes it a prodigious value if you're in the market for a high-end processor. But, please, if you're looking for the best gaming performance for the money, look elsewhere.
Read the full review: AMD Ryzen Threadripper 2950X
Best mid-range CPU: AMD Ryzen 5 2600X
Top performance on a budget
Cores: 6 | Threads: 12 | Base clock: 3.6GHz | Boost clock: 4.32GHz | L3 cache: 16MB | TDP: 95W
Faster single-core performance
Better gaming performance
Slightly higher price
If you're looking for one of the best processors for content creation, but are on a budget, look no further than the AMD Ryzen 5 2600X. With 6 cores and 12 threads and a base clock of 3.6GHz, you're getting way better performance than the pricier Intel Core i5-8600K – with a gorgeous RGB CPU cooler included. Sure, the gaming performance over the blue team is marginal at best, but when you start multi-tasking – and who doesn't always have 100 chrome tabs open – the value starts to show itself.
Read the full review: AMD Ryzen 5 2600X
Best Entry Level CPU: AMD Ryzen 3 2200G
Integrated graphics on a budget
Cores: 4 | Threads: 4 | Base clock: 3.5GHz | Boost clock: 3.7GHz | L3 cache: 4MB | TDP: 65W
Playable 1080p gaming
Very affordable
Finicky drivers
If you're looking to put together a gaming PC on the tightest budget, the AMD Ryzen 3 2200G can take you a long way. While it doesn't feature the hyperthreading capability of its predecessor, the Ryzen 3 1200, the introduction of integrated graphics makes this APU one of the cheapest ways to experience casual PC gaming. We were even able to play Overwatch at 4K Ultra-HD resolution at 'Epic' settings.
Read the full review: AMD Ryzen 3 2200G
Best gaming CPU: Intel Core i5-8600K
Cores: 6 | Threads: 6 | Base clock: 3.6GHz | Boost clock: 4.30GHz | L3 cache: 9MB | TDP: 95W
Excellent single-core performance
High end gaming at a low price
No multithreading
If you're building one of the best gaming PCs, and you don't really care about creating content or streaming, the processor you're going to want to pay attention to is the Intel Core i5-8600K. It might not have as many cores as its AMD Ryzen counterparts, but that doesn't matter, gaming is mostly about that single-threaded performance. With this processor, you'll be able to run all the latest games without having to worry about bottlenecking your GPU – just don't be surprised when rendering and encoding video takes longer.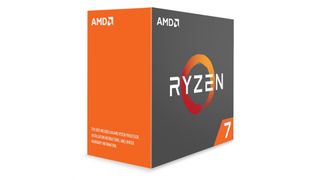 Best VR CPU: AMD Ryzen 7 1800X
Ryzen to the occasion and VR-ready to rumble
Cores: 8 | Threads: 16 | Base clock: 3.6GHz | Boost clock: 4GHz | L3 cache: 16MB | TDP: 95W
Stunning multi-core performance
Insane price
Overclocking is touch and go
Temperatures are 'unique'
Initially the primary competition for the Intel Core i7-7700K, the AMD Ryzen 7 1800X still stands up today, even though it's been succeeded by the Ryzen 7 2800X. Its high core count, when compared to the intel Core i7 7700K means that it's much better suited to VR workloads, and now that it's dropped significantly in price, it's more affordable than ever before. If you're building a VR rig, do yourself a favor: save some cash without giving up on too much performance with the Ryzen 7 1800X.
Read the full review: AMD Ryzen 7 1800X
Best video editing CPU: Intel Core i7-7820X
Cores: 8 | Threads: 16 | Base clock: 3.6GHz | Boost clock: 4.3GHz | L3 cache: 11MB | TDP: 140W
Solid multi-core performance
Best value for an eight-core Intel chip
Little benefit over cheaper Ryzen 1800X
Threadripper is cheaper
The naming convention is confusing, given that the Intel Core i7-7820X is part of Intel's "Skylake-X" series rather than the X-class chips built on the 14nm Kaby Lake node, but semantics matter very little when you get to go hands-on with an Intel CPU boasting this many cores. Although the fact that you'll need a new motherboard to use this octa-core monster might be enough to scare some users off to Ryzen, Intel loyalists shan't mind the upgrade.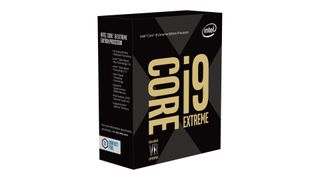 Best performance processor: Intel Core i9-7980XE
This 18-core processor dominates all
Cores: 18 | Threads: 36 | Base clock: 2.6GHz | Boost clock: 4.4GHz | L3 cache: 24.75MB | TDP: 165W
Exceptional performance
Single-core results are incredible
Price, price, price
Monstrous overclocking power draw
The Intel Core i9-7980XE is all about brute force. With the ability to kick up all 18-cores and 36-threads up to 4.8GHz (in our testing at least), this monstrous processor brings performance to a new level of insanity. And, while it doesn't have the most cores anymore compared to the Ryzen Threadripper 2990WX, the Intel Core i9-7980XE is still the best processor for anyone who needs an insane amount of power, with a budget that reflects that.
Read the full review: Intel Core i9-7980XE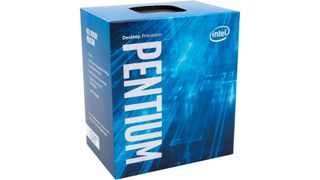 Best budget CPU: Intel Pentium G4560
Intel Core i3 power at a Pentium price tag
Cores: 2 | Threads: 4 | Base clock: 3.5GHz | L3 cache: 3MB | TDP: 54W
Closely tails Core i3-7100
Supports hyper-threading
Limited to DDR4-2400 memory
With the amount of money you save by opting for the Pentium G4560 over a Core i3 chip, we promise you won't even notice the slight loss in performance. As the first Pentium processor in a long time to feature hyper-threading, the G4560 goes out of its way to show us all what we've been missing. And, in benchmarks it more than proves itself eerily adjacent to the more expensive Intel Core i3-7100.
Best HTPC CPU: AMD Ryzen 5 2400G
Ryzen and Vega finally meet
Cores: 4 | Threads: 8 | Base clock: 3.6GHz | Boost clock: 3.9GHz | L2 cache: 2MB
Impressive integrated graphics
Massive value
Limited PCI-E lanes
One of the only things that we were left wanting when AMD's Ryzen processors blew up is that they didn't support integrated graphics. However, the Ryzen 5 2400G changes everything for mainstream PC users. With impressive AMD Vega graphics, it's a fantastic APU that will be perfect for anyone looking to build a home theater PC. And, now that AMD has slashed the price you can get your 4K action on cheaper than ever.
Read the full review: AMD Ryzen 5 2400G
Check out our Linux vs Windows vs Mac - OS comparison video below.