2017 is off to a great start, with plenty of cheap PS4 deals. The latest PS4 bundles are selling fast, so don't dawdle if you see a PS4 price you like. The new white PS4 Slim is out now too, so we've rounded up the best deals for the ice cool console.
On this page we've listed the best cheap PS4 deals in the UK (here's our US page and here's our Australian page) so you can find all of the cheapest PS4 prices. Below you'll find all of the absolute cheapest standalone PS4 deals from UK retailers, followed by our pick of what we think are the bundle deals that offer the best value. We're seeing prices that rival the Black Friday deals right now to be honest.
The PS4 is currently available in a number of different forms. Directly below, you'll find the best deals for the new PS4 Slim which has come in to replace the original model with a slimmer design. You can still get the original PS4 and you'll find prices for those below the PS4 Slim deals. And at the bottom you'll see deals for the new PS4 Pro - the new fancy 4K model. If you're still torn, maybe you'd prefer one of our Xbox One deals?
Cheap PS4 deal quick links:
The best PS4 Slim deals:
The PS4 Slim is... slimmer, quieter and smaller
The new PS4 Slim launched in September 2016 for around £259 (500GB) or £310 (1TB). This new model has effectively replaced the original PS4 now. The console itself is smaller, lighter and more power efficient and the 500GB model is priced cheaper than the older PS4 nowadays, so you're not paying more for the refined tech. We'd seriously advise you scroll down to the bundles further down this page as many of them are cheaper than buying the console on its own! The PS4 Slim is available in black or white.
The best PS4 deals
The original PS4 with optical out audio options
These are the regular, older, full-sized PS4 deals. Expect to see a few tasty bargains as retailers clear space for the new PS4 Slim. Prices have been dropping naturally in recent months, so if you're not bothered about 4K visuals (get a PS4 Pro if you are) and are yet to pick up a PS4, you could find a fantastically cheap deal here. We're generally seeing this model get phased out with better deals to be found on the PS4 Slim above though.
The best PS4 bundle deals this week...
You'll often find that the most attractive way to get a cheap PS4 is with a bundle with extra hardware or extra games. These are the best PS4 bundle deals currently available in the UK – we update these deals on a regular basis.
The best PS4 deal of the week
Silver PS4 Slim | extra controller | £249.99 @ Zavvi
This brand new bundle is excellent value at £249.99 for the upcoming silver PS4 Slim with two silver DualShock 4 controllers. To be put the value into context here, the next best deal is £275. The silver PS4 Slim bundle will be released June 28.
View this PS4 deal: Silver PS4 Slim, extra controller £249.99 @ Zavvi
1TB PS4 Slim | £249.99 @ ShopTo's eBay
Regular gamers will find a 1TB PS4 much more manageable, especially if you're used to having lots of games installed at once. If you've taken advantage of one of our cheap PlayStation Plus deals lately, you'll appreciate having more room to keep all those free games too. This is easily the best price around today, with some retailers charging nearly £300.
View this PS4 deal: 1TB PS4 Slim £249.99 @ ShopTo's eBay
1TB PS4 Slim| Horizon: Zero Dawn | extra controller | £299.99 @ Smyths
If you can stretch to an extra £50 over the above deal, then you can get an extra DualShock 4 and a copy of the excellent Horizon: Zero Dawn, saving you around £30 over buying all these items on their own. Although, we've seen PS4 Pro bundles with Horizon for around £350, so it's always worth considering the PS4 Pro deals instead around this price.
View this PS4 deal: 1TB PS4 Slim, Horizon, extra controller £299.99 @ Smyths
PS4 Slim | GTA V | £229.99 @ Game
Seeing as the best price for a PS4 Slim this week is £210 (see below) getting the console and a copy of Grand Theft Auto V is a solid bundle. Yes the game's been out for ages, but it's held its value remarkably well with many stores still charging full whack for it.
View this PS4 deal: PS4 Slim with GTA V £229.99 @ Game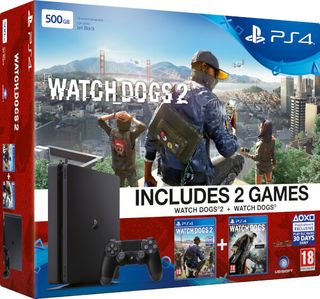 PS4 Watch Dogs and Watch Dogs 2 | £239.99 @ The Hut
This new PS4 Slim comes with physical copies of both the original Watch Dogs and the new Watch Dogs 2. Even if you don't need the original game, this represents the best value if you're after the new console and the sequel as the smaller 500GB console alone is usually closer to £250.
View this PS4 deal: PS4 Slim with Watch Dogs double pack £239.99 @ The Hut
PS4 Slim: Stock is already low for this standalone PS4 Slim and we're not surprised at this super low price. Get it now for £209.99 @ ShopTo's eBay
White PS4 Slim: Or opt for the newer white version. A great price at £209.99 @ ShopTo's eBay
The best PS4 Pro deals:
The PS4 that offers 4K gaming and Netflix
Essentially, the PS4 Pro is a 4K upgrade of the current PS4, rather than a 'next-gen' console. The keywords to take in from the PS4 Pro are 4K and HDR. The new machine allows game developers to include 4K resolution and High Dynamic Range options in their games, so expect the like of Uncharted 4, Call of Duty: Infinite Warfare, Days Gone, Horizon: Zero Dawn and more to look even better on a HDR-enabled 4K TV. You'll also be able to stream 4K content from Netflix and Amazon. Want to get the right TV? Then check out our cheap 4K TV deals page.
The best PS4 Pro deals this week
1TB PS4 Pro | WipEout Omega Collection | Horizon: Zero Dawn | £349.99 @ Amazon
Finally! We seem to be out of the phase of having to settle for paying £350 for the PS4 Pro without any games. This week's obvious winner is Amazon's deal that includes two of the PS4 Pro's best looking games in Horizon and the brand new WipEout: Omega Collection. Your 4K HDR TV won't know what hit it!
View this PS4 Pro deal: PS4 Pro, Horizon, WipEout £349.99 @ Amazon
Cheap PlayStation Plus deals
If you're buying a PS4, you'll probably need a cheap PlayStation Plus deal too. PlayStation Plus (aka PS Plus or PS+) allows you to play PS4 games online, along with access to the Instant Game Collection, a bunch of free games for PS4, PS3 and Vita each month. The default price for a year is £40. We can do better than that though, so check out our selection of the best PlayStation Plus deals.
Need an extra cheap PS4 controller? Don't forget to check our Best DualShock 4 deals. Or maybe a cheap PlayStation VR deal?