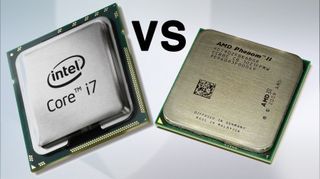 Introduction
There are a lot of moving parts when it comes to PC upkeep. It's by no means an effortless task, and it only gets more onerous as you consider upgrading the various components. On the bright side, maintaining a PC comes down to little more than a basic understanding of how one works.
Among the most important parts of a computer is the CPU, otherwise known as the processor. If the motherboard is the PC's skeleton, the CPU is the brains of the operation.
Finding the best processor for your needs is a straightforward task once you determine which brand suits you best: are you an AMD fan or an Intel junkie? The answer isn't quite as simple as whether your prefer the color red or blue.
Like the war waging in the graphics cards space between Nvidia and AMD, the CPU market oversees the rivalry of AMD vs Intel.
Despite biased hearsay, each company's chips have their own advantages and shortcomings. For example, while AMD's chips typically boast more cores, the cores that Intel's CPUs do have are made faster by hyper threading.
With AMD having gained an edge (in terms of both performance and value) thanks to Ryzen, let's look at how its processors stack up against Intel's Kaby Lake chips, which power everything from the viciously competitive Razer Blade to the flipping fantastic HP Spectre x360 15.
Gary Marshall originally contributed to this article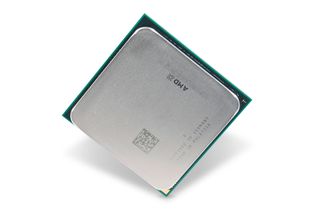 Price
For bargain shoppers on the prowl for the next hottest deal, it used to be a widely debatable misconception that AMD's processors were cheaper, but that was only because the red team did its best work at the entry-level. Now that Ryzen processors have proven AMD's worth on the high-end, value is only part of its appeal.
Nevertheless, some of AMD's CPUs are a steal. An AMD A8-7600, for instance, that boasts a 3.1GHz frequency can be bought for only $64 (£57, about AU$84; as of this writing) on Amazon. That's a steal for a quad-core processor that doesn't require a discrete graphics card.
On the low end, Intel and AMD processors typically retail at about the same price. It's once you hit that exorbitant $200 mark where things get trickier. High-end Intel chips now range from 4 to 18 cores while AMD chips can now be found with up to 16 cores.
While it was long-rumored that AMD's Ryzen chips would offer cutting-edge performance at a lower price, benchmarks have proven that Intel's flagship i7-7700K chips still came pretty damn close and for $339 (about £264, AU$449) on Amazon as opposed to the daunting $499 (about £391, AU$662) price tag of the equivalent Ryzen 7 1800X.
With that in mind, CPU pricing fluctuates constantly. Wait a few months, and you'll soon discover that the Ryzen 7 1700 you were eyeing has dropped well below market value. Still, patience is a virtue easier said than followed – especially when you're distracted by the prospect of shiny, next-gen processors touching down within a few months.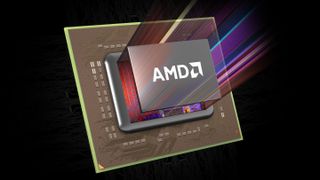 Performance
If you want the best of the best performance with little regard for price, then turn your head towards Intel. Not only does the Santa Clara chipmaker rank consistently (albeit only slightly) better in CPU benchmarks, but Intel's processors draw less heat as well, blessing them with lower TDP (thermal design point) ratings across the board.
Much of this is owed to Intel's implementation of hyperthreading, which has been incorporated in its CPUs since 2002. Hyper threading keeps existing cores active rather than letting any of them remain unproductive. Even though AMD has implemented simultaneous multi-threading (SMT) in its Ryzen processors, Intel has – for the most part – stayed on top in performance benches.
Historically, AMD has taken pride in its focus on increasing the number of cores in its chips. On paper, this would make AMD's chips faster than Intel's if it weren't for the negative impact on heat dissipation. Luckily, the newer Ryzen chips have mitigated a lot of the overheating concerns of the past, so long as you have a decent cooling rig attached.
While it's not hard to keep an Intel processor cool, because AMD likes to shove as many cores as possible into a single processing unit, its chips tend to run hotter, much to the discomfort of basic stock fans. That being the case, even an AMD chip like the Ryzen 5 1600X may necessitate a liquid-nitrogen cooler for overclocking over 4.1GHz.
Still, $249 (about £194, $330) for a six-core processor is unparalleled, even if the extra cores are only really beneficial for streaming gameplay footage and other multi-tasking scenarios. There's a huge pool of Twitch broadcasters alone that might find AMD's Ryzen-series processors more appealing than Intel's Kaby Lake.
By this point, Intel and AMD have effectively reached a level of parity in terms of performance, but pretty soon that may no longer be the case. While AMD is busy cranking out its top-end Threadripper processors, Intel has an entire family of lofty Coffee Lake Core-X processors on the way. The pricier the chips, the more competitively Intel and AMD are trying to push clock speeds.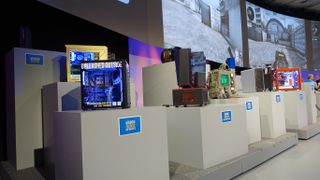 Graphics
If you're building a gaming PC, truthfully you should be using a discrete graphics card, or GPU, rather than relying on a CPU's integrated graphics to run games as demanding as The Witcher 3.
Even though we're finally reaching a point where Intel graphics are powerful enough to run Overwatch without a dedicated GPU, there's no denying the wide-open space for improvement.
Be that as it may, if all you're looking to do is play League of Legends at modest settings or relive your childhood with a hard drive full of emulators (it's okay, we won't tell), the latest Intel Kaby Lake or AMD A-Series APU processors will likely fare just as well as any top-end graphics card.
At one time, for low to mid-tier gaming, AMD's Radeon chips were far superior to anything offered by Intel. With the arrival of Intel's Iris Pro graphics, however, that sentiment is becoming more and more refutable. This position is only legitimized by AMD's Ryzen chips, which don't bear integrated graphics at all.
On the high end, such as in cases where you'll be pairing your CPU with a powerful AMD or Nvidia GPU, an Intel processor is the better option. In this case, using an Intel Core i3 or i5 CPU rather than an AMD equivalent can make the difference between 15 and 30 frames per second.
While there is no clear winner in the graphics department, survey says AMD is the better option for integrated graphics (for now), while Intel works best when coupled with a GPU.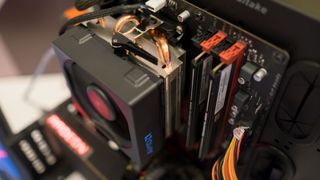 Overclocking
When you buy a new computer or even just a CPU by itself, it's typically locked at a specific clock speed as indicated on the box. Some processors ship unlocked, allowing for higher clock speeds than recommended by the manufacturer, giving users more control over how they use their components (though, it does require you know how to overclock).
AMD is normally more generous than Intel in this regard. With an AMD system, you can get more juice out of a mid-range, A-series APU for a modest price. Save for the $67 (around £53, $90) Pentium G3258, Intel's easily overclockable, unlocked configurations don't start until at least the $200 (£200, AU$300) range, beginning with the Core i5-6600K.
The unlocked chips Intel does offer are pretty impressive, with the i7-7700K capable of maintaining a 4.5GHz turbo frequency in comparison to the 4.2GHz boost frequency of the Ryzen 7 1800X. If you've access to liquid helium cooling, you may even be able to reach 7.5GHz on an Intel Core i7-7740K. In the end, overclocking is all about refrigeration.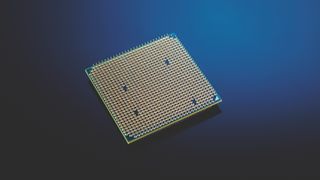 Availability and support
In the end, the biggest problem with AMD processors is the lack of compatibility with other components. Specifically, motherboard (mobo) options are limited as a result of the differing sockets between AMD and Intel chips.
Although we have a frequently updated list of the best deals on Ryzen-compatible motherboards, among other things, Intel motherboards are slightly more commonplace. Intel motherboards seem to have a lower starting cost, too, as a result of the wide variety of kit to select from.
That said, AMD's chips make a little more sense from a hardware design perspective. With an AMD motherboard, rather than having metal connector pins on the CPU socket, you'll notice those pins are instead on the underside of the CPU itself. In turn, the mobo is less likely to malfunction due to its own faulty pins.
Nevertheless, deciding on a CPU is ultimately up to personal preference. Where an Intel processor shines most when married to one of the best graphics cards, AMD's chips are surprisingly capable without a discrete GPU. Well, that at least applies to the APU kind, not the ones called Ryzen.
Which brand of processor works better for you: Intel or AMD? Let us know in the comments below.