It's the holiday season, everyone is gathered around a nice, warm campfire and, suddenly, you realize something. You forgot your camera and your smartphone camera underwhelms in low-light environments. If only there was a novice photographer there to help you out…
Luckily, there can be! It's never too early to start learning the basics of composition, and if you want to give a gift that lasts this season, give the gift of education. That's right, for that amateur photographer in your life who eats, sleeps and breathes selfies, it's time to help them step it up a notch with some light photographic equipment.
Now we know that not everyone knows where to start in buying the best gift for the novice photographer in your life. That's why we, here at TechRadar, are here to help with a handful of recommendations that will get you started. Of course, let's give credit where credit is due: this article wouldn't be possible without the help of our friends at Boost Mobile, whose camera-savvy phones inspired the idea.
1. Canon EOS Rebel T6 bundle
Where: Amazon
How much: $549
Our go-to every year for budget DSLR cameras is the Canon EOS Rebel T6, an entry-level, albeit professional-grade camera with all the bells and whistles you would need to get some stellar shots in your life. The best part is that buying the Canon T6 on Amazon nets you a whole bunch of accessories that you would otherwise miss out on for a similar price. So not only are you getting the camera itself for $459, but you're also getting a carrying case, two 32GB SD cards, an extra lens, a 50-inch tripod and more. This is the best bundle you'll find anywhere.
2. Moment iPhone case with wide lens kit
Where: Amazon
How much: $130
Here's one for the selfie lover. This black canvas case from Moment, a company that appropriately specializes in mobile camera accessories, comes with a wide-angle lens that is guaranteed to breathe new life into your iPhone. Whether you're sporting the iPhone 8 Plus or 7 Plus, this lens will provide edge-to-edge clarity like you've never seen before on a phone camera. You might think it's expensive at $130, but with five layers of cinema-quality glass, it's well worth it.
3. Samsung 128GB microSD card
Where: Amazon
How much: $45
When was the last time you ran out of space on your phone or camera? If you're still clinging to a 16GB iPhone, you know this feeling. But, the difference with DSLR cameras is that they're compatible with SD cards, and given that microSD cards are every bit as affordable as their full-size counterparts, you'll want one of these for its versatility and low cost. For $45, you can get 128GB of space, which, let's face it, is more than enough for the long haul.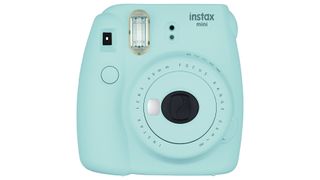 4. Fujifilm Instax Mini 9
Where: Amazon
How much: $60
Here's a gadget that's more of a novelty than a cutting-edge piece of 2017 tech. The Fujifilm Instax Mini 9 takes after the Polaroid cameras of the past by – hence the name – serving as an instant action film camera. That means your photos will print directly from the camera itself. Rather than being restricted to digital or having to buy a separate printer to look at your awesome snapshots, the Fujifilm Instax Mini 9 lets you do so instantaneously.
5. Unlimited talk, text and data
Where: Boost Mobile
How much: $50/month
Imagine a world where you don't have to think about reaching your data limit when you upload a picture. Now imagine that only costs you $50 – including taxes and fees – every month and also includes unlimited texting and calling. That's a reality for Boost Mobile customers, and if you make the switch today, you, too, could benefit from the super fast and reliable LTE service that's powered by Sprint. Make the switch today and you can start focusing on what really matters: Snapchatting and Instagramming without boundaries.
Sponsored by Boost Mobile