With the launch of Apple Music, Cupertino's iTunes 2.0 has been taking on the rest of the crowded streaming market from a position of industry strength.
It's already got incredible relations with the different recording labels, a vast catalogue of music at its disposal and a huge user base of Apple fans. It's also got the added fact that, with the entirety of Apple behind it, it doesn't necessarily have to be an immediate money-spinner.
But this is a hugely crowded marketplace, so how does Apple's music streaming service stand up against the likes of Spotify, Google's Play Music, Deezer and Jay-Z's Tidal?
Cost
This is the big thing for any streaming service – how much does it cost?
The price is probably exactly what you'd expect - $10 / £10 per month. That's the same price as Spotify Premium, Google Play Music, Deezer and Tidal Premium - so we'd expect it to be the same dollar>sterling conversion as those.
Of course Tidal does go the extra mile (well... extra $10 / £10) and offers its CD-quality hi-fi service for $20 / £20 per month. Deezer also offers an Elite tier with the same high-bitrate streaming for $15 / £15 per month.
Apple Music also has a family package for $15 per month to allow up to six individuals to access the same account unrestricted. Spotify has a similar setup, but uses a base Premium account offering a 50% discount for each extra member added to it.
Tidal has tried to be more family friendly with its family plan. Though being just a 50% discount on subsequent accounts tied to the same paying account, the saving isn't huge for a family of HiFi listeners...
There's no free tier for Apple Music as such, which is where Spotify and Deezer really come into their own with ad-supported tiers. It does though also enable Apple ID folk to access the Beats 1 radio station and the Apple Connect social network part without needing a paid-for subscription.
Catalogue
This is the battle of the big numbers and Apple Music stands tall, thanks to the backing of the whole iTunes catalogue.
Currently it's got the biggest library with an estimated 37 million songs in its store. It's also big enough to be able to chase up and offer exclusive albums, such as Dre's iconic hip-hop album, The Chronic, and Taylor Swift's 1989.
Deezer is an oft-overlooked player in this market though, and manages to weigh in with a hefty 35 million tracks. It's also got a healthy amount of news shows and podcasts, as well as live sport too.
Spotify is a little behind on that with 'only' 30 million songs in its library for its users to choose from.
Just behind that is Tidal, with a now-healthy 25 million tracks, but those massive numbers all make Google's Play Music look rather sparse by comparison with only 18 million songs on its books.
But the amount of songs available in each country does vary.
So, while Deezer's numbers look pretty stunning as a whole, the likelihood is that there might be few countries able to get the full 35 million Deezer catalogue.
And though Tidal is a little behind on the track count it is able to offer exclusive artists that the other streaming sites can't currently deliver. Y'know, for when you really want that Rihanna fix.
This is likely where Apple Music is going to become a major player though. With its extensive reach into the music market it has far more clout to deliver exclusives to its subscribers than the others. Things must be looking a little scary for Spotify as it looks to renegotiate contracts with the majors this year and if Kanye does go exclusively with Apple Music for his new album how is his buddy, Jay-Z going to feel?
You'll need the best headphones around to get the most out of your music streaming subscription
Availability
Apple Music has been unleashed in over 100 different countries. That's not a bad international spread for a service in its first year and easily trumps Spotify and Google Play Music's more limited reach of 58 countries each.
Down at the bottom of the list is CD-quality audio champion Tidal.
Currently Tidal is only available in 35 countries around the world. But bestriding the narrow world like a colossus is Deezer. Spreading its reach across the globe Deezer is available in more than 180 countries.
Again though it's worth remembering that track availability varies from country to country. For our part, in the US and UK, we're pretty well served by them all, but if you live elsewhere specific tracks might well be trickier to find.
Software
One of the most interesting parts of Apple Music is the fact that it's now available for Android users too, not just the iPhone faithful.
That was, admittedly, a little behind the June launch of its iOS, OS X and Windows apps, but now we've got an Apple-made application on the Google Play store.
That's vital for the necessary reach of Apple Music, especially as the competition has apps running across all platforms. Well, now that Tidal has finally re-released a much improved version of its desktop software, anyways.
There's not really a lot to separate the Spotify and Tidal software – they're both dark and dense and operate in much the same way. That's good as it means you're unlikely to get lost moving from one to the other.
Deezer and Play music have cleaner, brighter interfaces, making it a little easier to get stuck in and find the music you want straight away. Well, so long as it's available…
Music discovery
Apple Music isn't going to rely on the sort of algorithmic techniques some of the others employ to help you discover the joy of a new musical favourite, it's hired a number of ex-music journalists and experts to help in the constant curation of its new service.
The idea is to offer curated playlists to get you into new music and artists, with a ton of information about each. It'll help that it can dip into your existing iTunes library to figure out what you listen to as a reference point for recommended playlists.
But this curation expertise is also where Tidal stands out among the rest of the currently available pack.
It's playlists and similar artists features are great at helping you discover new artists and albums. And the regularly updated lists offer interesting takes on relevant topics, like the Mad Men playlist following the end of the final series.
Deezer, like Spotify and the others, has a similar artists feature, but also comes with the Hear This feature. Based on your listening habits and favourites it offers a personalised music feed, which is great for those times you want something new or can't think of anything specific to listen to, but want something relevant to you.
The Tidal Rising feature seem a little more hit and miss though and doesn't seem to be based on anything personalised, while Spotify's Discover is. Though again it can be a little random at times.
Spotify has though just unveiled its Discover Weekly feature. Delivering a two-hour, personalised playlist directly into your playlist folder every Monday morning will give you a unique start to your week.
It's based both on your own musical choices as well as what other people with similar tastes are listening to and adding to their own playlists.
Radio
This is where Apple Music is taking a different approach to the others and is genuinely creating a more traditional radio station, rather than the algorithmic 'radio' of the other streaming services.
By offering Beats 1 to both the subscribers, and anyone with an Apple ID, it is creating a proper 24/7 radio station. It has live hosts, like former BBC Radio 1 DJ Zane Lowe, and offers news, interviews and new music around the clock.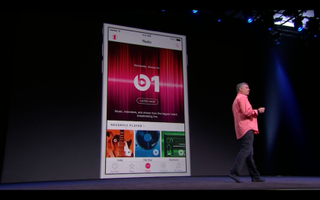 It might seem like a retrograde step, going from a streaming service to a traditional radio station, but if anyone can pull it off it might just be Apple. Radio 1 must be quaking…
The rest of the streaming bods offer a form of constant 'radio' service, but it is more just a constantly playing stream of music based upon a selected genre or artist. Where it differs though from a 24/7 station is that if you don't like the selection then you can just skip that track.
On Spotify and Play Music you can do that as many times as you like, though with the free version of Deezer you do get a limited number of skips. So, choose wisely young one.
Tidal, however, just relies on its curated services to deliver music without you having to make such an active choice.