The Volcon Grunt Evo is the off-road electric motorcycle Mad Max dreams are made of
Fat-tired trail ripper goes into production and starts at $5,999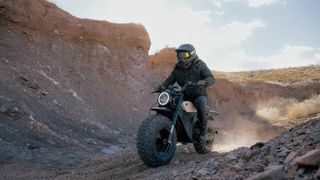 (Image credit: Volcon)
Volcon might not have the same instant recognition as, say, Tesla, but the Texan company is busily (and quietly) building a range of electric off-road motorcycles and UTVs (utility vehicles) that are set to offer thrills without the associated fuel bills.
The latest edition is the monster-tired Grunt Evo, which looks like an electrified Monkey Bike that has been passed through a Mad Max filter. It boasts an 8kW motor, capable of propelling the dumpy little workhorse to a top speed of 40mph.
That might not sound like a lot, but it's plenty enough when you are thumping over broken terrain and busting air over jumps. It can be optioned with dual 2kWh batteries, meaning you can travel over 70-miles on a single charge.
The Grunt was actually Volcon's first stab at an off-road machine, and it made waves when it burst onto the scene thanks to its innovative styling and off-road prowess, but this Evo version has undergone some minor tweaks to ensure it performs better still.
Rather than a chain, it now features a Gates Carbon Belt Drive system, which is said to be even quieter when running, but also requires less maintenance than a standard metal chain (you can leave your nasty lubricating oil at home).
The Evo also has a narrower frame than its predecessor and a redesigned rear swingarm, so it is lighter and more compact than before. Clever mounting of electrical components also gives it a cleaner aesthetic.
Prices start at $5,999 (around £4,940 / AU$9,450) for base models, but it is very easy to get carried away with the options list. These include things like golden front forks, rear racks for mounting bags and boxes, a tow hitch and the aforementioned additional battery for a bigger day out.
The Grunt Evo also now comes as standard with a digital color display that is centrally mounted on the flat bars. This now shows speed, ride mode, charge level and any system alerts. It is controlled via a D-pad on the handlebar.
Of course, Volcon has made sure the packaging is IP67 rated, making it resistant to any dust and water ingress, while charging can be carried out from a domestic socket in around 2-4 hours.
But what's the point?
With emissions and local noise restrictions coming into force across the globe, it is becoming increasingly difficult to enjoy off-road riding using traditional internal combustion engine motocross, scrambler and adventure bikes. This has been done to protect the natural world, but some petrol heads aren't best pleased.
Electric machines, like those from Volcon, effectively open up previously off-limits trails for some users, but they are also built to withstand the daily grind of farm and other outdoors-y work, so could replace petrol and diesel utility vehicles in the future.
Or that's the excuse you can keep making to yourself to justify getting rid of that rusty old quad bike, any way.
You might also like
Sign up for Black Friday email alerts!
Get the hottest deals available in your inbox plus news, reviews, opinion, analysis and more from the TechRadar team.