Inside Hyundai's new sci-fi smart factory – where you can order a car with your smartphone and drive it away in hours
Welcome to the next-gen factory that's run by robot dogs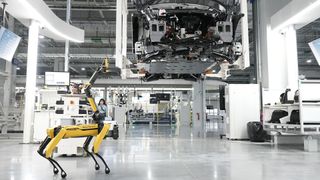 (Image credit: Hyundai Motor Group)
The process of buying a car has been largely unchanged for decades, but Hyundai's new AI-powered smart factory is giving it a timely makeover – and I've just been for a wander around inside to see the incredible future of personalized EVs.
The Hyundai Motor Group Innovation Center Singapore (HMGICS, for short) isn't just a firmware update of the traditional assembly line – it's a futuristic (and mildly terrifying) look at our increasingly roboticized, AI-driven future.
While Boston Dynamics' Spot robot trots around to approve vehicles, a full digital twin of the factory floor runs simulations showing how the space can be better optimized. But arguably the most interesting thing is that you can order a new car at Hyundai's plant and drive it away on the same day. Welcome to factory of the future…
Eerily quiet
It is clear from the moment you set foot inside the Hyundai Motor Group Innovation Center Singapore (HMGICS, for short) that it is like no other mass production car plant.
Firstly, it is eerily silent, the walls, ceilings and floor are science lab white and there is a robot carefully tending to a variety of salad leaves in the vertical farm that takes pride of place in the entrance hall.
The facility, which Hyundai wants you to call a "smart urban mobility hub", is the South Korean company's idea of a future-thinking smart factory that leans heavily on computing power, AI and robotics in order to provide rapid responses to changing customer needs and production requirements.
Set over seven floors, similar to Fiat's old Lingotto plant, and nestled within the centre of Singapore's bustling start-up metropolis, HMGICS is a far cry from the company's sprawling 200 hectare site (that's more than 300 football fields) in Nošovice, Czech Republic, which employs more than 3,000 staff and produces some 350,000 cars per year.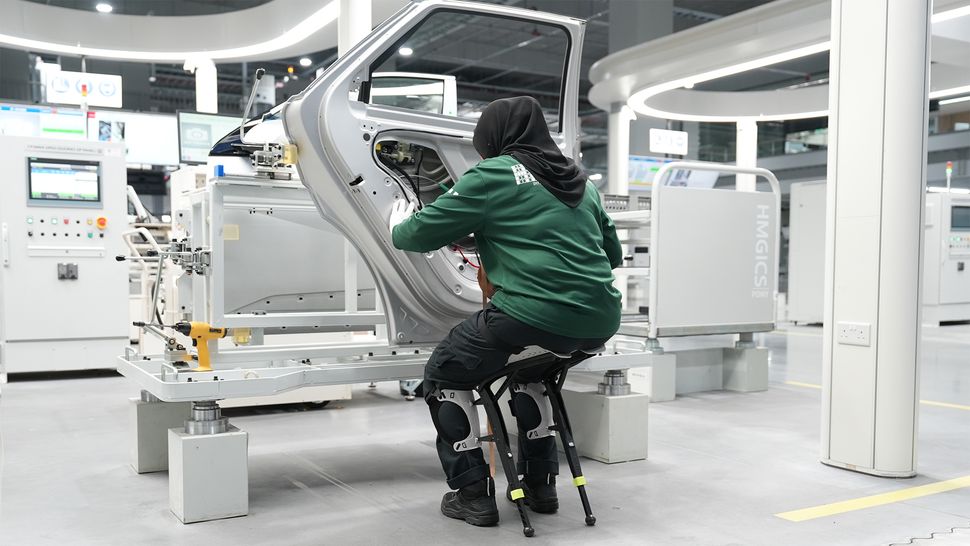 This explains why it is so peacefully quiet inside, as Hyundai's cutting edge- smart factory currently employs just 29 staff on the "factory floor". That number might seem bizarre, but at HMGICS, humans are supported by – and sometimes report into – robots. Lots and lots of robots.
Autonomous delivery units quietly scoot around the factory floor, operating the lift and cruising up and down the various levels to deliver parts to the small team of engineers working on vehicles in a cell-based manufacturing process.
"This isn't like a traditional production plant," explains VP and Head of Smart Factory Technology, Alpesh Patel. "We plan to produce around 70 cars a day here, so it's no mass production line, but that's not the point. The speed at which we can react to customer personalization demands and cater to bespoke project requirements is like little else," he adds.
The set-up means that most HGMICS employees are highly-skilled engineers, working in a single cell and wearing the latest-generation exoskeleton technology to support manual tasks.
Once the robots have done the bulk of the vehicle assembly, they carry out more than 40 assignments on a single vehicle, rather than repeating just one thing as a chassis rolls along a production line.
Nothing to see here. Just "barking" orders at Spot the robotic dog at Hyundai's cutting edge Innovation Centre in Singapore. pic.twitter.com/LiGnP67aJnNovember 21, 2023
In order to combat potential quality control issues, Hyundai has enlisted the help of Spot, the agile robotic dog from Boston Dynamics.
Here, Spot will routinely trot out from its charging station to check the vehicle or project in question, harnessing the power of advanced camera, sensor and AI technology to scan the vehicle for faults and then report any findings back to the operative and the Digital Command Centre that oversees the entire operation.
Only when Spot (and the command centre) is happy with the workmanship can the engineer continue to work on the vehicle. Patel says it cuts quality control issues typically found at the end of the process to almost nothing.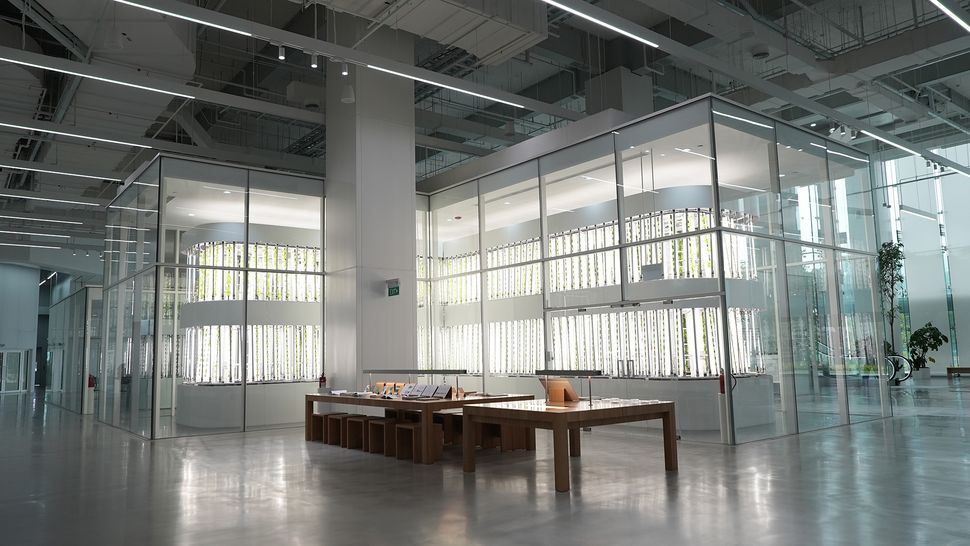 How do you order?
Although HMGICS is a fully operational factory, with the ability to produce 30,000 EVs per year, including the Ioniq 5, Ioniq 6 and Ioniq 5-based robo taxis for autonomous driving partners Motional, it also serves as a flashy customer experience centre.
Smart factory boss Alpesh Patel spoke of the high levels of customization he envisaged the facility offering to potential, well-heeled customers. "They will be able to order a vehicle from home, or from here in the facility, choose their color and even select highly personalized elements for their car, then witness it brought to life," he says.
Patel claims that is can take as little as three hours to go from a customer ordering a vehicle to driving it away, thanks to the unique set-up of the highly automated cell-based production process.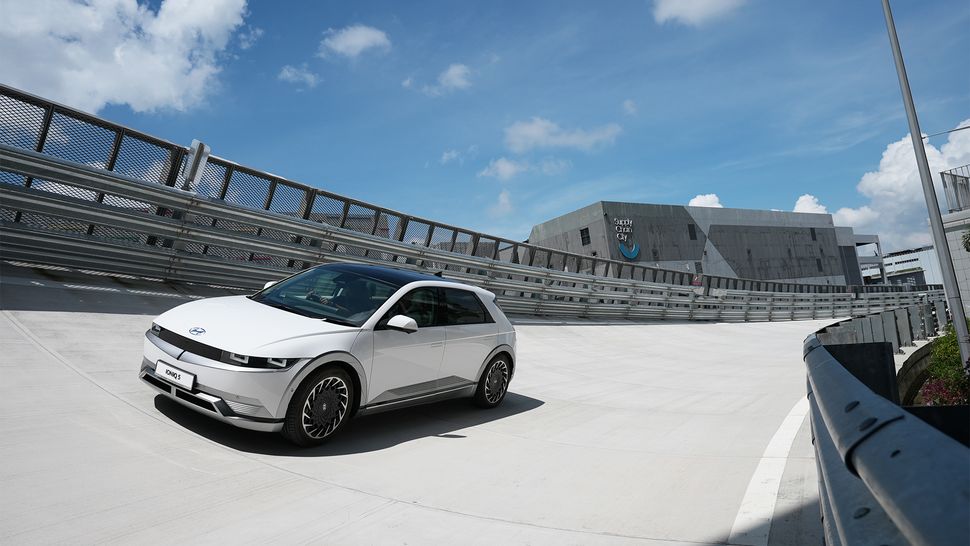 Once finished, customers can dine on salad leaves from the in-house vertical farm and take their new vehicle for a test drive on the facility's 620-meter rooftop Skytrack. The parallels with Fiat's Lingotto plant continue.
But more than a way to wow customers, Patel says the facility will be integral to the design and build of Purpose Built Vehicles (PBVs) in the future.
"We want to invite future mobility providers in and allow them to realize their ideas. This facility allows us to be highly reactive, creating vehicles for specific requirements, rather than just the individual's desires" he adds.
A digital twin
With approximately 50 percent of all tasks carried out by some 200 robots, HGMICS predictably requires a serious amount of computing power to ensure everything runs smoothly. In this case, it is referred to as a Digital Command Centre and if you are suddenly thinking of NASA space missions, you aren't far off.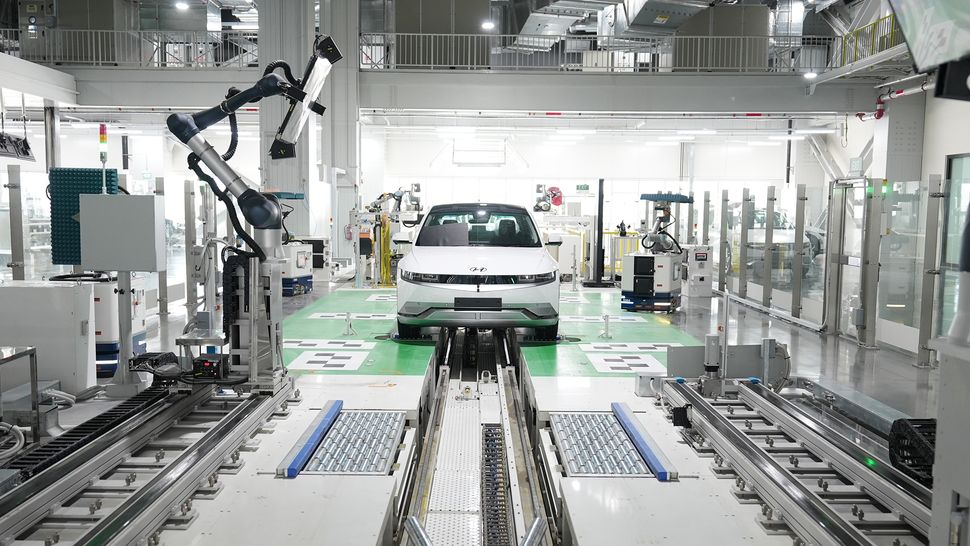 Just a handful of highly skilled operatives work with walls of screens that can pull up a wealth of smart factory data, checking in on efficiency levels of each production cell and predicting when a robot requires servicing or a part needs to be ordered long before the need arises.
A separate section of the room features a full digital twin of the factory floor (a meta factory, as it is referred to), which can run simulations when new production requirements arise. Patel claims that currently, staff in the Digital Command Centre are integral to the operation, but he states that AI will soon step up and begin taking care of most of the day-to-day functionality.
When asked whether just one digital command centre could remotely oversee several smart factories like this, Patel said he didn't see why not. "This is just the baseline. We have only been operational for a few weeks. Once the AI is up to speed, it will free up all of the staff in there to work on other software projects," he said.
If you are worried about robotics and AI coming for your job, it's probably best not to visit HMGICS. When quizzed about the impact on lower-skilled workers, Patel recognized the issue and stated that the facility planned to improve the level of skill within its workers. Although he reiterated it wouldn't replace a traditional production line.
But in reality, robots carry out most of the tasks here, and Spot the Boston Dynamics dog is the boss.
The future factory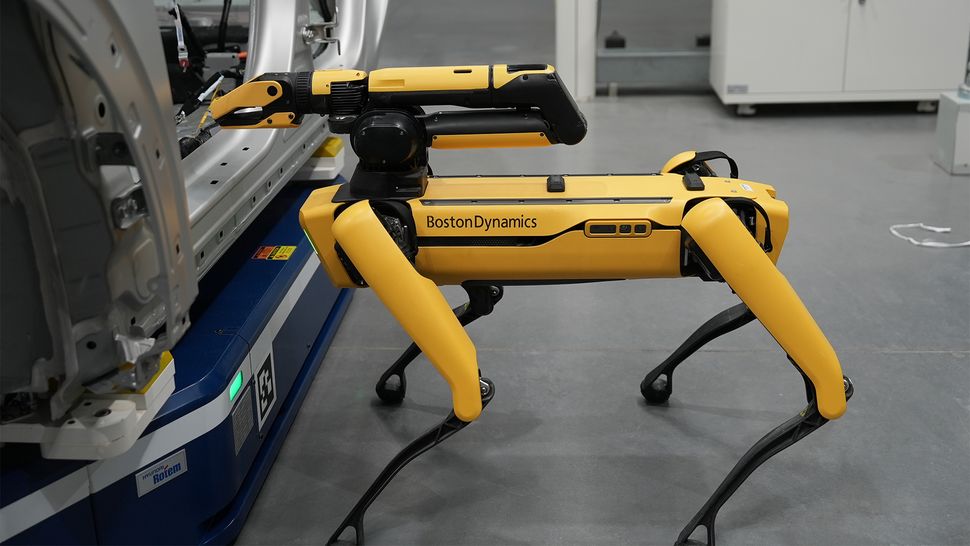 Although not designed to replace today's mass production lines (this highly robotized set-up is just too expensive), Hyundai's Innovation Centre will pave the way for a highly flexible manufacturing process that will assist in the production of Purpose Built Vehicles and smart mobility solutions in the future.
During discussions, Joseph Hongbum Jung, Chief Executive Officer of HMGICS, stated that as cities like Singapore get more congested, they require smarter transport solutions to operate effectively. He envisions Hyundai being part of that solution.
With that in mind, the team at HMGICS stated that the futuristic production plant would continue to adapt to changing demands, with one example being that it will be integral to the production of eVTOL Urban Air Mobility vehicles.
Thanks to a partnership with Supernal, which already has a eVTOL concept craft in testing phase, we could see advanced air mobility arrive as early as 2028.
You might also like
Get daily insight, inspiration and deals in your inbox
Get the hottest deals available in your inbox plus news, reviews, opinion, analysis and more from the TechRadar team.