Electric car sales appear to be slowing, but that isn't the full picture – here's why
The reality of EV sales is a bit more nuanced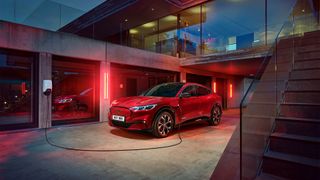 (Image credit: Ford)
New data appears to show that the demand for EVs in North America is slowing, with potential buyers citing list price, residual values and the charging infrastructure as key issues.
Data from CarGurus' October Report (via USA Today), released this month, claims that electric vehicles sat on dealer lots for an average of 82 days in October, compared to just 64 days for an internal combustion engine (ICE) vehicle.
Similarly, Cox Automotive stated back in June of this year that EV "days of supply" - a measure of inventory levels in the US – was approaching 100 days, nearly twice the industry-wide average.
Essentially, this means dealers would have, on average, enough stock to last them 100 days of trading if supply completely dried up. Compare this to something like a petrol-powered pick-up truck (America's favorite vehicle), which has a mere 52 "days of supply" figure.
Cox Automotive says that although 51 per cent of the consumers it studied are now considering either a new or used EV, up from 38 per cent in 2021, the number actually committing to buy remains low. It claims EVs will account for less than 8 per cent of total new-vehicle sales in 2023.
The full story?
So are EV sales actually in decline and are manufacturers like GM and Ford right for slowing production of their forthcoming electric vehicles? Not necessarily.
Price plays a major part in any new car purchase and there is no denying electric vehicles are more expensive than their ICE counterparts, but not by a huge amount. According to Kelly Blue Book, the average transaction price for electric cars was $53,469 in July 2023, versus gas-powered vehicles at $48,334. The gap is rapidly closing.
This drop in price has been spurred on by industry leaders Tesla, which has been cutting the cost of entry to all of its vehicles throughout the year. This will have had a major impact on the number of EVs sitting on dealer car lots, purely because Tesla sells direct to consumer, so negates the need for any form of physical dealership franchise.
If the equivalent – or better – Tesla is cheaper, of course you are going to turn your back on the Mercedes-Benz, BMW or Kia sitting on the lot, a fact that will have certainly contributed to the slow average sale time experienced by traditional car dealers.
Plus, many customers will be waiting for changes to the IRA coming in January, which allows buyers to take up to $7,500 in EV tax credits upfront. There will also be financial help for additional electric vehicles in the household and the installation of domestic EV chargers for those who can get their head around the often confusing application process.
Regardless of this, issues like a relatively inflexible EV supply chain and growing regulatory pressure means many EV companies aren't easing back on production numbers, leading to a slew of relatively expensive vehicles flooding the market and ultimately ending up sitting on dealer lots.
It's very difficult to decipher whether the appetite for electric vehicles is genuinely waning, or whether the supply is just massively out-stripping this demand at the moment. Only time will tell.
---
Analysis: EV demand varies by region
Although the figures above paint a picture of slowing EV sales in the US, it is a very different case if you look further overseas. EV sales in China, the world's largest auto market, increased 29 per cent year-to-date in September, despite the country ending an 11-year subsidy scheme for EV purchases in 2022, according to Reuters.
Although a little slower, European markets are also expected to expand in the coming years. Forbes reported that UBS expects EV sales in Europe will hit 2.1 million in 2023 (up from 1.6 million in 2022), 2.5 million in 2024, 3.6 million in 2025, then more than doubling to 9.6 million in 2030.
According to the International Energy Agency, 2022 was a growth year in India, Thailand and Indonesia, too. Collectively, sales of electric cars in these countries more than tripled compared to 2021, reaching 80,000. Further government initiatives due to be put in place will only increase uptake further.
You might also like
Get daily insight, inspiration and deals in your inbox
Get the hottest deals available in your inbox plus news, reviews, opinion, analysis and more from the TechRadar team.