Editor's Note: What immediately follows is a rundown of the latest changes and additions since this review was last updated.
The service now boasts over 2300 servers in 60 countries. (June 2018)
There is no free plan anymore. (June 2018)
A 7-day free trial is available for iOS and Android. (June 2018)
Changes to pricing. There are four plans available: 1 Month- $11.99, 1 Year - $4.99 per month, 2 Years - $3.79 per month and 3 Years - $2.75 per month. (June 2018)
All plans now support up to 7 devices at the same time. (June 2018)
L2TP/IPsec and PPTP protocols are now also available. (June 2018)
Additional changes to pricing. Three plans are available: 1-month $11.99, 6-months $4.99 per month, 18-months $2.75 per month. (July 2018)
Additional servers were added, over 2600 servers. (July 2018)
A new improved version for iOS is now available. (July 2018)
New pricing - 1-month $11.99, 1-year $4.99 per month, 2-years $3.79 per month, 3-years $2.75 per month. (August 2018)
Additional servers were added, over 2800 servers. (August 2018)
Apart from Chrome plugin, CyberGhost now also has a Firefox plugin. (August 2018)
CyberGhost is a Romanian and German-based privacy giant which provides comprehensive VPN services for more than 10 million users.
This provider boasts more than 1,000 servers across 30 countries, and offers an impressive range of features including custom clients for Windows, Mac, iOS and Android, with torrents allowed on most servers. There's a stripped-back free plan, a 30-day money-back guarantee for everything else, and live support to help you through any tricky bits.
The free plan includes ads, supports connecting only one device at a time, and the company says that it might run at only 20% of the speed of the commercial service (our experience is that it's usually much better than that). Oh, and there might also be a delay of a minute or so before you can connect, you're not able to access all the servers, and it'll disconnect after three hours.
But on the plus side, there's no data transfer limit (other free services might restrict you to under 1GB a month). Also, you don't have to provide your email address to use it, a major privacy plus. But if you do decide to sign up, the product installs as a trial of the full-speed commercial product for its first three days.
CyberGhost Premium can be up to five times faster than the free service, as mentioned. It drops the ads and gives you full access to any of the company's 1,000 servers. The plan supports up to five devices, and the standard price is very competitive at €4.99 ($5.90, £4.40) a month billed annually, or €10.99 ($12.90, £9.80) when billed monthly.
All of this is presented in detail on the CyberGhost website, along with some welcome extra touches. While other companies might just list the countries they cover, for instance, CyberGhost shows you every single server, its location, status, current load, and whether it's available with the free or premium plans.
Privacy
Most VPNs love to advertise their no logging policy in big letters on the front page, but that's mostly for marketing. To really understand what's going on, it's wise to spend some time browsing the company's small print.
CyberGhost's privacy policy is better presented than most. It's long enough to provide useful information, but not so lengthy that no-one will bother to read it. There are only a small number of sections, each clearly described so you can find what you need.
The key logging clauses say the company doesn't log "communication contents or data regarding the accessed websites or the IP addresses", or "data on who had used which server and when", or generate any "statistical data, which can be linked to a user account". This might leave some scope for minor session logging – a record of when you logged in to the service, say – but there's nothing that could compromise your privacy.
There's more good news in the detailed explanation of how CyberGhost manages its accounts. It doesn't store any personal data, keeps payment data separate by using resellers, and even stored email addresses aren't linked to user IDs. This isn't just the company saying 'we don't do bad things', either – it's explaining how the system works to ensure that kind of logging isn't necessary.
CyberGhost is moving in the right direction in other areas, too, recently dropping Google Analytics monitoring of its website in favor of its own Piwik installation (a leading open source analytics platform).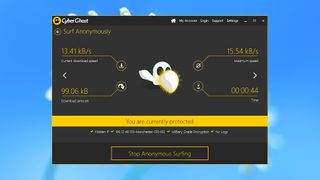 Performance
Installing CyberGhost's Windows client couldn't be much easier. There's no registration required with the free build, not even an email address, we just clicked Download to grab the setup tool, launched it, and our copy of CyberGhost was ready to go in a few seconds.
A tap on CyberGhost's system tray icon displays a simple interface with a list of countries and a connect button, so even the greenest of VPN novices will instantly figure out what they have to do.
But then we noticed that the client window couldn't be moved – it disappeared if you clicked somewhere else – and bizarrely, the country list isn't even in full alphabetical order (reading down the list includes sequences like: Germany, Denmark, Spain, Finland). Sure, you'll learn where everything is, but it would be much easier if CyberGhost got this extremely basic detail right in the first place.
On a more positive note, the client also displays the last few server connections you've made. If you only ever log on to the UK, US and Germany, for instance, they'll all be listed, and you can choose those destinations again with a click.
A separate 'Maximize' button doesn't actually maximize anything, but instead launches the main CyberGhost app. This uses six colorful Windows 10-like tiles to help you choose whatever VPN task you'd like to perform.
'Choose My Server' provides a host of ways to help you find and connect to the best server. You can simply choose a country from a list (properly sorted, this time); manually choose a server within that country; filter servers to find the fastest; choose the best server for specific jobs, including torrents; or add servers to a Favorites list for easy selection later.
'Surf Anonymously' is simpler, with just a list of countries (back in the odd not-quite-sorted order) and various useful settings. You can tell CyberGhost to block ads and malicious sites, limit online tracking, compress data to improve performance, redirect HTTP links to HTTPS, and select only Premium servers for extra speed. Once these are set up, you're able to connect with one click, and CyberGhost can even open your default browser in incognito mode for improved security.
The 'Unblock Streaming' and 'Unblock Basic Websites' sections work as basic bookmark managers which set up the VPN to access the site you need. If you want to access Amazon Prime in the US, for instance, click Unblock Streaming > Amazon Prime, then CyberGhost automatically connects to an appropriate server and opens your default browser at the site.
'Torrent Anonymously' is a similar shortcut for P2P users, automatically connecting to the fastest torrent-enabled server and optionally launching your torrent client at the same time.
The 'Protect Wi-Fi' feature is particularly useful, as it allows you to define exactly how you want to treat specific networks. You could choose to always connect via CyberGhost on some networks, never on others, and there's an 'Ask' option if you're unsure.
The Settings dialog covers the basics, including starting the client with Windows or using OpenVPN with TCP or UDP connections (there are no other protocol choices).
More interesting options include the ability to create 'exceptions', hosts or IP addresses which won't be accessed via the tunnel. CyberGhost automatically detected our email servers and added them to the list, for instance, ensuring our email client still worked correctly when the VPN was active.
The App Connection feature is another highlight. Point CyberGhost at some executable files and whenever they're launched in future, the VPN will automatically connect first. The service also acts as a kill switch, automatically closing the protected app if the connection drops to prevent any potential leakage of your identity.
We noticed that CyberGhost seemed very sensitive to the presence of other VPN software, to the point that it stopped working on several occasions. The client had an easy fix which worked every time – click Settings > Connection > Repair Virtual Network Card – but if you're using multiple VPNs or other low-level network software, this could become a hassle.
In our tests*, performance proved to be solid and reliable. UK to UK connections averaged an impressive 30 to 35Mbps downloads, nearby European connections ranged from 22 to 35Mbps, and US connections were a very usable 20 to 25Mbps. Speeds fell to below 5Mbps for very long distance trips (Australia, Singapore, Hong Kong), but that's not unusual, and they were still just about usable for basic browsing.
We completed our checks by running multiple leak tests, and CyberGhost passed them all with ease – servers were in the promised locations, there were no DNS or WebRTC leaks, and our identity was properly protected at all times.
Final verdict
CyberGhost's Windows client has some interface irritations, but the speedy performance and lengthy feature list won us over. Take the free version for a spin and see for yourself.
*Our testing included evaluating general performance (browsing, streaming video). We also used speedtest.net to measure latency, upload and download speeds, and then tested immediately again with the VPN turned off, to check for any difference (over several rounds of testing). We then compared these results to other VPN services we've reviewed. Of course, do note that VPN performance is difficult to measure as there are so many variables.