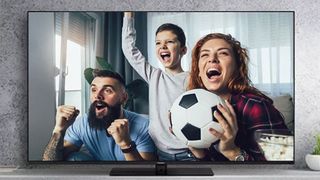 (Image credit: John Lewis)
There's something about sport, especially huge international tournaments like the Australia-NZ women's World Cup, that brings people together. There's nothing quite like sitting down with family and friends in front of a big TV, everyone alternating between egging their team on and telling everyone how they would do it if they were the manager. Every goal causes an eruption of cheering, as half the neighbourhood explodes simultaneously.
When you're shopping for a TV for summer sports season, it's helpful to know what to look for - which is why we've got a list of some of the best TVs and audio equipment to help you choose - but it's also helpful to know where to look. One online shopping destination you might not have considered for this sort of tech is John Lewis, which is stacked with some of the best stuff in the business. Long guarantees and deals on TVs, soundbars, VR and other summer sports-watching essentials makes John Lewis worth a serious look.
Television destination
John Lewis is packing some of the best TVs in the business, and you only have to click on their ultimate sports viewing page to realise that. The LG 65 C2 OLED, which got five stars in our review, gets a five-year guarantee, old TV recycling, and even a set-up and demonstration service here, which makes life a little easier than dropping it in a box at your front door.
Other TV favourites include more affordable models from Toshiba starting from just a few hundred pounds, to Samsung's perennially popular entry into the wall-mounted art TV space, the Frame, on which you can grab a free wall-mount installation right now. A 50-inch wall-mounted QLED TV, its art mode allows it to seamlessly integrate into your living room decor when not in use – with the added benefit of surprising and delighting people popping in for a World Cup party, when your enormous Van Gogh springs to life to show the Lionesses running around Perth.
Stadium sound
Of course, to really feel like you're in the heat of the Australian stands, you're going to need more than a big TV and an electric heater - you'll need big sound, too. Fortunately, John Lewis has you covered with a big selection of Bluetooth speakers and soundbars, including the Samsung HW-Q600C.
It's a well-reviewed soundbar: Samsung consistently makes some of the best soundbars in the business, and the Q600C is no exception. With a £300 discount when you buy selected TVs, a two-year guarantee, and the option of two years of Protect Plus insurance, it just became even better value for money.
The HW-Q600C is only the tip of the iceberg: John Lewis is sitting on a big range of soundbars and speakers perfect for World Cup watching, such as the Sonos Ray Compact smart soundbar. Not only will you be able to see every bead of sweat in glorious 8K, but you'll practically be able to hear it.
Don't fancy a TV?
If you want to keep the party going after the game is over, the Meta Quest 2 virtual reality headset, along with two controllers, is also available here with John Lewis' standard-issue two-year guarantee. An all-in-one system with a high-res display, VR games use built-in speakers and 3D positional audio to maintain the illusion and the immersion of the virtual world.
If you still want to share in the excitement of the big game with friends and family, but already have a perfectly good TV, you might want to find a solution which allows you to watch the game anywhere. Samsung's The Freestyle is a high-definition portable projector emitting a 550-lumen light allowing you to watch the game on anything from a bedsheet to a blank wall, as it fits in your hand and the screen stretches to a massive 100 inches.
It's perfect for barbecues, post-match movie nights or taking round to a friend's house who doesn't have a decent setup. It has a built-in 360-degree speaker, but the Marshall Emberton II portable Bluetooth speaker or Bose Soundlink Revolve II add additional coverage to your outdoor gathering.
Sign up to receive daily breaking news, reviews, opinion, analysis, deals and more from the world of tech.