Gaming Mode
The gaming mode is also a software tweak that makes life a tad easier. With this, OnePlus allows you to pre-select some games that you play often. The mode kicks in automatically whenever these games are turned on, and your phone will not show notifications on the screen (though vibration is still on) when you're playing these games. It will also allow you to take calls directly through the loudspeaker, without disrupting the game.
What I personally like is that auto brightness is turned off when I'm playing. That's because your hand will often cover the notch (which is where the ambient light sensor sits), that leads to reduction in brightness when it isn't required.
Camera...
On first look, the OnePlus 6 has the same camera as the 5T. However, the company has increased the pixel size on its primary camera, which should improve low light performance. Also, both the rear cameras have optical image stabilisation now, which should further help with low light shots and video recording.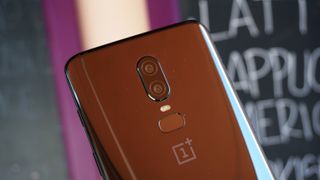 It's a great camera...
There's a reason why the OnePlus has the "Shot on OnePlus" campaign out in the market. The OnePlus 6, like its predecessors, can take great photos. Colour reproduction is balanced in most cases, and daylight photos look wonderful. I clicked a photo from an aircraft, where the OnePlus 6 picks the blue of the sky perfectly.
When you're shooting in daylight conditions, the OnePlus 6 can take sharp, colourful and accurate photos. However, the difference between this and the OnePlus 5T isn't great in such scenarios.
That's more evident when shooting in low light. The difference is evident only if you have the two phones side-by-side, but it's still there. Night time photos are quite good too, as long as you have reasonably good light. But that brings me to why OnePlus needs to up its camera game.
Image 1 of 16
Image 2 of 16
Image 3 of 16
Image 4 of 16
Image 5 of 16
Image 6 of 16
Image 7 of 16
Image 8 of 16
Image 9 of 16
Image 10 of 16
Image 11 of 16
Image 12 of 16
Image 13 of 16
Image 14 of 16
Image 15 of 16
Image 16 of 16
It's not a flagship-class camera...
While the OnePlus 6 is a decent low light camera, it doesn't belong in the same league as the iPhone X or Pixel. While the OnePlus 6 can deal with regular low light situations, it absolutely fails at the more difficult ones.
So, if you're shooting in well-lit streets at night, or inside hotels, poolsides etc, you should get good photos. However, the camera will fail in dimly lit clubs, coloured lights, and other tough scenarios. For instance, in the sample below, the street has a yellow light on the left and white on the right.
The OnePlus 6 removes the impact of the white light completely, something the Pixel and other flagships are good with. Similarly, in very dimly lit clubs, the OnePlus 6 creates really dark and noise-riddled photos, which are unusable.
Another stark difference is in focusing speeds. When taking quick shots on the go, the OnePlus 6 often produces blurry photos because of slow focusing speeds. Again, it's a difference you will only observe when testing this phone side-by-side with the Pixel or iPhone.
The price matters
To sum up, the OnePlus 6 has a good camera for its price, and that's fine. Yet, it's an area the company needs to improve on if it wants to keep competing against flagships like the Pixel. It's good for most purposes, but truly great smartphone cameras have a wider range and are more dependable. I can't stress this enough - the OnePlus 6 has a good camera, but it's not flagship class.
The camera app is quite basic, which makes it easy to use but not very feature rich. The phone can shoot 4K videos at 60fps, but it's capped to 5 minutes, while 30fps 4K videos can be recorded for 10 minutes. The phone also shoots slow motion videos in HD resolution at 480fps and 1080p at 240fps, neither of which are really useful, and both are capped to 1 minute.
Should you buy it?
The OnePlus 6 is not an upgrade to the OnePlus 5 or 5T, but OnePlus 3/3T users would see an upgrade with this device. It feels different in your hand, looks more modern, is noticeably faster and has a better camera. Also, at this moment, it is the best phone to buy in the sub-40k price range.
That said, OnePlus has to be careful from hereon. The OnePlus 6 is a great device, but there's work to be done against real flagships. It's a flagship-class device in terms of performance and design, but the company is creeping dangerously close to the flagship price range to justify the compromises it makes. Good, will soon not be good enough.
Note: To learn more about the OnePlus 6's design, click here.