The best audio editors, like Adobe Audition, offer powerful tools to deliver high-quality results in a more efficient workflow. Digital audio workstations (DAW) are geared around helping you produce crisp, professional-grade audio.
Some newcomers may find the complex audio editing software interfaces a bit intimidating at first. That initial learning curve, however, isn't usually as steep as it first appears. It's offset by the capabilities and what these tools allow you to achieve.
To identify the best audio editors for you, start by figuring out how you'll use the software. Creatives seeking professional audio and music production tools will absolutely have different requirements to those recording A/V marketing assets or joining the podcast revolution.
Mac owners already get the free audio editor GarageBand - and that may hit all your basic needs. In our guide to the best music-making software, we called it "the perfect gateway into music production, and a clear path to Logic Pro (Apple's fully-functional professional DAW)."
For everyone else, there's a great selection of the best audio editors on Windows and Mac.
Harmonize your music production with the best audio PCs.

The best audio editor overall is Adobe Audition
Adobe Audition is a comprehensive toolkit for audio, allowing for multi-track, waveform, and spectral display for the mixing, editing, and restoring of audio. It's not free like the options below, but the result is the ability to polish the finishing for standalone audio as well as video. This powerful audio app is available either as a standalone or as part of the Adobe Creative Cloud (opens in new tab).
---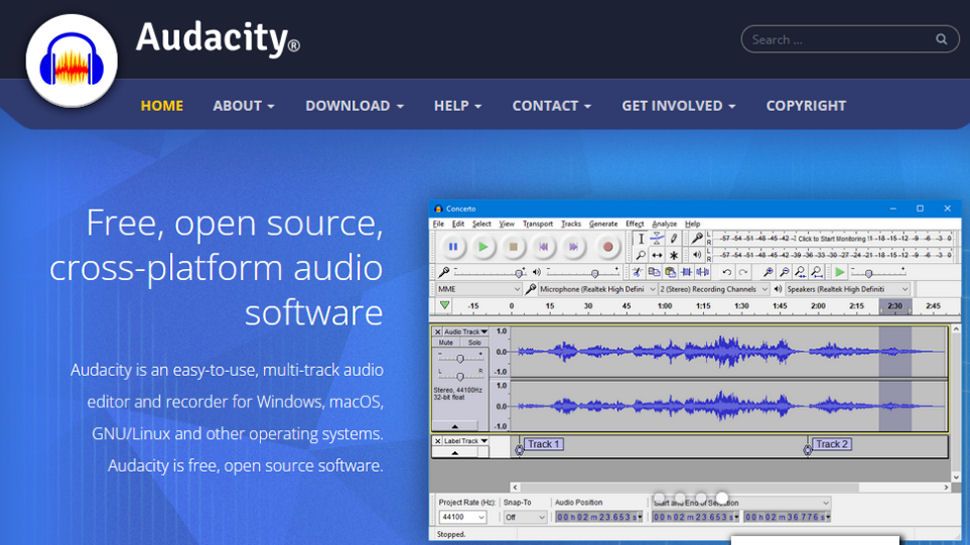 Audacity is a powerful free audio editor that rivals many premium paid-for programs. Frequently topping lists for best audio editors, the tool is often the first, last, and only stop for anyone looking for a capable audio editing program - whether you're a beginner or a pro.
It's a reputation that's well-founded. Audacity packs a ton of effects and features, and with support from a huge developer community, the best free audio editor just keeps getting better. It especially excels at two-track editing. A colossal library of plugins add even more functionality, so you can precisely create the sounds you want.
If the open-source audio editor has a downside, it's the skill-barrier. It's not really as complicated as it all looks, but beginners should take a few minutes learning the ropes to get the most out of it. Intermediates and those familiar with more complex DAWs will have no problem mastering Audacity.
Read our full Audacity review.

Ocenaudio offers an accessible entry-point for beginners. It's the ideal audio editing software if you find Audacity a bit overwhelming, but don't want to compromise on any features.
Performance is grand, feeling responsive and lightweight in use. Like Audacity, there's also (admittedly more limited) plugin support. But Ocenaudio is just so simple to use, it's easy to forgive its minor faults.
The real-time preview is a particular highlight. Even some of the best audio editors force users to edit 'destructively' - that is, modify the original track. With Ocenaudio, you can directly adjust your playback parameters. As a result, changing effects like reverb can be immediately heard.
As a free, open-source audio editor, it's available across Windows, macOS, and Linux - although the trade-off is a slower deployment rate for software updates. If you plan to edit frequently, memorize Ocenaudio's in-built keyboard shortcuts. It'll significantly speed up your workflow.
Read our full Ocenaudio review.

Ashampoo Music Studio is more than just software for editing audio. It does that incredibly well, of course. The simple interface, with its large waveform preview window and user-friendly buttons below, make it welcoming for beginners and veterans alike.
As the name suggests, one of the best audio editors is bundled with a few handy music production extras. You can use this Windows-only freeware tool to design CD labels, edit file metadata tags, convert between different audio formats, and rip or burn discs. Effectively, Ashampoo Music Studio is a one-stop shop for basic audio trimming, organizing, and producing.
However, calling this a 'studio' may be somewhat hyperbolic. For all those bells and whistles, Ashampoo Music Studio falls short of greatness. Without multi-track support - essential for professional audio editors - it's best-suited to rearranging simple audio clips.

Audiotool unlocks audio editing right in your browser (so long as that browser is Chrome - officially, at least, as it reportedly works in Firefox and Edge). That means you have access to your audio clips wherever you are. No waiting to download and install from a new computer. A Chrome extension is also available.
Sharing more of its DNA Apple's Garage Band program than most of the best audio editors on the list, the online DAW lets you record 30-second segments of sound to use as samples. You're then free to mix with digital instruments, tools, and drum machines built into the audio editing system.
Modify your tracks with Audiotool by adding filters from a selection of 14 different effects. You can also create a MIDI controller within the program or use a splitter tool to attenuate and modify your audio signal.
The site, which places an emphasis on community and collaboration, features user-made music uploads created in Audiotool, giving you a taste of the possibilities.

Acoustica packs a professional experience comparable to Audacity. As free software for audio editing goes, it gives you a higher level of control over your edits, with some compromises.
One of the best audio editing suites out there, the latest version of Acoustica is a premium subscription product, which features native support for the new MacBook's Apple Silicon processors - the device of choice for the creative industry.
If you want to get the audio editor for free, you'll need to download the older version - Acoustica 6 Basic Edition. You can still try or buy the Standard and Premium kits, too.
The tool's interface has a professional look to it that wouldn't feel out of place in a top-end recording studio. Thanks to sensible design choices, you'll be up and running in no time - no matter how many times you've edited audio before.
Power-users can also expand the toolset by installing VST or DirectX plugins. These deliver a wider range of sound effects for fine-tuning your tracks.
Acoustica's unique Effect Chain area is worth experimenting, as you can layer up different audio filters, then apply the combination to multiple tracks. This is ideal for creating distinctive mixes or keeping sounds consistent throughout an album. When you're done, the audio editing software makes it simple to rip to CD.
Read our full Acoustica review.
---
How to choose the best audio editor for you
The best way to choose the right editing tool is to assess your skill-level. If you're an intermediate or experienced audio editor, a program like Acoustica will be no trouble. On the other hand, an audio editor for beginners, such as Ocenaudio, offers a very simple user experience and a gentle introduction to the art.
Choose which device you'll cut clips. You'll find plenty of audio editors for Windows and Mac, as well as easy-to-use, but less powerful apps on Android and iOS. Decide whether you're happy editing in the browser, or demand professional software that gives you more control.
Determine your budget. Pro-grade audio editing software like Adobe Audition comes with that on-going subscription, while others, like Ashampoo Music Studio have a one-off fee. Making edits to your audio doesn't need to cost the Earth with software like Audacity delivering for powerful audio editing capabilities for free.
Finally, choose your audio editor based on what best unlocks your creativity, gets you in the zone, and offers the best workflow for you.
How we test the best audio editors
When reviewing the best audio editing software, we've looked at what matters to you: user interface & experience, price, performance, platform availability, and tools & capabilities.
We've laid down tracks and cut clips with all the audio editors on our list. We want to make sure the software works exactly as you'd expect, and determine who will get the most from each tool.
Find out more about how we test, rate, and review products on TechRadar.