Best dictation software of 2023
For easy speech recording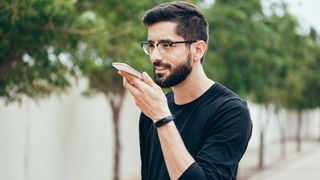 (Image credit: Shutterstock)
The best dictation software makes it simple and easy to record audio notes on your desktop or mobile device.
It also allows you to speak instead of typing and converts your spoken words into text. This can save you a lot of time and energy and is very useful for anyone who might have difficulty typing for any period, such as those with RSI or a disability.
Although dictation software has been around since the 1990s, it was mostly seen as a gimmick due to low accuracy. However, technological advancements have made them more accurate and usable; you can now dictate text with accuracy levels of over 90%.
The most popular office software, Word, comes with a built-in speech-to-text converter, and it's back engine has almost certainly been helped by Microsoft's purchase of the Dragon software company, which leads the field when it comes to dictation software for all applications. Apple and Google also provide similar options for their software platforms.
However, there are other competitors worth looking at, according to your needs and budget. Below we list what we think are the best dictation software options currently available.
We've also featured the best speech-to-text software.
Get in touch
---
The best dictation software of 2023 in full:
Why you can trust TechRadar We spend hours testing every product or service we review, so you can be sure you're buying the best. Find out more about how we test.
Best dictation software overall
Reasons to buy
+
Industry-specific products
+
Advanced integration of artificial intelligence and deep learning
+
Lifetime subscriptions so no recurring costs
+
Best-in-class accuracy
Dragon Professional Individual dictation software is widely recognized as the best in the business. Dragon products are reliable, easy to use, and among the most accurate available.
Having used Dragon dictation software on our laptop, we can attest to its best-in-class performance. In a 300 word test, the software got 299 words correct.
Like most advanced dictation software platforms, Dragon software leverages deep learning technology and artificial neural networks. These technologies enable Dragon to adjust its transcription based on several factors, such as the amount of ambient noise, the speaker's accent, and even the tone with which they speak.
For businesses, several Dragon dictation products may be suitable. This is because Dragon has gone beyond merely offering one software package for all purposes, and has created dictation software custom-designed for specific industries. The most popular are Dragon Legal, Dragon Medical One, and Dragon Law Enforcement.
The biggest downside of Dragon dictation software is the substantial cost for a license. However, Nuance are currently offering 12-months' access to Dragon Anywhere at no extra cost with any purchase of Dragon Home or Dragon Professional Individual.
Read our full Dragon Professional Individual review.

Best dictation solution on the move
Reasons to buy
+
Best-in-class mobile dictation software
+
Add custom vocabulary
Reasons to avoid
-
Desktop software must be bought separately
So powerful is Dragon's mobile dictation software that it deserves its own spot on our list. Unlike its desktop counterpart, Dragon Anywhere is purchased through an ongoing subscription, rather than a one-off purchase.
As you might expect, the mobile version of Dragon is a pocket-sized version of the desktop software. There is little if any compromise on performance or accuracy. Dragon Anywhere uses cloud-based datasets and deep learning algorithms to provide a desktop experience on mobile.
Another feature we like is the ability to teach the software new words, expand its vocabulary, and ensure that it works for you, not the other way around. This makes using Dragon Anywhere a stress-free experience.
One of our only complaints about the platform is that you can only dictate text from within the app. If you want to move the transcribed text to another application, you'll have to copy and paste it. This puts the platform at a disadvantage compared to in-built dictation software used in Microsoft Word, Google Docs, or on iOS devices.
Also note that Nuance are currently offering 12-months' access to Dragon Anywhere at no extra cost with any purchase of Dragon Home or Dragon Professional Individual.
Read our full Dragon Anywhere review.

Best solution for Microsoft 365 users
Reasons to buy
+
Included with all Microsoft 365 subscriptions
+
No installation or setup required
+
Accurate at distinguishing between text and voice commands
+
Multiple languages supported
Although not a standalone dictation software platform, we believe Microsoft Word's dictation functionalities merit a spot on this list. Built directly into Microsoft Word, and included with all Microsoft 365 subscriptions, it is a powerful and accurate dictation tool.
The platform relies on vast amounts of training data and artificial neural networks, meaning it is continuously improving its ability to transcribe voice to text. Having tested Microsoft's dictation software, we're confident it competes in accuracy and ease of use with the leading dictation software providers.
There are few standout features to mention, but we see this as a strength. Microsoft Word's dictation software is straightforward to use, with no setup or installations required. It is accessible directly from the Word application, and it only takes one click to begin voice typing.
Several voice commands enable you to take control of the document. These include punctuation marks and formatting tools.
A final thing we like about Microsoft Word's speech to text software is its support for nine different languages, with many more in the testing stage.
Read our full Microsoft Word review.

Best value dictation software
Reasons to buy
+
Both desktop and mobile support
+
Competitive free-forever plan
+
Import audio and video files
Reasons to avoid
-
Expensive
-
Limited customer support
One of the few dictation software platforms that can come close to Dragon is Otter. This popular software package is one of the easiest to use. It comes with several advanced features that separate it from some of the lower-ranked providers in this list.
One of our favorite features is speaker identification. This is ideal for meetings or for when multiple are speaking in succession. When Otter software identifies a change in the speaker, it will signal this in the transcribed text.
Otter also allows you to record from directly within the app, or import audio and video files stored on your device. And unlike Dragon, an Otter subscription includes a mobile version of the software.
There are three Otter plans available. The free-forever plan is competitive and enables you to transcribe up to 600 minutes of audio per month. The Premium Plan includes 6000 minutes of transcription per month and a suite of premium features. A Teams plan offers all features mentioned above plus enterprise-specific features.
Read our full Otter review.

5. Apple dictation
Best free dictation solution for Apple users
Reasons to buy
+
Free on Apple devices
+
No installation or setup required
Reasons to avoid
-
Not as accurate as others
-
Can only dictate for short periods
Apple's built-in dictation software is available for free on all Apple devices. It certainly isn't the best dictation software overall, but it's earned the final spot on our list because it is free yet highly functional.
The software can be accessed directly from the on-screen keyboard on an iOS device, or via a keyboard shortcut on macOS devices. There is no installation or setup required—just activate the software and begin to speak.
The software is reliable, with an accuracy rate of roughly 95%. However, you can only dictate for short periods at a time, meaning this software isn't ideal for long texts or for people who dictate throughout their day.
Apple dictation is ideal for infrequent use or for those who want a free but reliable dictation solution.

Reasons to buy
Reasons to buy
+
Easy to use
+
Free
+
No setup required
Reasons to avoid
-
Requires internet connection
Google Docs is a popular online world processor offered by Google, the tech giant best known for its search engine. It works just like Microsoft Word but online instead of a desktop app. It's also free to use, so you don't have to pay any extra fee for a dictation tool.
Google Docs allows you to type with your voice. When you open the software, just select Tools > Voice Typing and give it access to your device's microphone. Then, you can click the pop-up microphone button anytime you want to dictate text. During our test, it was very accurate and typed in the correct words that were dictated. Just ensure you speak loudly and legibly because little pauses and stutters can confuse it.
All you need to use Google Docs is a working Google account. There's no setup or installation required; you just have to sign in and open a new document. The drawback is that you can not use the voice typing feature offline.
Read our full Google Docs review.

7. SpeechTexter
Best dictation software for multi-linguals
Reasons to buy
+
Supprts dozens of languages
+
User-friendly
+
igh accuracy
SpeechTexter is a free tool that lets you dictate words and convert your voice into text for easy note-taking. You can access it online or download the Android app. There's no desktop app or app for Apple devices like the iPhone and iPad, which is a drawback.
One good thing about this tool is that supports many languages other than English. In total, it supports over 70 languages including ranging from English, French, and Chinese to less popular ones like Khmer, Sinhala, and Sundanese. However, we observed complaints from users that SpeechTexter is not as good at transcribing other languages as it does with English. This is not surprising because English is the most popular language globally, meaning more training data is available for the software to recognize English words.
You'll have to grant SpeechTexter access to your microphone to use it. Then, you can dictate words and automatically convert them to text. We tested it using English and it was very accurate. The slight flaw we noticed is that SpeechTexter added extra spaces between some words, which needed editing.
Read our guide to using SpeechTexter.

8. Braina Pro
Doubles as a virtual assistant
Reasons to buy
+
Very accurate
+
Android/iOS app available
+
Supports many languages
Braina Pro is a sophisticated speech recognition program that supports over 100 languages. You can dictate text to your device with ease, e.g., to fill out online forms or type on Microsoft Word.
You can download the Android or iOS app for Braina Pro. It does not have a dedicated desktop app but, instead, you can turn your iOS or Android device into an external microphone for your desktop and dictate text. This dictation tool is very sophisticated and has high accuracy. It can work in noisy environments even though that isn't ideal.
Out of the box, Braina can recognize unusual vocabulary, which is helpful if you're in a technical field where you use uncommon words. Even at that, you can train the software to recognize custom words and give it custom dictation commands, e.g., "New Line" = start a new line of text or "Space" = insert a space in the document.
Unlike some other tools on this list, Braina Pro is not free. You have to pay $79 for an annual license and continually renew it or $199 for a lifetime license.
Read our full Braina Pro review.

8. Just Press Record
Best dictation software for iCloud users
Reasons to buy
+
Multi-lingual
+
Cloud-based
+
User-friendly
Reasons to avoid
-
No Android app
-
Requires payment
Just Press Record is an audio tool built specifically for iOS users. Transcribing is one of its main features, so you can easily turn your speech into searchable text. This software is user-friendly, having the kind of visually-appealing and smooth interface that iOS is known for.
Once you launch the app, just tap the button to dictate your words and you'll automatically see them written. It supports over 30 languages, which is large but not as large as some other software on this list. You can set up custom voice commands for the app to prevent punctuation errors.
One good thing about Just Press Record is that it syncs with iCloud, Apple's popular cloud storage tool. Thus, you can access your voice recordings and transcribed text from any iOS device linked to your account. For example, you can dictate with your iPhone and switch to your iPad to edit the final text.
Once you're done dictating and transcribing your text, you can store it on your device or share it with other people through any app that supports sending audio or text. Likewise, you can keep it in your iCloud account for future use.
Just Press Record is famous for its ease of use and sophistication. However, it is not free; you'll have to pay $4.99 to download the app.
We've also listed the best text to speech software.
---
Which dictation software is best for you?
When deciding which dictation software to download and use, first consider what your actual needs are, as sometimes free and budget software options may only provide basic options, so if you need to use advanced tools you may find a paid platform is much more worthwhile. Additionally, higher-end software can really cater for every need, so do ensure you have a good idea of which dictation features you think you may require.
How we tested the best dictation software
To test for the best dictation software we first set up an account with the relevant software platform, whether as a download or as an online service. We then tested the service to see how the software could be used for different purposes and in different situations. The aim was to push each dictation software platform to see how useful its basic tools were and also how easy it was to get to grips with any more advanced tools.
Are you a pro? Subscribe to our newsletter
Sign up to the TechRadar Pro newsletter to get all the top news, opinion, features and guidance your business needs to succeed!