Best transcription services in 2023
Best
Contributions from
last updated
Transcribe audio and video content
VERDICT
REASONS TO BUY
REASONS TO AVOID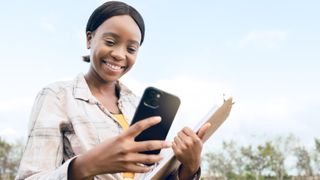 (Image credit: Shutterstock ID 2227464711)
The best transcription services make it simple and easy to transcribe audio and video content into text format.
While there are many apps for basic speech-to-text, they may not work too well with volume or be able to cope with some of the more technical areas of work, such as the legal and medical sectors.
In effect, transcription services replace dictation services and at their most basic level offer a third-party platform that often uses artificial intelligence for voice recognition. However, many professional transcription services also include a manual review process to ensure accuracy and a high success rate with the transcription.
The overall aim is to provide a hands-free service that can deal with one-to-one dictation as well as natural conversations, such as from business meetings, in order to produce searchable documentation that can help boost productivity and otherwise help with customer engagement.
There are a lot more transcription services available online, but while you may be tempted to shop around on price, it's also important to take account of error rates. There's little point paying a fee for a transcription service that is so riddled with errors that you need to fork out more for it to be completely rewritten.
Ultimately, choosing a transcription service comes down to cost, whether it is a human or computer doing the transcribing, and the other integrated services. With the basics laid out, here are the best transcription services currently available.
We've also featured the best text-to-speech software.
---
The best transcription services in 2023 in full:
Why you can trust TechRadar We spend hours testing every product or service we review, so you can be sure you're buying the best. Find out more about how we test.
Transcription services for non-urgent needs
Reasons to buy
+
High accuracy
+
Budget provider
Transcription Panda positions itself very similarly to TranscribeMe, in that pricing starts at the same rate for a rough draft has a similar error rate, but enjoys a slightly faster transcription speed in our testing.
However, turnaround time varies according to price paid, with the cheaper rate (at $0.79 per audio minute) offering a 5 day turnaround, and higher costs for a final draft transcription, which is made available within 24 hours.
So like a number of other transcription services it's worth looking at which is the more important, price or turnaround time, and so long as you're happy to wait for up to five days then Transcription Panda is an option worth considering.
Read our full Transcription Panda review.

British transcription with fast turnaround
Reasons to buy
+
Fast turnaround
+
Competitive rates
+
STEM transcription
Reasons to avoid
-
Time difference
-
Poor employee reputation
GoTranscript is a British company that offers competitive pricing, while aiming to provide the accuracy that business customers need.
One of the bigger advantages of choosing GoTranscript is that it can cater for the more complex projects you may need to handle, not least technical, scientific, or other STEM academic projects where word accuracy can really suffer if the service isn't already set up to handle it.
Additionally, the turnaround time for GoTranscript is at the higher end of the service spectrum, with its fastest service offering a return within 6-12 hours, which is faster than a lot of other companies. Prices range from around $1 to $2.50 per minute.
The one caveat is that unless your based in Britain the faster turnaround may be muted by the time-difference, meaning that projects come in after hours anyway.
Read our full GoTranscript review.

A premium, automated transcription service
Reasons to buy
+
Works on audio or video files
+
Competitive cost
Reasons to avoid
-
Not as high accuracy as manual transcription
Temi offers an automated voice transcription service at an affordable price. It claims its service has been used by ESPN, The Wall Street Journal, and PBS among its 10,000+ customers.
Via their "advanced speech recognition software," they can transcribe voice to text via uploaded audio or video file in a quick 5 minutes. The accuracy claimed is 90-95% with clear speakers with minimal accents, and minimal background noise, which are pretty much ideal recordings. Text files can be downloaded as MS Word or PDFs.
There are no minimums, subscriptions or additional monthly fees making this ideal for users with less regular transcription requirements.
Accuracy may not be as high as a manual transcription, but the price is very reasonable at $0.25 per minute.
Read our full Temi review.

A budget but accurate transcription service
Reasons to buy
+
Low error rate
+
Competitive pricing
Reasons to avoid
-
Not as fast as the competition
-
Poor rates for transcribers
TranscribeMe follows the trend here in trying to balance speed of transcription with a low error rate and competitive pricing.
While it's not as fast as Rev at transcribing, and while it can also have a slightly higher error rate, it costs significantly less at $0.79 per minute.
So if cost is a key consideration in your budgeting, then TranscribeMe could be one of the better options, without sacrificing quality.
Read our full TranscribeMe review.

Variety of transcription services
Reasons to buy
+
Video transcription
+
Text to text
+
Spanish translation
GMR Transcription offers a range of different transcription services. As well as the traditional service that includes automation and human review, they also offer video transcription as well as Spanish transcriptions. Another interesting service is text-to-text transcription for converting paper documents into electronic ones.
However, pricing tends to be at the higher end of the service spectrum while turnaround can be at the low end. So for basic transcription at the discount company rate expect the process to take weeks rather than days, though a faster same-day service is available.
Also note that rates will increase according to the quality of the audio sample, as well as the number of speakers involved.
GMR Transcription makes much of being entirely run within the borders of the United States, even providing eight reasons only to use US-based transcription on its website. For those outside the US, these arguments might equally convince potential customers not to use them.
Read our full GMR Transcription review.

Audio and video transcription services
Reasons to buy
+
Fast turnaround
+
High accuracy
+
Subtitling Service
Reasons to avoid
-
Question over treatment of transcribers
Rev provides a range of audio and video transcription services, including captions, subtitles, and translations for all types of audio and video files.
Straightforward transcriptions can be completed in a few hours and come with a very high accuracy rate of over 99%. Captions and subtitles for videos are also available as a service and are FCC, ADA, and Section 508.
Rev also provides a foreign subtitles service for video, which is an additional feature other services tend not to offer directly.
What also makes Rev stand out is that it manages to achieve one of the best balances between transcription speed and error rate. In terms of speed it's relatively fast, rather than blindingly fast, but where it really comes up trumps is in its low error rate.
Read our full Rev review.

Highly accurate transcribing with a choice of plans
Reasons to buy
+
Automated and manual services
+
Fast turnaround
Reasons to avoid
-
Additional charges may apply
-
Only transcribes English
-
Low pay for workers
Scribie offers both manual and automated transcription services. The manual transcription service offers 99% accuracy and a 36 hour turnaround time, as well as speaker tracking
These prices are for clean files of American speakers, with an additional charge for speakers with an accent, a noisy background, or a poor audio quality file. The user simply uploads their file, chooses their plan, pays the fee, and the text in a Word file is returned within the expected time window. They also offer full confidentiality.
For transcribing jobs that are less sensitive, and do not require such a high level of accuracy, there is also an automated service that is free. Simply upload the audio file, and a 30 minute turnaround time with an accuracy of between 80-95% for clean audio of American speakers.
Read our full Scribie review.
We've also featured the best translation software.
---
Which transcription service is best for you?
When deciding which transcription service to use, first consider how accurate you need the service to be compared to cost-effectiveness. Cheaper options tend to use more automation which means more opportunities for mistakes that will need to be corrected, while more expensive options tend to focus more on human transcriptions which have a reduced error rate. So do ensure you have a good idea of whether cost or accuracy is the most important to you when using transcription services.
How we tested the best transcription services
To test for the best transcription services we first set up an account with the relevant provider. We then tested the transcription service with a series of different texts, covering everyday wording as well as more technical ones, to gauge how accurately each transcription service could cope with each type. The aim was to push each transcription service to get an idea of both accuracy and cost-effectiveness.
Are you a pro? Subscribe to our newsletter
Sign up to the TechRadar Pro newsletter to get all the top news, opinion, features and guidance your business needs to succeed!
Jonas P. DeMuro is a freelance reviewer covering wireless networking hardware.