Before we dive into GMR Transcription, we need to clearly outline what it is we're evaluating.
Our series on transcription services apps will evaluate the features, pricing options, competition, and overall value of using each service.
However, these are not hands-on reviews since evaluating a service based on its one-time performance can't ever be objective. As this is a human-based solution, how good the transcription is will be based wholly on the performance of a single individual and their functionality on the day.
These services aim to provide a level of service, but it's for the customers to evaluate if the transcription is suitable for their needs. And, we factor in what they're saying.
GMR Transcription is a US-based operation that started in 2005 and has since cultivated business relationships with over 12,000 clients.
Alongside transcription, it also provides translation, editing and proofreading services.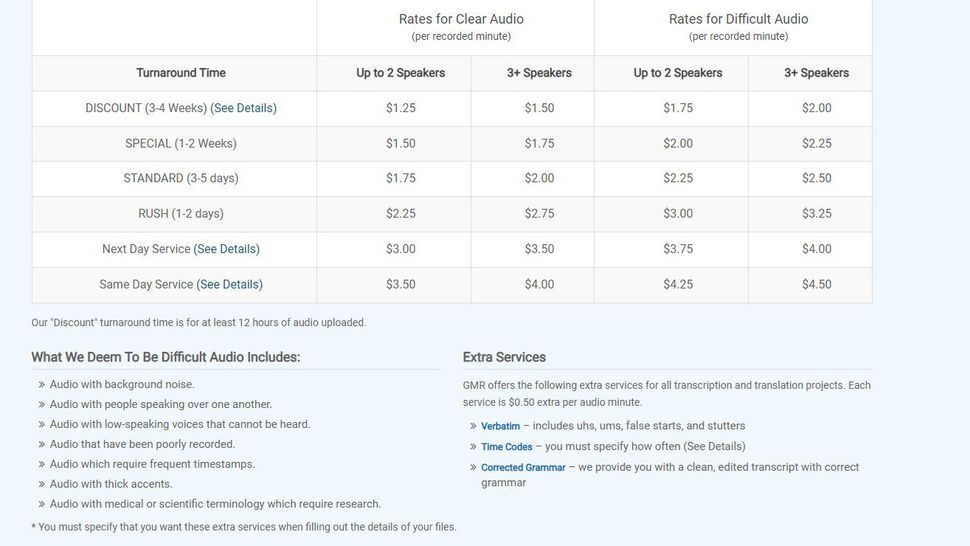 Costs
As with many transcription services, GMR works on a per-minute fee that is set by how quickly you want the transcription, the quality of the recording but also the number of simultaneous speakers.
The default service is for English spoken by an American, as all the transcribers are located in that region.
For those willing to wait 3-4 weeks, a clear audio recording of up to two people costs $1.25 and $1.75 if the audio isn't perfect. And for 3+ speakers, clear audio costs $1.50, and poor audio is $2.00 per minute.
That seems inexpensive, but how many people are willing to wait nearly a month to get back the transcript?
If you want same day service and have good quality audio, then the cost is $3.50 for up to two speakers and $4.00 for three or more.
The standard service is 3-5 days, $1.75 for those with good audio and two speakers and $2.00 for three or more.
There are more layers in the pricing options than we've detailed here, but you get the idea.
In addition to the chosen service, customers have three optional services that cost $0.50 each per minute of recording that can add Verbatim (includes uhs, ums, false starts, and stutters), Time Codes and Corrected Grammar.
Alongside American English, GMR also offers Spanish transcription for US Spanish speakers, and the pricing of this appears to be roughly a dollar more per minute than the English transcription. It should be noted that the Spanish spoken in parts of the US isn't the same as that in other Spanish speaking regions, like Spain.
Video transcription is also an option that costs about $0.50 per minute more across the various options.
For those wishing the evaluate the service, GMR insists on a $50 minimum order, a $250 minimum order for legal or court-related files, and a $5 per transcript minimum fee.
This degree of variation seems overly complicated, and GMR should consider simplifying their cost model substantially.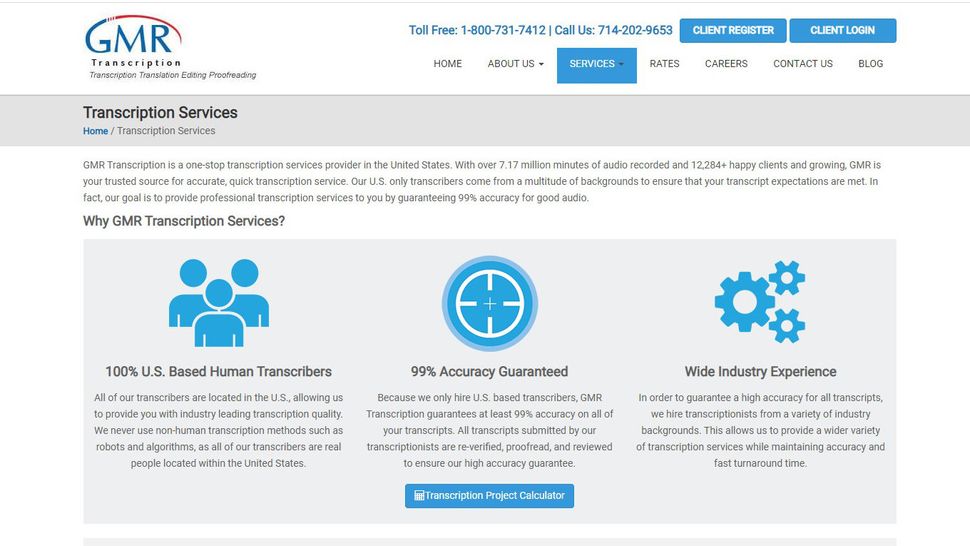 How it works
GMR has 175 professional transcribers, all residents in the US, and files uploaded by the customer are directed to them for processing. Alternatively, GMR has an Android phone application, Easy2Transcribe, that can be used to capture audio and then send it for transcription directly.
For those with files, the types of audio and video accepted include mp3, aif, asx, au, aac, ape, asf, dct, dss, dvf, divx, flac, mp3, msv, mp2, mpga, mpg, ogg, ra, ram, rm, sri, vox, wma, WAV, mp4, mov, wmv, mov, 3gp, flv, mkv, m4a and AVI.
And, for those still embracing the previous century, GMR will accept audio tapes being mailed to the company.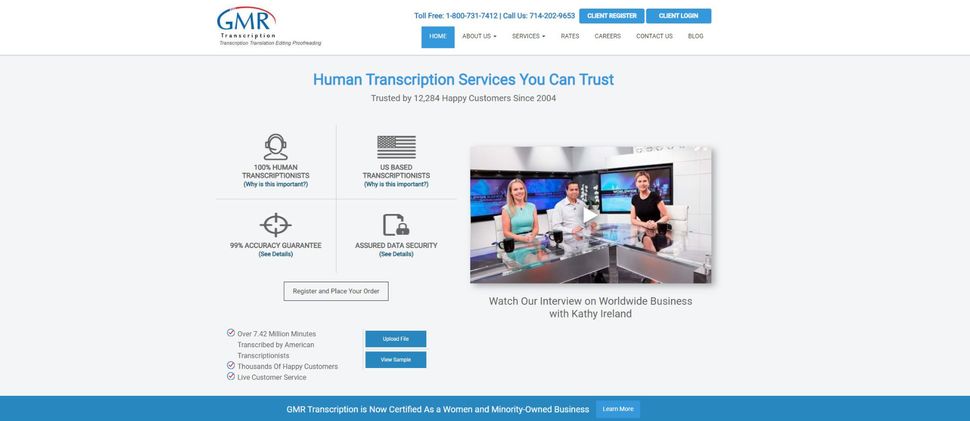 In terms of accuracy, GMR quotes 99% accuracy on good quality audio with two speakers but does not guarantee accuracy on files of lesser quality.
Alongside English and Spanish, GRM also offers Mandarin and Arabic.
Once the audio has been transcribed, the customer is notified that the transcription is ready, and once they pay, the document can be directly downloaded or sent attached to an email.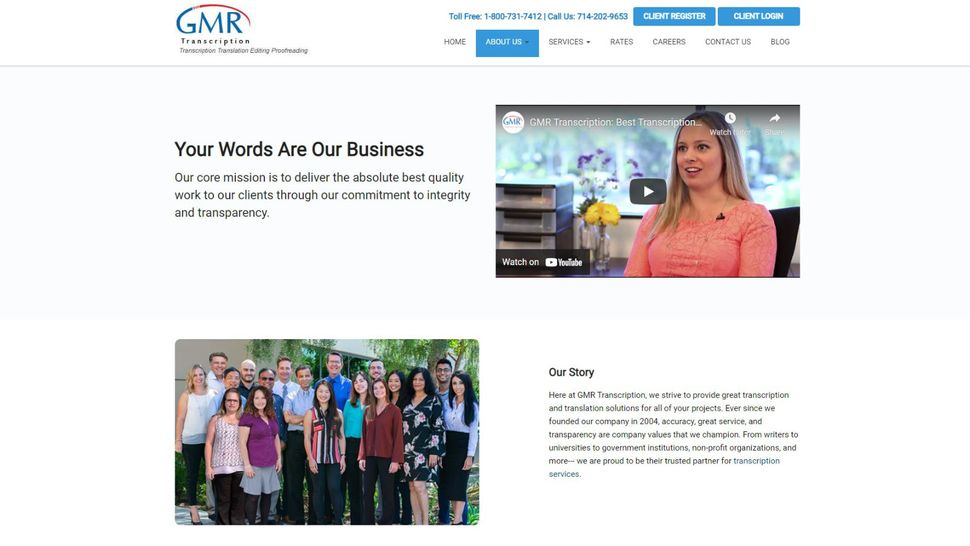 Final verdict
In terms of their customers, the vast majority were either very happy or thought the service good, though a few people were disappointed with their transcriptions. That's to be expected in any process that involves humans, as we're not always at our best every day.
However, there are a few things about the GMR Transcription pricing model that don't entirely make sense. One of those is how video transcription costs more than audio transcription. Why?
Surely if you can see someone speaking, it is actually easier to work out what was said if the sound is obscured than if you can't see them at all?
For English speaking transcription of up to two speakers, it costs $3.50 per minute for the same day service, and if that is video costs $4.00. Other than the temporary space that the file takes up and how long it takes to upload, what is the difference?
For those wondering, taking a couple of minutes to run a utility and split the audio out from a video file to send for transcription would save you $30 per hour of recording.
That point hints at a greater issue here. When you look at a headline cost of just $1.25 a minute of human transcription on good audio, then that seems highly affordable. But the list of reasons that GMR can elevate that to 'difficult audio' status is long and includes people speaking over one another or using medical or scientific terminology, along with thick accents.
That last one probably makes it unsuitable for those that speak English natively from other Countries than the USA, including those who are, ironically, English.
If you trigger those overheads, throw in that you need Time Stamps, and it turned around by the next day, and you could end up paying $4.50 a minute, a much less attractive cost.
This service might be excellent, but it looks heavily tailored to US customers, and its cost model could easily result in more significant charges than was expected by the customer.