Before we get into the details of what Transcription Panda offers, we need to clearly outline the service that we're evaluating here.
Our series on transcription services apps will evaluate the features, pricing options, competition, and the overall value of using each service.
However, these are not full hands-on reviews since evaluating a service based on its one-time performance won't be objective. As this is a human-based solution, how good the transcription is will be based wholly on the performance of a single individual and their functionality on the day.
Obviously, these services aim to provide a level of service, but it's for the customers to evaluate if that's good enough for their purposes.
Transcription Panda is a US-based operation that started in 2016 and has already more than 1500 regular customers in more than ten countries.
Alongside transcription it also provides translation, and it prides itself in delivering short turnaround times for both these services.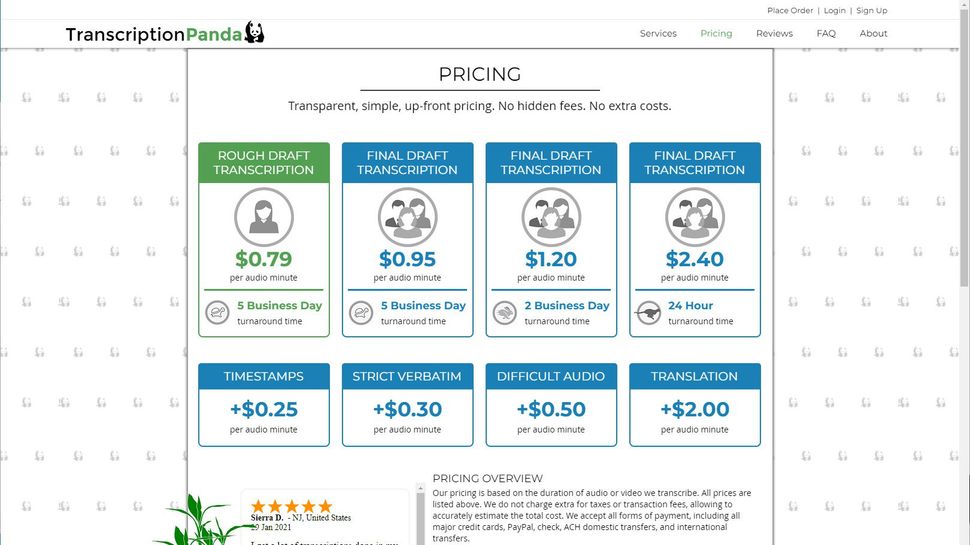 Costs
Transcription Panda claims to offer transparent, simple, up-front pricing with no hidden fees and no extra costs.
There are just two tiers of quality designated as 'Rough Draft', and 'Final Draft'.
Rough Draft is only available on a 5-day turnaround, but Final Draft can be between 24 hours, 2 or 5 business days, depending on the customer requirement.
If Rough Draft is good enough for company records, that can be processed for just $0.79 per minute, making it one of the cheapest human transcription services available.
For those that want higher quality, Final Draft service starts at $0.95, goes up to $1.20 for 2 business days, and $2.40 for 24 hours.
As that breakdown infers, the 24-hour service includes weekends and even US national holidays.
In addition to the basic cost of service, various add-ons are available. Timestamps are an extra $0.25, verbatim transcription is $0.30, poor audio comes with a $0.50 overhead, and you can have translation for $2.00 per minute of transcription.
Enterprise clients with more than 10,000 minutes of audio can get bulk pricing options.
Unlike some other services, there is no cost difference between video and audio as the source for the transcription.
Purely from a price perspective, this is a remarkably cheap service.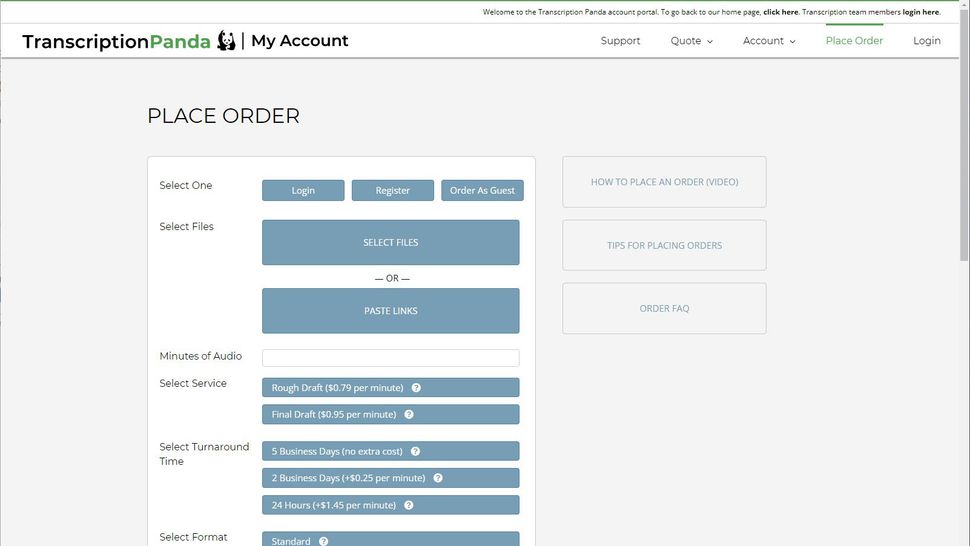 How it works
This solution is entirely web-based and involves filling out an order form on the Transcription Panda website, where you upload the files to be processed and select the quality of service you wish to use.
One nice feature we noticed with the file upload functionality is that you can provide a link to files already in the cloud, significantly speeding up the process for those that store audio using Dropbox, Google Drive, OneDrive or another linkable Cloud provider.
The types of audio and video accepted include MP3, MP4, M4A, WMV, WAV, MOV, AVI, AIF, ASF, VOB, AMR, and WMA1. But, if you have audio in an alternative form this business aims to help you transcribe it.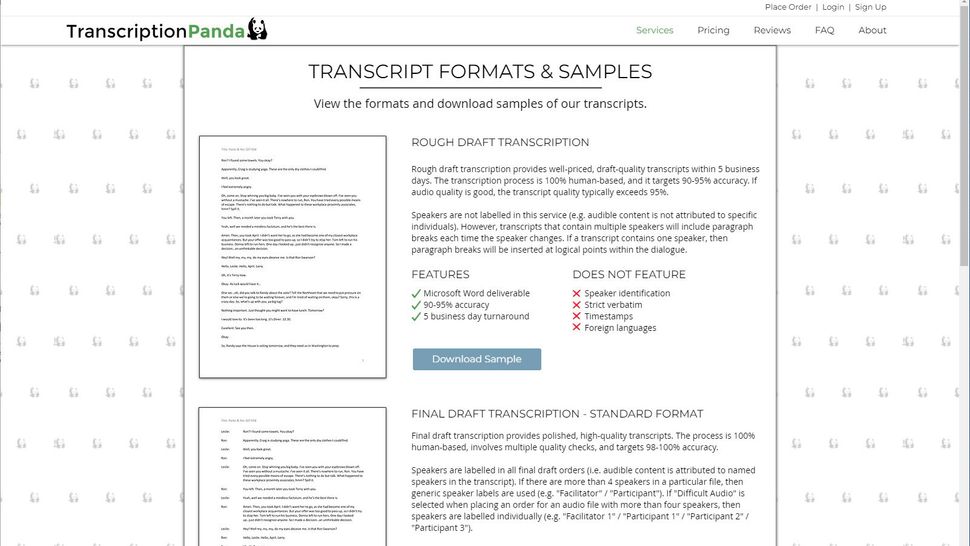 The question, based purely on the cost that most customers will want to know, is how the Rough Draft service differs from Final Draft in respect of quality.
Rough draft transcriptions are basic. Individual speakers are not identified, but when the speaker changes then, a new paragraph is created. If it's a single speaker, then paragraphs are used as they would normally be to define natural speaking.
What is missing is any filler words (um's and ah's), and the quickest you can get this quality back is five business days.
Impressively the quality is generally high even in Rough Draft service, with a quoted accuracy in the 90-95% range, and more typically, 97% accuracy is achieved.
Final Drafts costs more, but it includes speaker labels by default, has options for timestamps, full verbatim renditions (including filler words), and it can be translated.
The quoted accuracy for Final Draft is 98-100%, making it the choice for those where faithful conversion of audio to text is part of the requirement.
Once transcribed, the contents is delivered back to the customer as a Word document, with Final Draft customers having the choice between a simplified or a verbatim layout.
For those that want translation alongside transcription, this service can translate audio in all major languages, including Spanish, Chinese, Hindi, Arabic, French, German, Russian, and Portuguese, to mention just a few.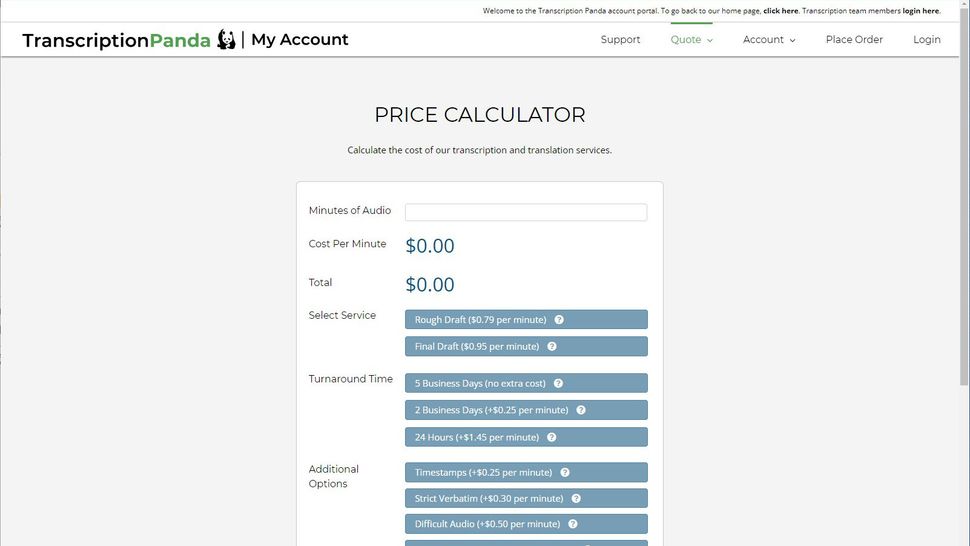 Final verdict
In many respects, Transcription Panda appears to have hit a sweet spot where it is small enough that it can give its customers that personal 'small business' service, but they're also delivering a cost-effective solution.
It is the sort of operation that we hope doesn't misplace those values if success grows it substantially.
For those that need effective transcription, the cost model is straightforward, and the service is both high quality and highly affordable.
As a service, Transcription Panda appears to have many delighted customers that say very positive things about their experience.
Any service that involves people is likely to experience a degree of variation, but the overall impression of Transcription Panda is of high standards that are effectively maintained.
Before committing a complete project to use this service, we'd recommend a pilot scheme where you can experience the quality in both Rough and Final, and with some of the options applied to see if what works best for your needs.
If it's suitable, the low cost of this service could make transcription part of your business process without the need to employ staff to do this work and manage them accordingly.