Verdict
The Skagen Falster 2 looks like a fairly unassuming smartwatch, and that's a strength. It means it fits into your life reasonably well, matching any style of yours, and without feeling like you're weighed down by a hefty watch on your wrist.
However, the technology it uses is showing its age. The Qualcomm Snapdragon Wear 2100 chipset was usurped by the 3100 chipset mere weeks after the launch of the Skagen Falster 2, which raises the question of why didn't Skagen wait a little longer to release this follow-up?
Navigating Wear OS is far better than it used to be, but that chipset means lag is noticeable too.
The Falster 2 is a feature-rich smartwatch thanks to an effective heart rate monitor and (mostly) effective GPS, but it could also do with stronger battery life so that you don't feel constantly worried about running the battery down too fast during a busy day.
Still, as a lightweight and minimalist looking all-rounder, the Skagen Falster 2 does the job. It just makes you wish for more.
Who's this for?
The Skagen Falster 2 is aimed at those who want to look good without standing out too much. In particular, if you adore the stylings of Scandinavian design, this is the smartwatch for you. It feels like wearing a traditional watch but with the benefits of a smartwatch, and the downfalls too (such as its battery life).
It will look good on your night out, but it will also prove useful on your Saturday morning run or gym session. Even more so if you buy a couple of watch straps to swap around for key trips out.
Should you buy it?
The Skagen Falster 2 is a nice watch but it lacks a wow factor. It's easy enough to swap straps around, making it an ideal unisex timepiece.
The inclusion of Google Pay, heart rate tracking, and GPS means it will work just as well during your daily commute as it will when hiking. It's lightweight yet sturdy feeling so you won't have to worry about damaging it either.
However, its battery life is lacking compared to the competition, and its chipset is showing its age now. But if you don't mind charging it every night, and you don't need the fastest smartwatch out there, the Skagen Falster 2 will keep you happy.
First reviewed: February 2019
The competition
Skagen Falster 2 not for you? Check out the following three alternative options.
Apple Watch 4
More expensive than the Skagen Falster 2, the Apple Watch 4 remains the practical smartwatch option for iOS owners. It's feature-packed and far more helpful with notifications for iPhone users. Battery life is far better too.
Does it look as nice as the Skagen Falster 2? Arguably not. And nor is it as lightweight as the Skagen smartwatch. So, whether it's right for you will depend on your priorities.
Samsung Galaxy Watch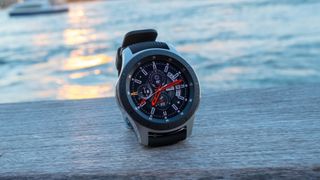 The Samsung Galaxy Watch is about the same price as the Skagen Falster 2, but it boasts a 4-day battery life and a speedy interface. It's chunky though, and best for those with Samsung smartwatches.
If you're sick of charging up your gadgets, you'll forgive its size, but those with small wrists will struggle here.
Michael Kors Access Runway
Looks-wise, it's tough to beat the Michael Kors Access Runway. It looks gorgeously eye-catching but it's far from minimalist in any way. Ostentatious, it's a great feature piece on a night out, and matches many of the same functions as the Skagen Falster 2.
It's mostly going to come down to whether you want a smartwatch that's the center of attention or if you prefer something that blends into the rest of your outfit and daily routine.