Launched in the first half of 2022, Samsung's Jet Bot AI+ remains the brand's top-end and most sophisticated robot vacuum cleaner to date. Forward-thinking features include LiDAR and 3D navigation, object recognition (and avoidance), and remote-control cameras.
But before we delve into more geeky goodness, would you just look at it. Working in the interiors industry can lead to design snobbery, but I had nothing to sneer about when unboxing the Samsung Jet Bot AI+. A sleek cross between a Stormtrooper and Monster Truck, but with Porsche-grade finesse, this was undoubtedly one of the most attractive looking robot vacuums I've tested.
Back to the tech. One of my favorite features of the Jet Bot AI+ was its object recognition skills. Even if it usually failed to accurately name them – 90% of the items were recorded on the app as socks/towels or cables, which was accurate 0% of the time! However, it did go around the dogs' toys – which have frequently stopped other robot vacuums in their tracks. Those with younger children should find they don't have to spend time picking up toys or abandoned clothing (socks, perhaps?) before releasing their robot.
I tested the Samsung Jet Bot AI+ on a variety of floor types – carpet, wood, porcelain, terracotta and laminate – on the ground floor of our fairly open-plan family home. The overall area is approximately 100 square meters, but a fair amount of that is covered by furniture the vacuum couldn't get underneath. So, in reality, the Samsung Jet Bot AI+ only had about 70 square meters to cover.
Over the past year, the online customer reviews from Jet Bot AI+ owners have been rather Marmite-ish. Some claim to love it more than toast, rating it one of the best robot vacuums out there. Others want to put it in the sea – not literally – and switch back to their best cordless vacuum. Read on to find out which way I swayed…
Samsung Jet Bot AI+ review: Price & Availability
List price: $999.99 / £989 / AU$1,899
Available in US & UK; AU availability TBC
There's no doubting that the Samsung Jet Bot AI+ is an investment. If I were to draw comparisons on price in the motoring industry, this robot would be more Porsche 911 than Peugeot 307. It's similar in spec, price and ability to iRobot's Roomba s9+ self-emptying robot. I've now tested both and, if I had the salary of a Porsche owner (sadly, I don't), I'd put my money on the iRobot.
If you've got money to burn, you can pick up the Samsung Jet Bot AI+ direct from Samsung (opens in new tab) globally, as well as through major retailers.
If you're in Australia, you'll find the Jet Bot AI+ listed on Samsung's local site but retail availability is still unconfirmed at the time of writing.
THE SPECS OF OUR SAMSUNG JET BOT AI+ ROBOT VACUUM REVIEW UNIT
Price: $999.99 / £989 / AU$1,899
Power: 21.6V Li-ion battery
Bin capacity (onboard): 0.2L
Bin capacity (Clean Station): 2.5L
Noise level: 74 dBA
Run time: 90 minutes
Dimensions: W305 x H136.5 x D320mm
Weight: 4.4kg
Samsung Jet Bot AI+ Vacuum Review: Design
A thing of beauty
LED visual light bar
Too tall
Solidly built and impressively robust, this is the monster truck of robot vacuums, and its design is hard to fault – at least when it comes to looks. The Misty White livery will suit most interiors, and the bin/charging Clean Station is similarly streamlined and luxe. A light bar at the front of the robot pulses white when it's on the move, and yellow when charging.
In Sound Effect mode, the Jet Bot plays a jolly jingle when it kicks off and returns to the charging base, providing an audible indicator that all is well. You can change the Sound Mode settings to Voice. In English, there's a choice between Lisa or John, who sing out chipper ditties such as "it may be dusty outside, but it's all clean in here" at the end of a clean, as well as less patronizing, more practical commentary. Both voices are annoying, and I quickly reverted back to the Sound Effect melodies (there's also a Mute option for the seriously noise averse/grumpy).
There are precious few useful buttons on the machine itself – just stop, start and go home, plus a sliding switch at the side that turns the vacuum completely on and off. For full functionality, you'd better be app proficient. Said app is Samsung's SmartThings home automation app, which I already use for our Frame TV and soundbar. Adding a new device was straightforward, and the Jet Bot app control section is excellently laid out for intuitive use.
While the overall looks of the Jet Bot AI+ are on fleek, its height (3.9in/136.5mm) is a major design flaw; it isn't skinny, either. It's essentially too tall to slide under plinths and too wide to get between chair legs, meaning that ditching your manual vacuum will not be an option. It did manage to wedge itself under a small side table in our living room, carrying it around on its back like a drunk snail until rescued!
Flip it upside down, and the first thing those who have experience with robot vacuums may spot is the lack of a swirling brush. These tend to protrude at one corner, directing stray debris into the central suction area. Instead, there's just the usual roller brush, which is also worryingly devoid of actual bristles. Think plush velvet roller rather than round hairbrush-style; it certainly didn't look like it would be capable of tackling all the pet and human hair found around our home.
The top of the robot has a lift-off cover that reveals its innards– and they're more impressive, both in terms of design and functionality. There's a pull-out fine dust filter, as well as two additional filters inside the lid of the bin, which also lifts out very easily with a handle. In total, you're looking at five layers of filtration, meaning 99.99% of micro-dust will be trapped inside the bin, not released back into the room.
This upright vacuum also has an anti-allergen complete seal, which captures and traps 99.9% of dust and allergens inside the vacuum. Although this is difficult to test, my husband and I did notice that we weren't sneezing nor suffering watering eyes while this vacuum was in use, which is something that we can be sensitive to – so we'll take that as a win.
Samsung Jet Bot AI+ review: Performance
Vacuums well on hard floors
Object avoidance is sheer genius
Spy on pets when you're out
I've been using the Samsung Jet Bot AI+ robot vacuum to clean the ground floor of our home for well over a month now, and it was only at the very end of this test period that a job was completed without issues. In fact, I had to ask if I could keep it longer than normal, just to reach this goal. Weirdly, the Jet Bot is an excellent mapper, and delivered a credible map of our ground floor faster than any other robot vacuum I've tested. It's packed with top-spec LiDAR and 3D sensors, and wasted no time at all working out where all our furniture sits and how to get into rooms with multiple entrances. In the first run, it had our ground floor sussed out. Unprecedented.
Sadly, these excellent mapping skills didn't appear to aid real-life navigation. The Samsung Jet Bot AI+ was pretty rubbish at finding its charging base, the rooms I'd scheduled it to clean, or its way out of a paper bag! In the first three weeks I'd barely started the car for the school run before I'd received a notification that it couldn't find the room it was meant to be cleaning. I tried rebooting the robot, moving the charging base (which had more than the recommended free space around it, while also being within spitting distance of our Wi-Fi router) and reinstalling the app on my iPhone. No dice.
As mentioned earlier, Object Recognition was brilliant. Or rather, navigation around said objects. Apparently, this feature was developed to deal with the issue of robot's smearing pet excrement around the house while you're out – yuck! Since our dogs are very well house-trained, I was simply grateful not to receive endless notifications that the robot was tangled up in something it shouldn't be, nor did I have to waste precious time scanning all the rooms for potential hazards.
Another handy feature that worked well is the intelligent power control, which automatically adapts power according to floor type, thus saving battery life. There's also the option to set the power to Max or Normal – but why would you when there's a Smart button that does the thinking for you?
Navigation and speed issues aside, was the Samsung Jet Bot AI+ any good at actual cleaning? The short answer is yes, and no! Initially, I struggled with the edges of a room; the vacuum wasn't getting close enough to suck up the drifts of dog hair our Sprocker Spaniels shed year-round.
Matters improved once I changed the cleaning mode to "Clean walls and edges first", rather than cleaning the center before the walls or moving in a zigzag pattern (which is quicker, but less effective). However, the corners were still a bit hairy (literally) and I couldn't help wishing that the Samsung Jet Bot AI+ had a twirly corner brush to get right into those crevices.
The majority of our ground floor is covered either in engineered wood or tiles, and the suction power on the Jet Bot and, presumably, the roller-heads beneath did a fantastic job. Bigger debris such as hay and cornflakes is often pushed aside by robot vacuums; but the Jet Bot left nothing behind. It lost points on the wool carpet in the living room, where it left the girls' hair, and feathers, stuck in the fibers of the carpet – the lack of brushes on the rollers seemed likely to blame. It appeared to be doing a good job of pulling dust from deeper in the pile, though, and when I ran over the same area with my (excellent) cordless vacuum, I was pleased to find precious little dust in the bin.
On Spot Cleaning, this robot vacuum didn't do amazingly well. I scattered flour in a corner of the kitchen and then sent the Jet Bot in to spot clean, twice. The results were okay in the main area, but clearly demonstrate that corners really aren't its strong-suit.
Cleaning and maintaining the Jet Bot AI+ is very easy, not least because the bin automatically empties into the Clean Station when it docks. The vacuum arrives with two dust bags; and I didn't fill the first one in the six-week trial period. These replaceable bin bags should hold up to three months' worth of dirt, depending on the size of your home and how filthy dirty it is. Replacement dust bags cost £19 for five, which is a fair price.
All the many filters and internal dust bin can easily be whipped out and washed under the tap, and the roller is also super simple to unclip and remove for cleaning. No screwdrivers or science degree required. Not that I needed to remove the roller. It's supported by high-efficiency extractors (nubby triangular pieces at the front of the roller casing, I think) that grind up hairs to prevent them from becoming tangled around the brush, and it works brilliantly. Hair wrapped around rollers is one of the most annoying parts of owning two long-haired girls – and, for once, I didn't have to cut a carpet-worth of hair off the rollers once a week.
The SmartThings app isn't terribly complicated, which is a good thing. Highlights include the cleaning reports, which let you see exactly where the robot became stuck before giving up on a clean, and the Find robot vacuum, which means you don't have to wander around aimlessly to seek it out (it was usually trapped in the cloakroom toilet, where it frequently managed to shut the door on itself).
The scheduling function is useful and easy to set up/change, and the app also includes a decent Home Monitoring system, which is great fun. You can send the vacuum around the house to check out what the pets are doing when you're out (sleeping, mostly) and, if you download a movement sensor widget, you can also get it to detect motion and send an alert, should the vacuum detect a disturbance. Handier in high-crime areas than on the edges of Dartmoor.
Samsung Jet Bot AI+ review: Battery
Not the longest run-time on the market
Recharges when there's still 10% left in the tank
Charges in approximately 3.5 hours
The 90 minutes of running time on offer was accurate and should have been sufficient to cover our entire ground floor. However, the Samsung Jet Bot AI+ must be especially slow – or more thorough, perhaps – than other robots I've tested. It could manage only three rooms before it had to return home to refuel; four rooms at a stretch. With my regular robot, I can go to the yard, muck out the pony, get the kids to school and return home to clean floors (a one-hour round trip). Alas, the Samsung Jet Bot AI+ would still be chuntering on 20 minutes after I'd fired up the work laptop. Luckily, the Jet Bot is pretty quiet. The official 74dBA rating must refer to Max power mode, as my sound meter recorded around 53dBA in the Smart cleaning mode, which isn't too distracting.
Battery: 3.5 / 5
Should you buy the Samsung Jet Bot AI+ ?
Swipe to scroll horizontally
Samsung Jet Bot AI+

| Attributes | Notes | Rating |
| --- | --- | --- |
| Price | Don't consider unless you have ALL the money. | 2/5 |
| Design | I love the look of this sleek machine, but it could do with being shorter to improve access under furniture. | 4/5 |
| Performance | When it isn't lost or stuck, it cleans hard floors very well; but it isn't so great on carpet or in corners. | 3.5/5 |
| Battery | It only managed to cover 50 square meters per charge. | 3.5/5 |
Buy it if...
You aspire to be the next 007
Use the built-in cameras to spy on pets and potential intruders while you're away from home. The app works as a remote control – use it to wheel your robot around the house, seeking out dare-doing and danger, albeit only at ankle level.
You have hairy offspring
The roller may not be great on carpets, but it does away with human hair very well.
You hate getting your hands dirty
An auto-emptying bin – what's not to love?
Don't buy it if...
You want to clean under furniture
The Jet Bot was just too tall and/or wide to get under most of our furniture, including the sofa on higher than usual legs and the dining chairs. It did manage to limbo under the bar stools, however.
You mainly have carpet
This is your hard-flooring friend; it might manage low-pile carpet just fine, but don't bother if yours is toe-sinkingly plush.
Samsung Jet Bot AI+ Robot Vacuum Review: Also consider
Swipe to scroll horizontally
| | Samsung Jet Bot | DreameBot L10s Ultra | iRobot Roomba Combo J7 Plus |
| --- | --- | --- | --- |
| Price: | $599 / £899 | $949.99 | $1,099.99 / £999 |
| Dust cup | 0.3L + 2.5L in base | 0.35L + 3L in base | 0.4L |
| Max run time | 90 mins | 210 mins | 120 mins |
| Mopping | No | Yes | Yes |
| Weight | 8.4kg | 3.7kg | 3.24 kg |
| Warranty | 5 years | 1 year | 1 year |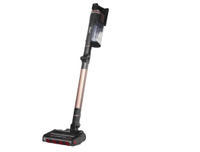 (opens in new tab)
Shark Stratos Cordless with Clean Sense IQ IZ862H
If you're looking for something that will clean into those hard-to-reach spaces the Jet Bot AI+ can't access, this cordless stick has a flexible head and wand that allows you to vacuum at 90-degree angles and beneath furniture without bending down. Like the Samsung Jet Bot, it also features Clean Sense 10 tech, which senses how much dirt is on a floor and adjusts the suction power accordingly.
Read our full Shark Stratos Cordless with Clean Sense 1QIZ862H review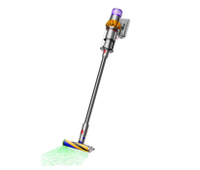 (opens in new tab)
Dyson v15 Detect Absolute
And if you prefer to buy British, the Dyson v15 Detect Absolute is the brand's most powerful vacuum yet. It comes with eight tools, so can tackle all the upholstery, cobweb and staircase crevices that no robot vacuum can manage, and cool laser technology that illuminates every last speck of dust to ensure nothing is left behind.
How I tested the Samsung Jet Bot AI+ robot vacuum
It was used to clean wood, tile, laminate, carpet and (very short pile) rugs
I used the Samsung Jet Bot AI+ as my main vacuum downstairs for six weeks
I've been using the Samsung Jet Bot AI+ at least once a day, sometimes more, on the ground floor of my four-bedroom Victorian home for six weeks. It has seven rooms plus a central hallway, but towards the end of the testing period I only had it clean three or four rooms, which is seemed to find more manageable. When I'm not testing a robot, I will usually only vacuum the three most frequently used rooms every day, so this was closer to reality.
I've used all the key features on the app, but I didn't download the motion detection sensor. Nor did I connect it to Alexa, partly because I couldn't work out how – but mainly because I had it set up on an automatic schedule, so there was no need.
I've been reviewing robot vacuums, and non-robotic vacuums, for several years now, and been testing all manner of other appliances, garden tech, bedding and fitness equipment for nigh on 20 years.
Read more about how we test
First reviewed February 2023