LG always offers up something a bit different with its flagship smartphones. From curved displays and self-healing rears, to leather finishes and modular design, the South Korean firm likes to take a walk on the wild side.
And I like that. In a market where almost indistinguishable glass and metal slabs dominate, LG brings a point of intrigue and interest - although it doesn't always fully pay off.
The Samsung Galaxy S7 and S7 Edge offer up the perfect package of features, design and performance - and while the LG G5 is very good, it just doesn't feel as complete.
We liked
The performance of the LG G5 is super slick. The Snapdragon 820 processor and 4GB of RAM shine - making everything from emails to gaming quick and easy.
I'm also a fan of the QHD display, which at 5.3 inches is excellent for a Netflix binge or a gaming session - although it's not quite as good as Samsung's Super AMOLED offering.
The dual cameras on the rear on the G5 are also a great addition - with the 8MP wide angle lens a genuinely useful feature which is easy to use and capable of producing impressive shots. The 16MP snapper isn't all that bad either - and even on auto mode it can take the odd photographic gem.
Then there's the modular aspect of the G5 - an area I'm properly excited about, but one that currently feels very much under developed. The technology has to start somewhere, but the somewhat pricey Cam Plus and Hi-Fi Plus modules don't exactly exite.
The hope is that third party developers will produce some really awesome modules in the next year to further enhance the LG G5. For the moment though, you'll be taking a punt on whether this will happen if you opt for the G5 now.
We disliked
My main sticking point with the LG G5 is its battery life. Having used the Galaxy S7 and S7 Edge, the G5 just can't compete and that's a real shame.
It all too often found itself running low as I left work, and dying completely shortly after getting home - which means a top up part way through the day is a must for anyone who sees themselves as a moderate or heavy user.
The always-on display is a useful addition, and one-ups Samsung's offering by showing all notifications, but it's too dim. Although, with the G5's suspicious power drain when idle I fear raising the brightness of this with a firmware update will only hamper battery life further.
It's good to see LG finally embracing a full metal body for its flagship smartphone, but the thick layer of primer/paint mix does take the premium shine off the handset. It doesn't feel as accomplished as the Galaxy S7, HTC One M9 or iPhone 6S in the hand - and that's a real shame.
Verdict
The LG G5 is a bit of a funny one. It's giving us a glimpse of the future thanks to the modular setup, but its true potential is currently unrealized, and things could stay that way for a while as we wait for exciting, new modules to appear.
Where does that leave us then? There's still a well built handset with a premium design - although not as premium as its competitors - a huge amount of power and a smart dual camera setup on the rear.
It's not like there's a shortage of features then, but somehow the G5 doesn't quite feel complete. There's nothing inherently wrong, the battery could be better, but it's lacking that final layer of finesse to pull everything together into a tidy package.
If you're in the market for a new flagship Android phone then the Galaxy S7 still delivers the best all-round experience, but for those looking for something a little bit different the LG G5 offers a few party pieces to keep things interesting.
The biggest obstacle for the LG G5 is the top class competition, and with so many excellent flagship phones on the market you're spoiled for choice. Here are some of the key LG G5 rivals.
Samsung Galaxy S7/S7 Edge
The Samsung Galaxy S7 Edge is the best phone in the world, with its dual-curved 5.5-inch display, powerful performance, stand-out camera and sultry design forming a perfect package in your pocket.
The G5 isn't quite as beautiful, nor does its performance shine as brightly as its Samsung rivals, but there's still a lot to love. The full metal body is a strong step forward, the intriguing dual camera setup on the rear gives it something a bit different and the modular support makes the G5 stand out.
Samsung's made the better all-round handsets though, and whether you fancy the easier to handle 5.1-inch Galaxy S7 or the futuristic and world-beating S7 Edge, you'll find both are more accomplished than the slightly zany LG G5.
iPhone 7 Plus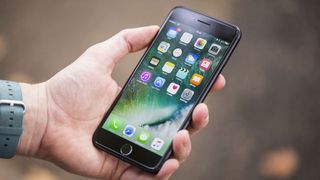 With its 4.7-inch display the iPhone 7 is a little on the smaller side to really compete with the 5.3-inch G5, which means it's the iPhone 7 Plus which finds itself squaring up to the latest South Korean flagship.
The G5 wins the screen battle with its QHD resolution versus Apple's full HD offering, but the iPhone's design looks and feels more premium - although it's also more cumbersome in the hand.
Both have strong snappers, a large slug of power and slick operating systems. Of course, if you want an iPhone you're unlikely to be swayed by any Android device - and vice versa.
LG G4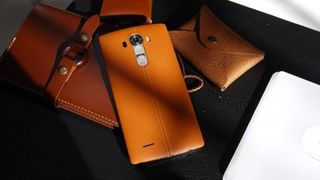 The G5's predecessor is still available and can be picked up at a reduced price, so is it worth considering?
The good news from LG's perspective is that plenty has changed between the G4 and G5, including design, build, cameras and power - making the G5 a much slicker, and far more appealing smartphone.
The G4 sports the same resolution, but over a slightly larger 5.5-inch display making it a little trickier to handle one-handed.
If you can afford it, the G5 is the better phone by far, but if you're desperate to get a phone with a leather back then the G4 is really your only option.
HTC 10
The HTC 10 has a smarter, more premium design, cleaner Android UI and just a single camera on its rear. It may be less playful than the G5, but that's not necessarily a bad thing.
In true HTC fashion the 10 also has excellent audio output, even though the Taiwanese firm has shifted away from its dual front facing setup to a tweeter up front and a bass woofer on the base of the phone.
Battery is about on a par with the G5, depending on your usage, while the camera isn't as impressive as we hoped. It has just received a healthy price cut of its own though, which makes it a whole lot more tempting.
First reviewed: April 2016