Moto Buds 150 review: One-minute review
The Moto Buds 150 are middle-of-the-road earbuds in every sense of the term. That's not entirely a criticism because they get the job done, albeit adding nothing more on top.
Priced keenly at $49.99/£44.99/Around AU$80, the Moto Buds 150 are up against the similarly middling competition. While you may find better sound quality for a little more among some of the best budget wireless earbuds, you're unlikely to find such a comfy build or a brand that you're so accustomed to as Motorola.
The Moto Buds 150 do the job well enough. Setup is reasonably speedy, with the anonymous 'Hello Moto' woman gleefully greeting you. From there, music and podcasts come across clearly, if lacking a certain spark you might wish from hidden-gem earphones. It's all fine if unremarkable. Our tests found weakness when walking along a busy road, as the Moto Buds 150 desperately needed the volume cranking up as the sound leaked in.
Still, six hours of playtime is helpful if nothing special, while only getting 12 hours of charge via the charging case feels a little measly, even at this price. You'll be good for a few commutes here if you don't mind that passive noise isolation isn't the best – they'll be fine for around the house, the office or perhaps the gym.
IPX5 water resistance (meaning they should handle sweat fine) and a USB-C charging cable are about as exciting as the Moto Buds 150 get. The Moto Buds 150 feel great in your ears even when running as they offer a nice fit that I actually even preferred to the AirPods Pro 2. I'd happy have them as a backup pair in case of emergencies – but if you're looking for a primary pair of buds for as little as possible, the JLab Go Air Pop remain our preference.
Moto Buds 150 review: Price & release date
Released in 2022
Costs $49.99 / £44.99 / around AU$80
The Moto Buds 150 were released in 2022 and are available in the US and UK, priced at $49.99 /£44.99 / around AU$80.
The price places them on the cheaper end of the scale for anyone seeking out true wireless earbuds. It's possible to buy true wireless earbuds from Anker and Skullcandy for less, with occasional deals on the fantastic Cambridge Audio Melomania 1 Plus bringing them in line with this price.
For the most part, though, these are pretty cheap true wireless earbuds, especially from a household name like Motorola. Keep an eye on competition like the Anker Soundcore Life P2, which offers better battery life, or the even cheaper JLab Go Air Pop, which we love.
Moto Buds 150 review: Features
IPX5 water-resistance
Touch controls for playback
Built-in mic on both buds
The Moto Buds 150 have all of the essential features you need and nothing more. There's IPX5 water resistance, so while you won't be swimming with these, you won't need to worry about a downpour while you walk or getting too sweaty at the gym.
They also offer a mic in each earbud, so you can use just one if you prefer to hear your surroundings. Each earbud also has touch controls for playback, so you can skip, pause, or take a call, although there's no way of adjusting the volume through the earbuds themselves.
The case also lacks any buttons focusing solely on the USB-C port and nothing more than that. It's a bit barebones.
Battery life comes in at the six hours or so that Motorola states is possible, with another 12 hours accrued through using the charging case. It's great to see a lengthy amount of time while listening, but more charging prowess from the charging case would have been warmly welcomed.
Moto Buds 150 review: Design
Plasticky case
Comfortable fit
Available in two colors
The Moto Buds 150 are very lightweight, as you'd expect for earbuds. Less expected is the charging case, which feels so light you won't notice it in your pocket. Easily gripped, portability is flawless here.
It's a basic charging case to look at with the earbuds similarly uneventful, but the latter feel great in your ears. While we've had issues with pricier stem-based earbuds feeling ever so slightly unbalanced while running, these slot into your ears and stay snag no matter how active you might get.
On the outside of each earbud are touch controls. These can be too easy to activate by mistake and lack volume controls, but thanks to the comfy fit, you shouldn't need to readjust too often. Extra ear tips suffice if you need to adjust the size of your ears.
The earbuds are available in either black or white. Neither looks particularly smart or classy, but again, these are cheap earbuds.
Moto Buds 150 review: Sound quality
6mm driver
Clear audio
Weak otherwise
The Moto Buds 150 are cheap, so it's best to not count on them offering flawless audio. These aren't hidden gems that will blow their rivals out of the water. They're reliable but unremarkable.
I worked my way through some Brit nominees as a start during my time with them. Harry Styles' As It Was sounds on par with a radio broadcast. Clear, but not precisely detailed. There's no sparkle nor grain here. It's all flat if functional.
Similarly, switching over to the bass-heavy Love Dies Young by Foo Fighters, there needs to be more excitement here for a higher score. Predictably, these aren't for audiophiles.
On the plus side, catching up on our never-ending podcast library works well here. The Moto Buds 150 are clear with voices, and there's no issue listening here. At least not until you're walking by a busy road and the volume needs turning up. Think of these as 'doing' earbuds, rather than ones to savor every detail.
Moto Buds 150 review: Value
Cheap for a known brand
Very comfy for the price
Little bare bones
Anyone reading this Moto Buds 150 review was probably looking to keep costs down, and these certainly aren't disasters. They're comfier than some cheap buds, but spend a little more and you could get far better battery life with the Sony WF-C500.
Alternatively, there's the ludicrously cheap JLab Go Air Pop with its great sound (for the price) for just $20/£20. There's a hint of acknowledging you're paying for the familiar name – Motorola – here.
Should I buy the Moto Buds 150?
Swipe to scroll horizontally
| Section | Notes | Score |
| --- | --- | --- |
| Features | These buds have IPX5 water-resistance and good touch controls for playback, as well as a built-in mic on both buds. | 3/5 |
| Design | The buds have a plasticky case but an incredibly comfortable fit. | 3.5/5 |
| Sound quality | There's a 6mm driver and clear audio here, but sound is weak otherwise. | 3/5 |
| Value | Cheap for a well-known brand and very comfy, but otherwise incredibly basic. | 3.5/5 |
Buy it if...
You want simplicity
The Moto Buds 150 simply just work. They're nothing special, but they do the job well without hassle.
You want a snug fit
Finding earbuds that fit in your ear well while running or exercising is often tricky. The Moto Buds 150 are some of the snuggest earbuds we've encountered. They won't fall down a drain.
You're on a budget
Well-priced and easy to track down, the Moto Buds 150 are ideal if you're in a rush and want to grab some new earbuds fast.
Don't buy it if...
You want great audio
Even in this price range, the Moto Buds 150 can be beaten. There are better options if you want the best audio for under $50.
You want to ignore the world
Snug they may be, but the Moto Buds 150 don't protect you from environmental noises in the slightest.
You want excellent battery life
The earbuds offer a reasonable six hours, but with only an extra 12 from the charging case, there are better alternatives.
Also consider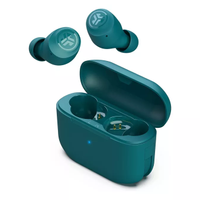 (opens in new tab)
JLab Go Air Pop
Almost worryingly cheap, the JLab Go Air Pop sound far better than you'd expect while offering better battery life. Just look out for their strange charging method.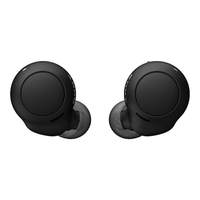 (opens in new tab)
Sony WF-C500
A little pricier, the Sony WF-C500 pack in better audio quality, app support, and superior battery life. You may need to shop around to keep costs down though.