HTC Vive XR Elite: One minute review
I had high hopes for the HTC Vive XR Elite. HTC has been operating in the VR space for some time now, and this unique-looking, next-generation VR headset – which can also support mixed reality – appeared as though it might give Meta and its Quest Pro a run for its money. Unfortunately, the XR Elite has been something of a disappointment.
It's far from terrible, mind. The Vive XR Elite's modular design, which allows you to disconnect the battery pack and turn it into a lightweight pair of goggles, is inspired. This is, frankly, the comfiest headset I've used, and one I wouldn't mind wearing for a whole day, if "metaverse" working takes off. In addition, its mixed reality capabilities come close to being the best on the market; the passthrough video feed delivers a very clear image of the real world and, thanks to its depth sensors, the Vive XR Elite's sense of depth feels accurate, too. Most other headsets fall down in at least one of these areas.
Having said that, the XR Elite has a few too many issues to make it feel like a worthy rival to some of the best VR headsets on the market, or even one of the best business VR headsets.
Its cloth face covering will soak up sweat and is tough to clean, which will prove limiting if using this headset as a VR fitness device (one of the best ways to use your VR headset). Plus, its controllers are far from what I'd expect from a premium headset.
The Viveport library of games is also subpar compared with rival platforms. Plugging the headset into a PC does unlock the ability to enjoy many great VR experiences, but when other headsets such as the Quest Pro and even the Quest 2 offer these titles without a PC, I can't help but feel the Vive XR Elite is lagging behind.
Its specs, too, don't quite reach those of the Quest Pro – with HTC's headset featuring a Snapdragon XR2 chipset, 12GB of RAM and 128GB of storage versus the Quest Pro's Snapdragon XR2 Plus chip, 12GB of RAM and 256GB of storage. This wasn't a deal breaker when the HTC Vive XR Elite was set to be cheaper than its competitor. However, following the Quest Pro's price cut, HTC's $1,099 / £1,299 / AU$2,100 headset is now more expensive, leaving you to question the reasons you'd pick it over the other options out there.
HTC Vive XR Elite: price and availability
The HTC Vive XR Elite is available to buy from its official store for $1,099 / £1,299 / AU$2,100.
When the HTC Vive XR Elite was announced, its was at a price that was higher than I'd liked, but not unexpected. And while HTC's VR headset isn't as capable as Meta's next-gen Quest Pro, the Quest Pro would cost you more at $1,500 / £1,500 / AU$2,450.
Unfortunately for HTC, in the months since the Vive XR Elite's announcement, Meta has decided to slash the price of the Quest Pro to a much more reasonable $1,000 / £1,000 / AU$1,730 – making it roughly a third (or three quarters in Australia) of its original price. This not only makes the Quest Pro a more appealing option in its own right, but also more favorable compared to rivals such as the HTC Vive XR Elite, which is now not only underpowered but more expensive, too.
You'll also want to weigh up the HTC Vive XR Elite against the Oculus Quest 2 – and the soon-to-be-released Oculus Quest 3 – since while Meta's more budget-friendly headset doesn't pack as much of a punch, you may find it delivers you better value for money.
HTC Vive XR Elite: design
The HTC Vive XR Elite has set a new bar for VR headset design in terms of comfort.
Just like the Quest Pro, the XR Elite does an excellent job of balancing its weight. Its battery pack sits at the back of the strap to counterbalance the front face panel, which is home to the display and processors, with the adjustable strap allowing you to achieve a secure yet comfortable fit.
However, plenty of headsets do that; so what makes the XR Elite special? It's because the battery pack is optional. You can swap it out for plastic stems that transform your 625g headset into a pair of VR goggles that weigh only 273g.
You'll need to be tethered to a power source for the goggles to function, but in terms of crafting a VR headset with a productivity slant, this design gives the XR Elite the edge over the competition. That's because if you're using the headset for work then you'll likely be sitting at a desk, with the tether not too much of a nuisance. Plus, the XR Elite will be much easier to wear for extended periods in this lighter form.
I tried wearing the Meta Quest Pro for a whole working week and it resulted in a rather sore neck as a result of the extra weight. Had I been able to reduce the weight down as significantly as I could with the HTC headset, I expect my VR working experience would have been vastly improved. The only downside of using the glasses form is that the headset feels less secure without the strap. In addition, it doesn't sit quite right – during testing, while the headset did stay on my face the whole time, I refrained from moving my head around too much for fear of it smashing onto my desk.
Despite its success on the comfort front, the HTC does make a few blunders with its design elsewhere. One major fault is that the cloth face cover pretty much counts out the HTC Vive XR Elite for use for fitness. Work up a sweat and any moisture will soak into the fabric cover, which you can't machine wash, and is generally a pain to clean. A silicon face cover would have been better, allowing you to easily wipe it clean if it becomes dirty.
I'm also not a fan of headsets that you can't wear with glasses. Yes, the XR Elite includes adjustable lenses that can act as a replacement for your glasses; but if your eyesight needs to be corrected by more than the HTC's lenses allow, then this headset isn't an option for you. Devices such as the Oculus Quest 2 (which was released back in 2020) offer perfectly fine solutions – such as optional plastic spacers that leave room for your specs – so I don't understand why the Vive XR Elite couldn't follow a similar route.
Neither am I a fan of the controllers, which are awful. Well, that might be a little strong, but the cheap-feeling plasticky handsets don't ooze premium – something I'd expect from a thousand-dollar headset with the mention of "Elite" in the name. In addition, the large tracking rings make it all too easy to bump the controllers together and briefly ruin your immersion.
In contrast, the Meta Quest Pro's controllers are delightful ; they're weighty, feel premium, lack any tracking rings, and even include realistic haptics to further enhance your VR experience. Even the Quest 2's controllers are better, using less cumbersome tracking rings and a generally more ergonomic design than the HTC Vive XR Elite's controllers.
HTC Vive XR Elite: performance and specs
The HTC Vive XR Elite is a pretty capable headset with solid specs – but it could be better.
In terms of power, the XR Elite uses a Snapdragon XR2 chipset and 12GB of RAM to power its VR experiences, and it has storage space for 128GB worth of games and apps. This might not sound particularly generous, but when you consider how small these apps can be, that 128GB will take some time to fill. In fact, I've used a 64GB Quest 2 and rarely have any issues. Even if you do fill the 128GB allocation, you can just delete an old app and download the new one quickly and easily.
The Vive XR Elite headset's display is pretty good, boasting an LCD screen that affords a 1920 x 1920 pixel-per-eye resolution and a 90Hz refresh rate; this is the recommended minimum for VR experiences that avoids the inducement of nausea. The headset also offers you a maximum 110-degree field of view.
These specs allow the HTC Vive XR Elite to perform pretty well. All of the games or apps I tried with the headset displayed no issues on the hardware; however, it's outdone by other headsets on the market.
For comparison, the Meta Quest Pro offers the same 12GB of RAM, but with 256GB of storage (which is overkill, but an upgrade nevertheless) and an improved Snapdragon XR2 Plus – which delivers 50% higher sustained power and 30% improved thermal performance compared to the regular chipset.
However, the Quest Pro only offers 1800 x 1920 pixels per eye and a max 106-degree field of view – although, in my tests, it felt like the field of view on the Quest Pro was bigger.
Note that the HTC Vive XR Elite lacks face and eye-tracking, something that many next-gen headsets have adopted. HTC has said it plans to add these features via an optional add-on in the future, but there's no word on a release date or price for this accessory right now.
Performance and specs score: 4/5
HTC Vive XR Elite: features and software
The HTC Vive XR Elite might not come with the same eye- and face-tracking abilities adopted by the likes of the Meta Quest Pro, but it does have very solid mixed reality capabilities – probably the best on the market.
Admittedly, this isn't a particularly high bar to cross; the Pico 4's fisheye lenses offer terrible depth perception, the Quest Pro's passthrough feed that shows you the real world is blurry and low quality, and the Quest 2 can only deliver greyscale. Nevertheless, the Vive XR Elite outshines the competition. The passthrough video quality is very high (crisp, with pretty accurate colors), plus the sense of depth is great, too – there's slight fisheye distortion, but it's considerably less disorienting than that experienced on the Pico 4.
Unfortunately, the Vive XR Elite is let down in the mixed reality department – and just in general – by a lack of solid software to take advantage of its performance. The selection of apps available in its Viveport store don't stack up against what players can find in Meta's rival Quest store front (which is exclusive to Quest headset owners).
From what I can tell, every worthwhile VR experience on the XR Elite's store is also available on the Quest platform – or, Meta at least offers something similar in terms of gameplay and quality – but this doesn't go both ways. Games such as Beat Saber, Walkabout Mini Golf, Gorilla Tag, and plenty of other big Meta Quest apps aren't available in the XR Elite's standalone store.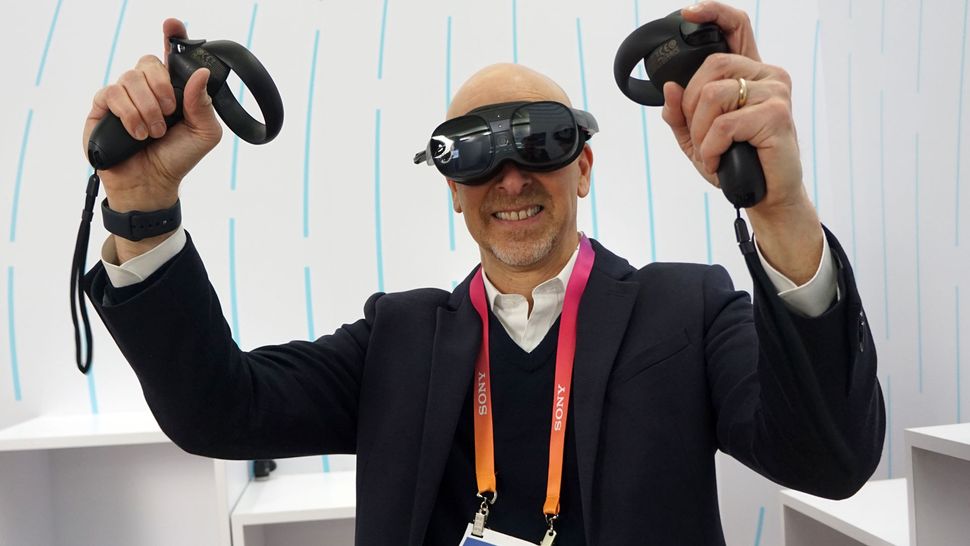 You can find many of these missing titles in the Viveport PC store, but you don't buy a standalone VR headset such as the XR Elite to then tether yourself to a PC. Especially not with games and apps that even the Quest 2 can run on its own.
Features and software score: 3/5
HTC Vive XR Elite: battery life
The battery life of the HTC Vive XR Elite is about what we've come to expect from standalone headsets, lasting for about 2 hours on a single charge. The controllers can last up to 15 hours each. When the headset runs out of juice, it can regain one hour of battery life with 30 minutes of charging.
This puts the XR Elite slightly ahead of the Meta Quest Pro, which lasts about one and a half hours, but behind the Oculus Quest 2, which can last up to three hours, or up to four with an optional head-strap battery pack add-on. That said, perhaps because of the lack of software, I never felt compelled to completely drain the HTC headset of power, so I can't say my play sessions weren't noticeably impacted by the battery life.
Should I buy the HTC Vive XR Elite?
Buy it if…
You want excellent comfort
The Vive XR Elite is one of the comfiest headsets on the market, and in its goggles form, it's ridiculously lightweight.
You want to travel with your headset
The compact form factor of the device and its modular design make the Vive XR Elite perfect to take with you on your travels. Just make sure you have access to power – or you charge it up first.
You want high-quality mixed reality
The mixed reality capabilities of this VR headset are some of the best on the market.
Don't buy it if…
You want to play the best VR games
The XR Elite's Viveport store offers some great VR experiences, but it lacks many of the best games that you'll find on Meta's rival Quest platform – unless you plug into a PC. Even then, some will be missing.
You want great value for money
The HTC Vive XR Elite is less powerful but more expensive than the Meta Quest Pro. Sure, its design is better, as is its mixed reality, but HTC's headset doesn't feel as worth its price as rivals do.
You need very strong corrective lenses
You can't wear glasses with the HTC Vive XR Elite, and while its lenses can be tweaked to correct some eyesight issues, they won't cater for people that need more extreme corrections.
Also consider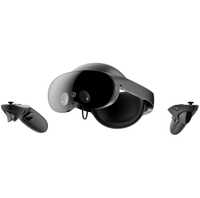 Meta Quest Pro
It's difficult not to compare the Vive XR Elite to its closest competitor. Overall, Meta's headset is our preferred choice of the two, although it doesn't hold a candle to the XR Elite when it comes to comfort and mixed reality.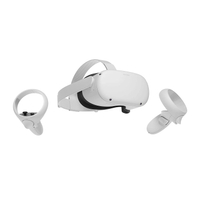 Oculus Quest 2
Meta's Oculus Quest 2 won't offer the same performance as HTC Vive XR Elite, and the Quest 2's mixed reality and design are well behind HTC's headset, too; but the Quest 2 is also a lot cheaper. Despite its faults, the Quest 2 remains a fantastic pick for most people because of its price, so check it out if you want to dip your toes into VR.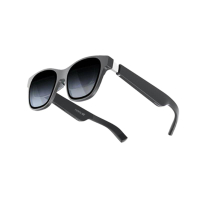 Nreal Air AR Glasses
The Nreal Air AR Glasses are nothing like the Vive XR Elite (or any other VR headset, for that matter) but they're nevertheless an intriguing AR gadget that effectively offers you your own private theatre viewing of whatever is happening on your connected device's screen. It's pretty neat, and potentially a great pick for commuters – although the price might feel a little steep.
HTC Vive XR Elite Report Card
Swipe to scroll horizontally
| Attribute | Notes | Score |
| --- | --- | --- |
| Design | For comfort alone the HTC Vive XR Elite deserves a 5/5, but its terrible controllers, inappropriate material choice for its face cover, and incompatibility with glasses downgrades it. | 3.5/5 |
| Performance and specs | The specs of the HTC Vive XR Elite could be better (especially compared to its rivals), but its performance is pretty darn solid and I had no issues running any of the games and apps I tested. | 4/5 |
| Features | The HTC Vive XR Elite lacks eye and face tracking, but makes up for it with very high-quality mixed reality passthrough that's some of the best on the market. | 4/5 |
| Software | The HTC Vie XR Elite has some solid capabilities, but it doesn't have a fantastic library of games and apps that take advantage of what it can do – at least not in its native store. Connect it to a PC and you'll be golden, but you don't buy a standalone headset to then always tether yourself to a PC. | 2/5 |
| Battery life | The HTC Vive XR Elite's battery life is roughly what we've come to expect from next-gen VR headsets, though it's still shorter than I'd like, especially considering older headsets last for about three hours or even longer. | 3/5 |
| Value | The Vive XR Elite was always set to be pricey, but since the Quest Pro's major price cut, the HTC gadget has been left both underpowered and overpriced. | 2.5/5 |
First reviewed: April 2023
We pride ourselves on our independence and our rigorous reviews testing process, offering up long-term attention to the products we evaluate and making sure our reviews are updated and maintained. Regardless of when a device was released, if you can still buy it, it's on our radar.