You'd have never thought the Fenix range would have taken off initially - a massive, bulky watch that seemed to be large for the sake of it? Nah, not got a chance.
But here we are at the Fenix 5 Plus, another massive, expensive but incredibly powerful device that shows Garmin still believes the fitness-loving public are desperate for more.
The sheer range of functionality as both a fitness tracker and a sport buddy is mind-boggling - and there's a lot to like here.
Garmin Fenix 5 Plus price and release date
Let's not hide it: this is an expensive device. At £699 / $799 / AU$1149 starting price, you'll be looking at a high-end option indeed.
The Garmin 5 Plus was launched in June 2018, and it's locked to only certain retailers at the start of the time on the shelves.
Design
Like the price, this thing is massive. It weighs 86g (or 76g for the titanium version), takes up a large part of the wrist and is dominant visually.
It's when you feel it, though, that the inherent sensibility of the design comes to the fore. The Fenix range is a rugged watch for the rugged user, one that's at home in a canoe as they are in the desert or flinging themselves off a mountain.
Obviously we didn't try that, but you get the sense there's little that could smash this thing up. Using Sapphire glass (on the more expensive model), the 1.2-inch screen is unlikely to get scratched, and the buttons (three on the left, two on the right) are very easy to find and tap.
The rear of the watch has the standard Garmin Elevate heart rate monitor and - if it's like recent models - it should be pretty accurate for something on the wrist. However, it does protrude, so will leave a little indent when bound tight enough to read your pulse.
New features
The Garmin Fenix 5 Plus is visually a little different to what's out there from the brand, but it's what it can do that you'll be picking it up for.
Garmin Pay
Although take up is slower in the UK, with few banks signed up, worldwide Garmin is signing up brands to allow you to pop your card in your watch and pay for stuff with a simple wave of the wrist.
It's enabled in the Fenix 5 Plus (as well as the 5S and 5X Plus models) but, as mentioned, is a little limited at the moment. However, it will allow you to grab a bottle of water or a spot of grocery shopping at the end of the run for small amounts.
Music
Here's where the irritation with Garmin's range still lies. Despite the first Music-enabled watch landing at CES 2018 in January, and Deezer offline support promised, Garmin still hasn't enabled it.
Yes, it has iHeartRadio in the US and a few other services connected around the world, but not having Deezer six months later is poor and means some people have to dust off an old MP3 collection to drag and drop it it onto the watch.
However, we get a feeling that things might change in the coming months and, who knows, perhaps other music streaming services might come on board… please let Spotify appear.
Currently, the experience is the same as we found on the Forerunner 645 Music - it's limited and without touchscreen support it's quite difficult to navigate at first… but the functionality is there and that's good if you like tunes to keep you occupied.
There is 16GB of storage on board though, which is pretty hefty for a watch like this - it remains to be seen how much can be used for music, as it'll also be storing activities and maps too.
Interface
Garmin has two variants of its watch interface, and the Fenix definitely uses the more advanced of the pair.
The ease with which you can flick through activities is higher, and there are things like stress monitoring enabled as well, which you won't find on more basic watches like the Forerunner 735XT.
There's a slight change to the interface in that there's a small selection of dots on the right hand side, allowing you to see where you are in the collection of faces (which offer information on everything from music control to your current heart rate) which is handy.
The screen itself is pretty low quality if you compare it to something like the Apple Watch 3, but it's all about the visibility - the transflective nature of this device allows you to see it clearly in sunlight or even just general daylight, which is where you'll be using this watch mostly anyway.
As an activity tracker, the Garmin Fenix range are pretty good, counting steps, sleep and even your heart rate variance (which is used in working out your stress levels).
It just depends on whether you want to wear something so chunky on your wrist both day and night - it's hard to see the appeal there.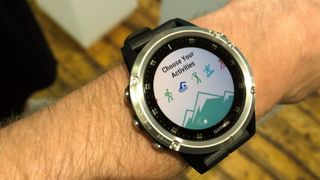 You've also got so many activities on offer here: everything from running to hiking to biking to parachuting, such are the amount of sensors on show with the Fenix 5 Plus. There's not a huge amount of point dissecting them too far when we can't actually test at this point, but it can do a whole host of things.
The horrible thing about reviewing this watch is the amount of functions it's got to test out, everything from racing a virtual partner to working out whether the VO2 Max on watches is accurate to trialing the new Trendline feature, which promises to help you find popular routes… there's a lot on offer here.
Early verdict
Just to reiterate: this is a great watch on paper, but boy is it expensive. It's £699 / $799 / AU$1149 at the base model, but you can easily spec that right up with the addition of Sapphire glass and bands made of a different material.
It's a chunky watch, but users will know what they're getting - and the sheer range of functionality on offer here will make it seem like a good buy for some members of the fitness community.
It's a shame Garmin didn't go all-out with the Garmin Fenix 6 and give us an an overhaul, but perhaps that's not too far down the line… maybe when the full range of music services finally come on board.