Advanced electrical engineering. Moore's Law. A miracle. Call it whatever you want, but the Xbox One S defies what we thought was possible, integrating a massive power supply and an expansive 2TB hard drive into a chassis two-fifths the size of the original – or 17 x 11.4 x 4.4 inches (L x W x D) if you want to know specifics.
How Microsoft pulled it off, we'll never know.
Well... actually, we might. Something tells us it has to do with porous siding that allows for better airflow. A denser design would enable Microsoft to use a smaller fan and repositioning of the hard drive directly behind the disc tray instead of in the back right corner would free up tons of extra space that Microsoft could just cut out of the box completely.
Then, Microsoft could move the hard drive allowing the power brick (essentially a power supply unit that you'd find in a desktop PC) to be seated inside the console instead of sitting next to it, creating less unnecessary clutter on your entertainment shelf.
While components have shifted on the inside of the box, the shell of the system has undergone a transformation of its own.
There are two physical buttons in place of the capacitive touch buttons for power and eject on the face of the console, and the sync and USB 3.0 ports have been brought from the side of the unit to the lower half of the front face.
Around the back, you'll find an HDMI In port that allows you to pass in a cable box, an HDMI Out that's HDMI 2.0a/HDCP 2.2, two Super Speed USB ports and S/PDIF and ethernet ports. There's an IR blaster on the front of the console that allows you to turn on other devices, like your TV, audio/video receiver and cable/satellite box.
The only thing missing is that standard port for Kinect, which we mentioned earlier.
Also, if you like your consoles in loud color schemes – or anything other than white – you're out of luck. Microsoft's new Xbox Design Lab program only allows you to to customise the color of your controllers, when it comes to the console itself you're limited to white, unless you opt for one of the special editions that have been released to coincide with various games.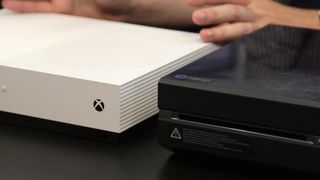 While Microsoft has said that the chipset has remained exactly the same, it has swapped the standard Blu-ray disc drive for a 4K, HDR-capable one that can read Ultra HD Blu-rays, the next generation of physical media.