It's super unlikely you want to spend hours upon hours building your own website. Before you know it, you'd be spending time coding and programming when you never thought you would. Fasthosts is the opposite - now you can build a website easily without the hassle of learning HTML or JavaScript. All you need to do is sign up for a plan and pick out the template that works best for your business.
There are plans on Fasthost's website for both web hosting and website building. Plans include a 30-day money back guarantee and the first three months are free. You'll have access to email, your own domain name, an SSL Certificate, and you can select from a wide variety of themes. The website builder packages have drag-and-drop features, making it easy for anyone (even beginners) to create their own website.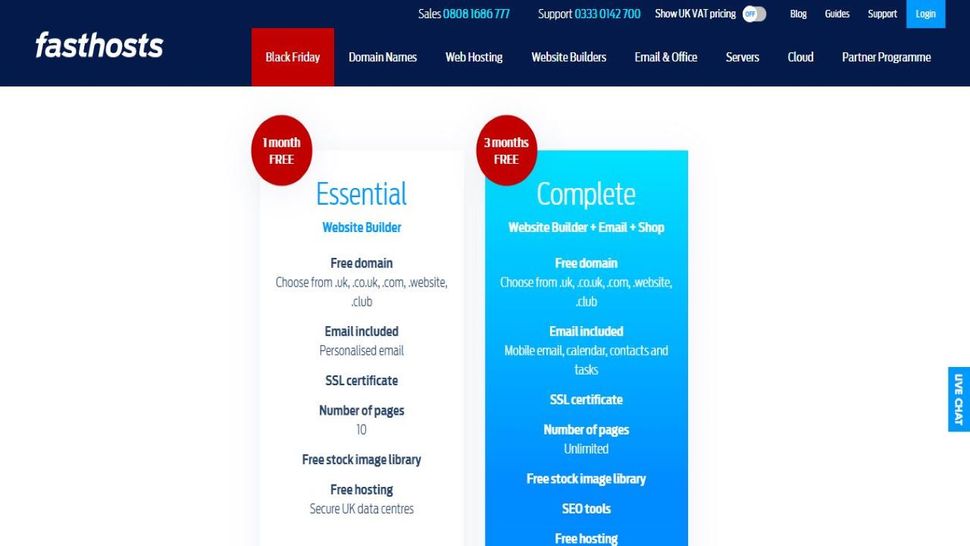 Plans and pricing
Fasthosts offers two main website building plans on their website. The first plan includes a free trial period for up to one month. The second you can try free for up to three months. Here's a quick overview of the three main building plans:
The Essential Website Builder plan costs $5.90 per month. It includes a domain name with the ending .uk, .co.uk, .com, .website, or .club. It comes with a personalized email address, an SSL Certificate, and up to 10 pages on your website.
The Complete Website Builder plan costs $11.85 per month and has some additional features. You can still use a domain with any of the endings listed above in the Essential plan, however, the email feature is more complex. You'll have access to mobile email, you're own calendar, and you can easily keep track of contacts.
Also, there's the option to sell your items (with the Complete Website Builder plan) using PayPal. The great thing is you can sell an unlimited number of products. There's also unlimited pages and advanced SEO tools to help you market your website. This plan is great for entrepreneurs and small businesses that want access to more features and ecommerce capabilities.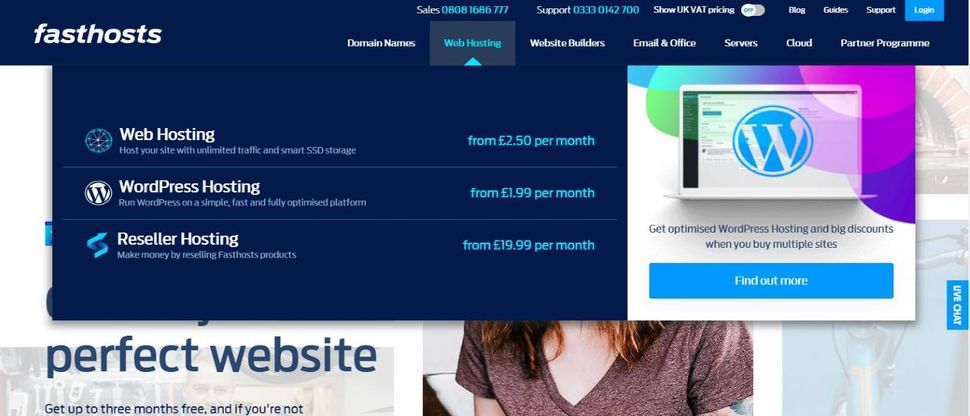 Interface
Once you're ready to start, you begin by choosing from one of the many templates on offer. You can preview them to see what they look like beyond the thumbnail representation, or click on 'Use' to select it. As there are so many options to choose from, it's good to see you can narrow the search down by Category, such as Business, Portfolio, Store or Blog. Don't worry if it's the wrong choice: you can change the look of your pages as often as you like.
You have many text editing options, where you can change the size and color of your content, add a background color, add links, a divider, etc. Pretty much everything you'd expect from a text editor. Adding multiple pages is done via the 'Pages and Styles' menu (top left). From there you can duplicate an existing one (Fasthosts refers to it as 'cloning'), create one from scratch, reorder them or delete those you no longer need.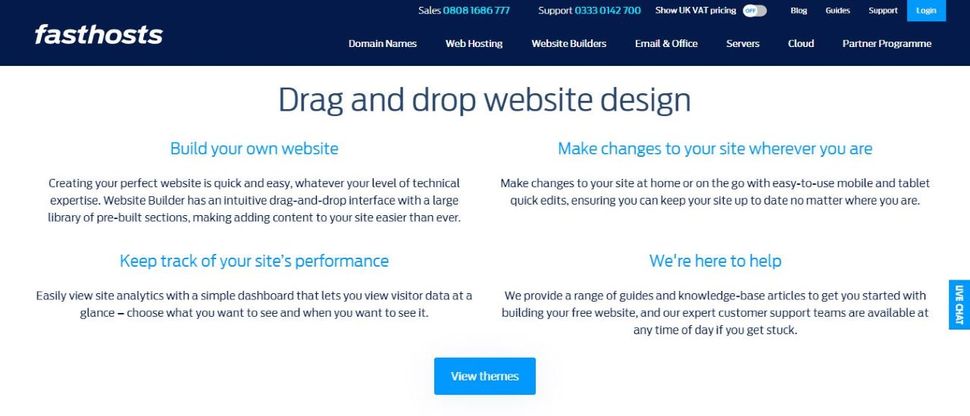 Features
The blogging section is separate from your other pages and doesn't count toward the '10-page maximum limit' were you to choose the 'Essentials' package. The functionality is very similar to the Text boxes you can add to pages and which we've explored earlier. This also regretfully includes the frustratingly convoluted way of editing images. If you're planning on migrating from Wordpress, you'll be pleased to know that Fasthosts has a 'Wordpress import' option. You need to export your post from Wordpress first.
The ecommerce section offers everything you need to get started, as long as you're planning on selling physical products - this service doesn't support digital downloads. If this aspect of online business is crucial to you, Fasthosts offers a different service called eCommerce Builder.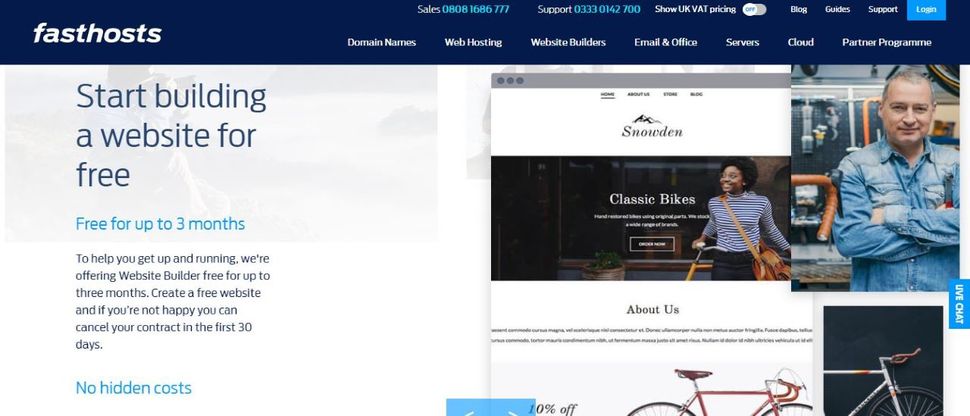 The competition
There's plenty of web hosting options out there - Bluehost, Hostgator, and Cloudways to name a few. What stands out the most about Fasthosts is how easy it is to customize everything. All the content you add to your page is done one section on top of another, and many offer you customizability options to make each section work as you need it to. For instance, the slideshow lets you choose its duration, whether you want it to loop automatically, show image descriptions, allow the viewer to pause playback, etc. It's quite comprehensive.
Final thoughts
Fasthosts is an established web hosting company that offers a good website builder - everything from basic pages to blogging and ecommerce. There's updated customization options and a brand new PayPal integration. If you're looking for a website builder that's easy to use, you can create an effective website extremely fast using Fasthosts. Drag and drop the sections you need, customize the interface, add videos and sell products. Everything just works.
You might also want to check out our other web hosting buying guides: